ATLANTA — Super Bowl LIII is worth a lot of money in Atlanta, but the specifics are still a mystery to some businesses near Mercedes-Benz Stadium.
The Elliott Street Pub is believed believed to be the smallest bar in Atlanta. There are nine stools around the bar, with capacity for perhaps 50 people total.
"We built a small joint because we wanted a small place. And you have this stadium holding 75,000 people next to you," said Mike Jakob, who owns the pub with his brother Peter Jakob.
It's a study in contrasts – the pub adjacent to one of the most grandiose monoliths on earth, within which will take place the planet's single-largest sporting event.
"They say a million people are going to come to our city? Yeah might be a million. I don't know where they're all going to go," Jakob mused. His bar will set up tents and heaters on Super Bowl Sunday to expand capacity during a watch party.
Jakob says he's gotten inquiries from corporations and media companies about using his bar for a staging area, but talks were fleeting as the Super Bowl matchup took shape.
Elliott Street is a colorful but very modest bar and deli. Like much of Atlanta, Jakob wouldn't mind cashing in a bit on that game taking place across the way next weekend.
Atlanta's tiniest bar in the shadow of Super Bowl LIII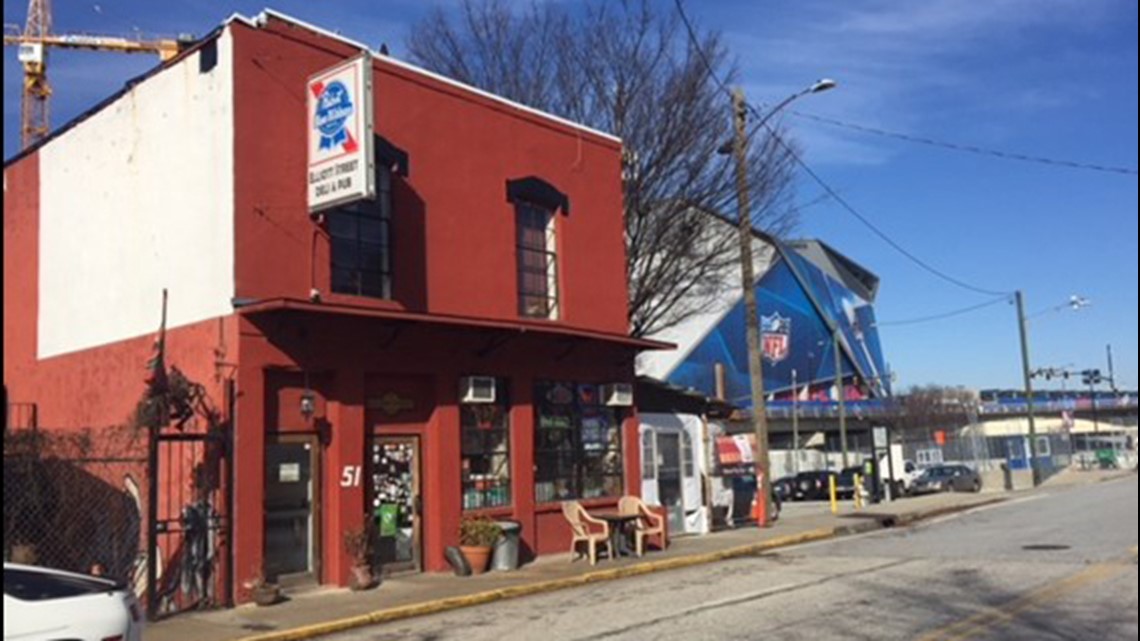 Jakob also has two AirBnB rentals listed in the building above the bar, which also aren't sold.
RELATED: Atlanta Airbnb hosts projected to earn $3.3M in supplemental income for Super Bowl
It's an event that's still full of questions.
"Who knows how they're going to rearrange traffic? They could cut off half my roads if they like," Jakob said.
"You can't control the weather," he added, recalling the Atlanta ice storm during the 2000 Super Bowl. "It's all a crapshoot."
The Super Bowl is a moneymaker. But the largeness is far from certain for the city's tiniest bar, in the shadow of the world's biggest sports cluster.
"It could be bananas. It could be an ice storm again. It could be all kinds of things," Jakob chuckled.
RELATED |
How to see the Rams, Patriots during Super Bowl Week
Your guide for partying before and after The Big Game
Atlanta strip clubs are their own tourist attractions for Super Bowl visitors
What will the weather be like in Atlanta for the Super Bowl
Must-see Atlanta Super Bowl home rentals you don't want to miss