LAWRENCEVILLE, Ga. — Tiffany Moss, the woman accused of starving her 10-year-old daughter and burning her body continues to sit silently at the defense table, where's she's acting as her own lawyer in her death penalty murder trial.
Moss faces six counts of murder and concealing a death, plus two counts of felony murder and first-degree cruelty to children.
10-year-old Emani Moss weighed only 38 pounds when she died in 2013.
Emani Moss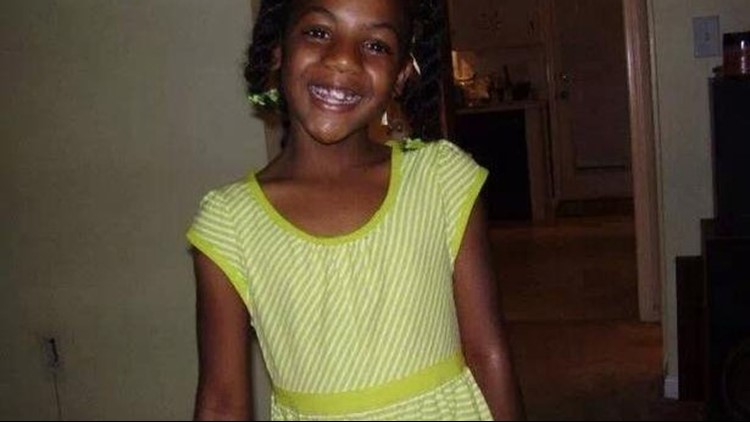 If convicted, Moss faces 3 possible sentences:
Death penalty
Life in prison without parole
Life in prison with the possibility of parole
The uniqueness of this case, and the challenge of finding impartial jurors is becoming increasingly evident. Not only is Moss facing the death penalty but she's chosen to represent herself.
Seven jurors made it through to the final jury selection Friday, while six more were dismissed because of their anti-death penalty views.
Moss sits at the defense table alone, making notes, rarely asking questions, and conferring only once with the standby attorneys appointed to help her with legal questions. She seems actively disinvolved in jury selection.
On Friday, the Gwinnett District Attorney questioned one juror about Moss' decision to represent herself and whether it would impact her view on the defendant.
"If you've chosen to defend yourself, you have no regrets," said the juror, a middle-aged African-American woman. "(I have) no sympathy (for Moss)."

That potential juror was excused from the panel because she said she would not consider a sentence of life with parole for a murder involving a child.
Another juror, an older white woman,was excused Friday because she said she was against capital punishment.
"The older I get, the more immoral it (the death penalty) feels to me," she explained to District Attorney Danny Porter.
Thursday, another juror said he could not impose the death penalty. "It has been used against black people and people of color more than anyone else." He was excused from service.
In addition to jurors excused for their anti-death penalty views, a number were excused for the opposite: not being able to consider life with parole because the victim was a child.
At least five prospective jurors have been dismissed so far because of language barriers. Two were native Urdu speakers, two were native Spanish speakers and another spoke primarily Vietnamese.
An average of seven jurors have qualified each day so far. At this rate, the required 54 jurors would be filled by the middle of next week. From there, the final 14 people will be seated for Moss' trial: 12 jurors and two alternates. As of Friday evening, 43 prospective jurors had been qualified.
Eman Moss, Tiffany's husband, signed a plea deal in 2015. He is serving a life sentence without parole but does not face the death penalty. He will likely testify against his wife in her trial.