DEKALB COUNTY, Ga. — Saturday marked four years since Air Force veteran Anthony Hill, 27, was shot and killed by a DeKalb County police officer. Hill's supporters stood outside the DeKalb County Courthouse at noon Saturday to hold a vigil in his memory.
"It is so hard to keep a positive outlook after waiting four years for justice," Hill's girlfriend said Bridge Anderson said.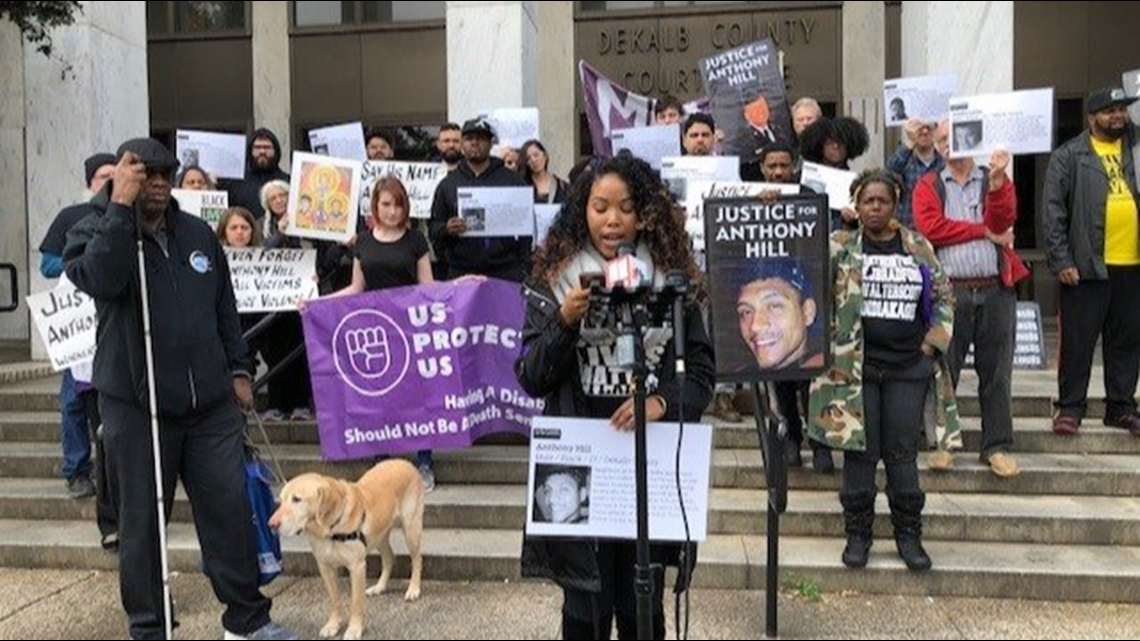 Hill was shot and killed by former DeKalb County police officer Robert Olsen after he encountered Hill naked and unarmed outside an apartment complex. Olsen was there responding to reports of a suspicious person.
Olsen said Hill "attacked" him and he feared for his life. Hill's family said he was dealing with post-traumatic stress disorder.
Wearing both black and purple and holding signs, friends, supporters and the group "Us Protecting Us" gathered not only to remember Hill but to make their demands to DeKalb County very clear.
"We need a triage system for 911 operators to identify a cross-disability emergency," Anderson said. "There needs to be changes to the current crisis invention training ... and ultimately number three, a mobile crisis unit that sends out emergency responders but not law enforcement officers."
Olsen has been indicted on six charges: two counts of felony murder, one count of aggravated assault, one count of making a false statement and two counts of violation of oath by a public officer.
Four years later, Hill's shooting death has still not gone to trial. Three judges have recused themselves.
"His mother called me the other day and said when the judge recused himself it felt like the day he died all over again," Anderson said.
"It's imperative that this case is heard. I mean, it's been four years. Four years. This family has endured this for four years," one veteran said.
Olsen pleaded not guilty to all charges. But with the showing on Saturday, Anderson said she still has hope.
"I know that Anthony didn't die in vain and that he would be proud of the work that we are doing today," Anderson said.
A new judge, LaTisha Dear Jackson, has been assigned to the case. The family's attorney, Christopher Chestnut, issued the following statement:
"Anthony Hill's family is pleased that the new judge in the murder case against former DeKalb County police officer Robert Olsen has set a trial date.
"This family has been incredibly patient given the circumstances and has remained steadfastly focused on getting justice for Anthony.
"As the four-year anniversary of Anthony's death approaches tomorrow, his family is confident that something positive will come from his tragic and unnecessary death. Their hope is that members of law enforcement will treat those suffering from mental illness with respect and offer help rather than callously shooting and killing without regard.
"Anthony's family would like to thank everyone who has reached out, offered prayers and provided support in the years following his death.
"While it's been a long journey, we believe justice will ultimately prevail."
The trial is now set to begin on Sept. 23, 2019.