A fight between police and three local actresses outside of Houston's restaurant has police investigating what happened and the women threatening a lawsuit.
It's a case that certainly has people choosing sides on social media - from celebrities to the average restaurant goer. And some are calling for a boycott of the restaurant - the second in recent months.
A viral cell phone video shows part of an altercation between an Atlanta officer and three women Brittany Marie Lucio, Asia'h Sharrell Epperson and Erica Walker, two of whom have acting credits to their names. The women were arrested after the scuffle.
Houston's employees told police the ladies were allowed inside after hours to use the restroom but refused to come out when asked to leave. The video was recorded outside moments later.
Those coming to the defense of the women include Atlanta rapper T.I. as he aired his grievances with the restaurant on Instagram.
In October, a group of patrons called for a boycott after believing they were victims of discrimination over a seating policy at the Lenox location which has since closed.
Court documents show previous lawsuits filed against the chain and all were either settled or dismissed.
They include one from 2015 where an attorney said he and his clients were booted over a dress code issue – wearing a hat – which is against dining room policy.
Now, in the most recent public controversy, the officer in the video claims his lip was busted in the scuffle. On Tuesday, Attorney Gerald Griggs released photos of his clients' injuries in response.
PHOTOS: Injuries from Houston's arrest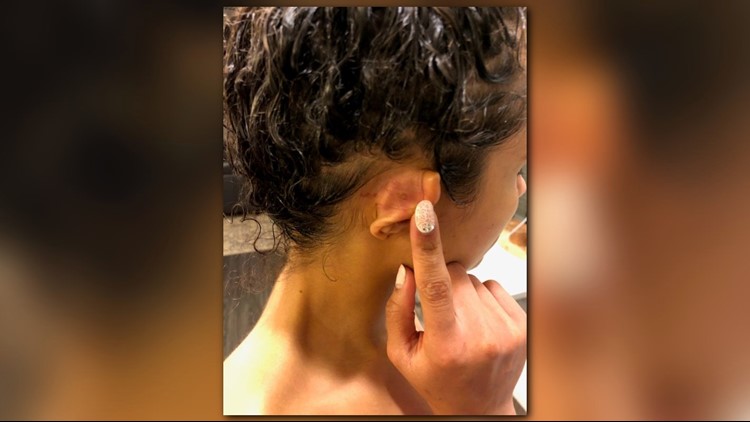 "We are seriously concerned with the level of force that was used," he said. "They were injured, they sought medical attention. There are photographs and documentation of severe injuries which are more substantial than this."
While some commenters on T.I.'s page took the side of the women, in an 11Alive poll, viewers have a different opinion.
"This smells like a complete set up to get media attention," Evelyn Combs said.
Another said they should have left quickly.
"First, why did they allow them to use the bathroom after hours," Helen Clark said. "Second, they did not need to tell them to leave three times, they should have left quickly."
And one said there were some missing details.
"This doesn't add up," Kimberly Trent said. "Many missing details to me."
11Alive spoke to a Houston's spokesperson who said they have no further comment now that lawyers are involved. But they did release a statement Monday night saying they believed the managers responded appropriately to the unfortunate situation. Police said they are also looking into claims that excessive force was used.