ATLANTA — About 60,000 people stormed the streets of Atlanta again for the annual AJC Peachtree Road Race!
This year marked the 50th running of the world's largest 10K - and it shaped up to be a historic one, for sure.
Here's what you missed:
A Historic Race
$200,000 in event record bonus prize money was up for grabs and Thursday's winners took it all with the men's and women' winners in both the footrace and the Shepherd Center Wheelchair division setting all-time bests at the Peachtree.
A $50,000 bonus is also the largest single payday in the history of elite wheelchair racing.
Before the Race
11Alive contest winner Shelly Williams opened the festivities with her rendition of the national anthem before the AJC Peachtree Road Race.
Take a listen below:
Mayor Keisha Lance Bottoms also served as an official starter at Lenox Square, as she kicked off the race then walked the course with her staff for the second straight year.
"I was born in 1970, so to think that this race started seven months after I was born and that now I get to kick it off as Mayor it really is a dream come true for me and speaks to what's possible in our city," she said. "The Peachtree just speaks to Atlanta and the diversity that we have in this city. I'm grateful to Atlanta Track Club, our sanitation workers, our public safety personnel, and the Department of Public Works for making this race beautiful and clean and safe for all of us."
PHOTOS: 2019 AJC Peachtree Road Race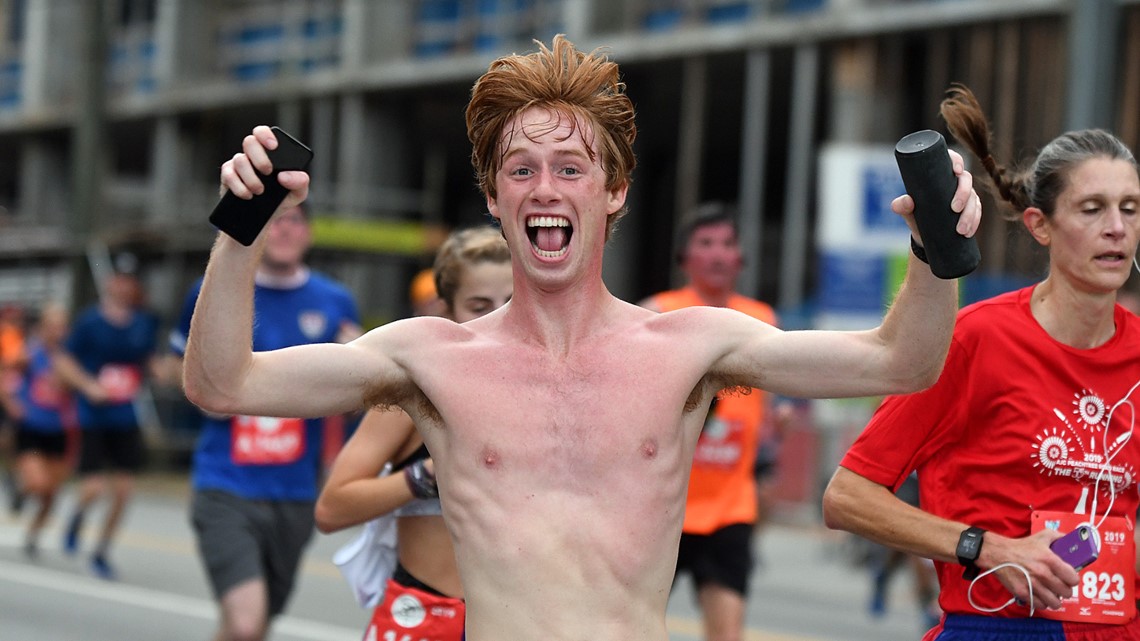 The Winners
Course records were broken in every division, this year! Each of these racers will receive a $50,000 bonus. That's the largest ever given out for this race.
Men's Elite Wheelchair
Winner: Daniel Romanchuck - 18:11 - RECORD BREAKER
Women's Elite Wheelchair
Winner: Manuela Schar - 21:28 - RECORD BREAKER
Men's Elite Runner
Winner: Rhonex Kipruto - 27:01 - RECORD BREAKER
Women's Elite Runner
Winner: Brigid Kosgei - 30:22 - RECORD BREAKER
RESULTS: 2019 AJC Peachtree Road Race
The T-shirt Revealed
Author Emily Giffin was revealed as the winner of the Peachtree's T-shirt contest, with her design, titled "Lucky Bib," unveiled as the chosen design to the race's 60,000 participants. Created in collaboration with Atlanta Track Club member Tina Tait, the design was part of a special competition ahead of this year's race, with submissions curated by notable Atlantans and Atlanta institutions.
WXIA
"Honestly, that was the highlight of my life," said Giffin, an Atlanta Track Club member who ran the race with her daughter, Harriet, while her sons and husband raced ahead. "It's more than winning a contest - It's the fact that this is my family's passion. The Atlanta Track Club means so much to us and so it's symbolic of what we do as a family."
Because Giffin won, a $5,000 donation will be made by Atlanta Track Club and the Atlanta Journal Constitution to the City of Refuge.
This year for the 50th, The Atlanta Track Club went with a different type of contest. Notable Atlantans and organizations were the designers.
The finalists were:
* Mayor Keisha Lance Bottoms
* The Atlanta Braves
* Harry the Hawk
* Jeff Galloway
* Emily Giffin
PHOTOS: AJC Peachtree Road Race finalists
2019 AJC Peachtree Road Race t-shirt designs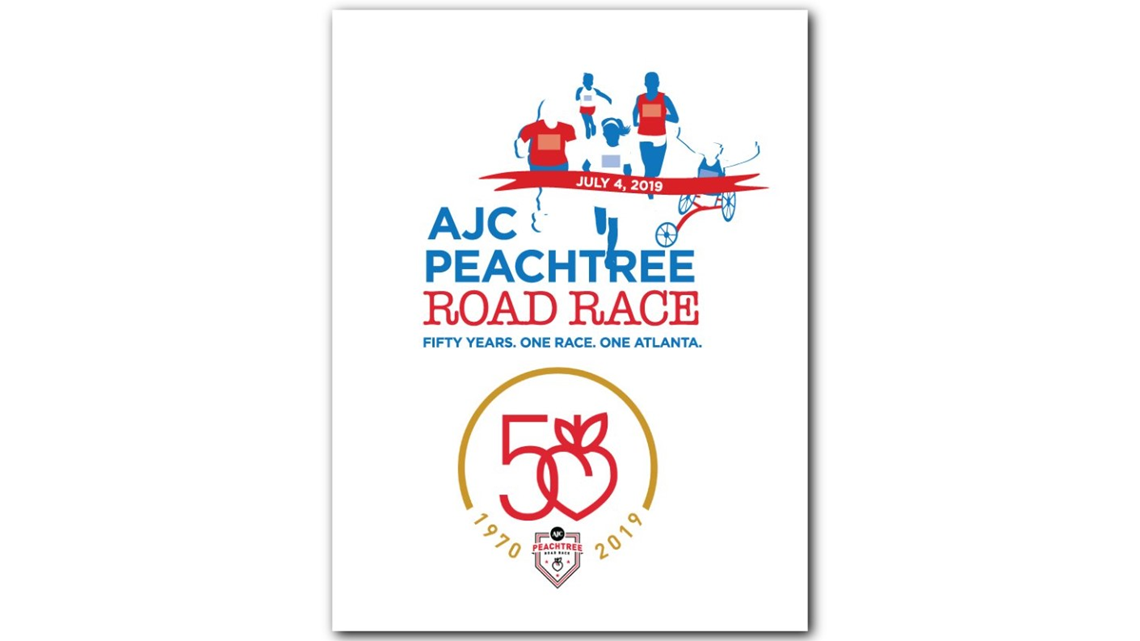 After the Race
Race Director for the AJC Peachtree Road Race and Executive Director of the Atlanta Track Club Rich Kenah said the 50th running of the Peachtree was definitely a day that Atlanta will remember for years to come.
"Atlanta Track Club, its members and volunteers wanted to make the 50th Running of the Peachtree into an unforgettable celebration of the history and legacy of this race," Kenah said. "And Running City USA delivered."
Catch a wrap-up of the historic race in 11Alive's Special "AJC Peachtree Road Race: From Start to Finish at 8 p.m.!