The city of Atlanta had endured a major sports championship drought of 25 years and 41 days, heading into Saturday night's MLS Cup final.
The staggering number garnered plenty of media attention, but it wasn't the most important figure of the night.
The real timeline should have been 21 months and three days–the lightning-fast duration in which Atlanta United transformed from nouveau expansion club to MLS champions.
Saturday's 2-0 victory felt more like a coronation than a highly competitive match for Major League Soccer's ultimate prize.
Sure, Portland had some decent chances to score on Atlanta's vaunted defense, but United started fast and seldom relented against the scrappy Timbers, posting goals in each half ... while letting the red-clad crowd at Mercedes-Benz Stadium croon their way to championship glory in the final moments.
(Note: This also marks the first MLS championship from a southeast-based team.)
Atlanta United celebrate MLS Cup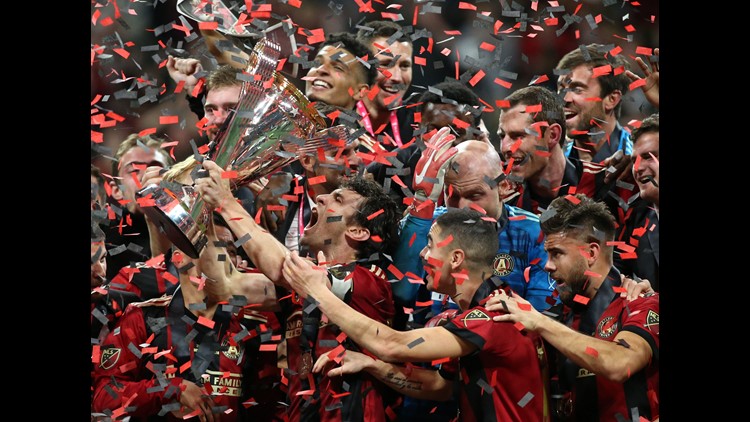 UNITED THEY STAND, FOREVER
To the surprise of no one, Josef Martinez collected the first goal of the game.
While occupying his normal spot in the opposing team's goal area, Martinez took advantage of a 50/50 ball in the air. He leaped high and deflected it away from the colliding Timbers defenders, allowing himself to take control of the ball while sprinting to his right.
That set up a 1-on-1 encounter with Portland's goalkeeper, which never had the appearance of a fair fight.
After taking full possession, Martinez sold hard on a shot fake, waited for the goalkeeper to commit, and then floated to the right on his way to kicking the ball into an open net.
The timely goal (39th minute) came just six-plus minutes before the halftime break.
If Portland had survived that period with a scoreless tie, maybe things would have been more conservative, strategy-wise.
However, given Martinez's scoring panache, the Timbers were obliged to abandon their defensive game plan and pursue more aggressive sequences on the offensive end.
Would this plan work out in the end? Uh, no.
At the 54th minute, Miguel Almiron and Martinez co-opted the ball before finding Franco Escobar ALONE on the right side of the net.
Somehow, some way, the ball got through a sea of Timbers defenders, allowing for Escobar to slide-kick his way to MLS Cup history.
Escobar's successful scoring chance instantly transformed a close game into a surefire blowout (by soccer standards); and from there, many United players were granted a chance to take one final bow ... instead of protecting a narrow lead was never in doubt.