The 2018 College Football National Championship game will be played at Mercedes-Benz Stadium in Atlanta on Jan. 8, 2018.
With the Georgia Bulldogs' Rose Bowl win, it's making tickets to game a steep investment. According to Ralph Garcia at TicketIQ, the cheapest ticket was $2,174 as of Tuesday afternoon. The average asking price is $3,887, making it the most expensive national championship game ticket in a decade, Garcia said.
It'll cost you, but here are some ways to get tickets to the game:
Note: Prices listed below are as of Tuesday afternoon, With the Bulldogs win in the Rose Bowl, it is reasonable to expect ticket prices to rise as the game now involves a team from 70 miles away from the venue with a rabid fan base in the area.
PHOTOS: Rose Bowl
TICKETMASTER
-Ticketmaster has numerous ticket options through the resale market, but they'll cost you. As of noon on Jan. 1, 2018, the lowest priced ticket sets you back $1888.88, and that's section 324. So-called "Best Seats" (in the 100 section) run up to $6,950. UPDATE: As of Tuesday afternoon, the cheapest tickets were $2,000 each.
- Ticketmaster did have a "Hospitality Package" available for $3,500, which allowed access to a "lower concourse with great field views", unlimited bar and multiple food stations. There also multiple "premium packages" available starting at $1,899 per person.
Click here for a list of premium packages
STUBHUB and other secondary markets
- As of 10 p.m. on Monday, Stubhub, an online ticket exchange company, had numerous offers for tickets to the game. Prices started at $2,652. SeatGeek had tickets starting at $1,983.
TicketIQ, which claims to use intelligence to help fans get the lowest prices, had seats starting at $2,174.
Tickpick allows fans to bid for seats. Click here for more.
THROUGH THE TEAMS:
- Each of the teams will receive a certain number of tickets. However, it's exceedingly unlikley that you'll be able to get your hands on these tickets.
CFP RSVP
- This service allows fans of teams to pay a premium to reserve the right to buy a ticket at face value. Prices for individual teams have fluctuated throughout the year. As Georgia's fortunes have increased, so have the RSVP prices. After the Bulldogs' Rose Bowl win, the price shot up to $2,281.50 for Georgia fans. Note: this does not factor in the price of the ticket itself, which is $575 for a lower level ticket and $475 for an upper level ticket). And if you pay the RSVP and your team loses, you don't get that money back. Click here to make your reservation
PHOTOS: Georgia Bulldogs celebrate Rose Bowl win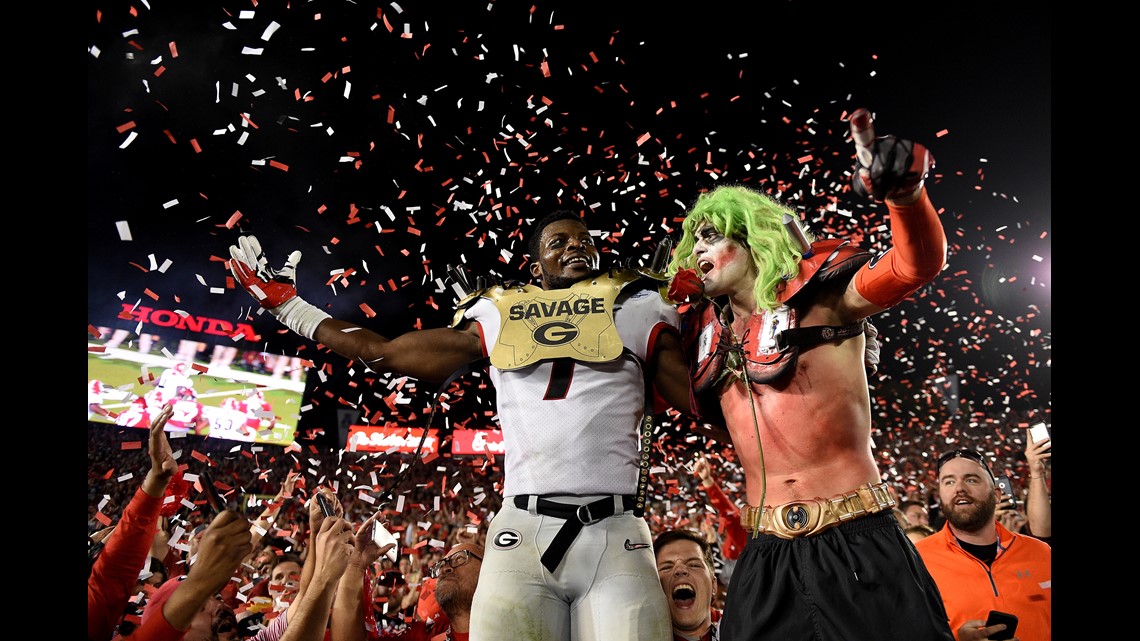 Better Business Bureau offers the following tips to avoid fraudulent ticket purchasing:
Purchase from the venue. Whenever possible, use the official ticket sales agent for the venue. Many now offer secondary sales options, as well.
Consider your source. Know the difference between a professional ticket broker (a legitimate and accredited reseller), a ticket scalper (an unregulated and unlicensed ticket seller), and a scammer selling fraudulent tickets.
Check out the seller/broker. Look them up on bbb.org to learn what other customers have experienced. Check to see if they are a member of the National Association of Ticket Brokers. NATB members offer a 200% purchase guarantee on tickets. Look up the seller on VerifiedTicketSource.comto confirm you are buying from an NATB-member resale company.
Buy only from trusted vendors. Buy online only from vendors you know and trust. Look for the lock symbol in the web address to indicate a secure purchasing system. Don't click through from emails or online ads; a common scam trick is to create a web address that is similar to a well-known company.
Know the refund policy. You should only purchase tickets from a ticket reseller that provides clear details about the terms of the transaction. Sellers should disclose to the purchaser, prior to purchase, the location of the seats represented by the tickets, either orally or by reference to a seating chart; and, if the tickets are not available for immediate access to the purchaser, disclose when the tickets will ship or be available for pick up.
Use payment methods that come with protection. Always use a credit card so you have some recourse if the tickets are not as promised. Debit cards, wire transfer or cash transactions are risky; if the tickets are fraudulent, you won't be able to get your money back.
Be wary of advertisements. When you search the web for online tickets, advertisements for cheap tickets will often appear. Use good judgment; some of these ads are going to be scams, especially if the prices are low.
If you're unsure, verify your tickets. Pay a visit to the arena where the event will be held. Present your ticket to "Will Call" (customer service) and they can verify if your ticket is legitimate.
RELATED
Here's how much extra money Kirby Smart makes if the Bulldogs win the Rose Bowl
5 ways to support the Dawgs at the Rose Bowl from home
This UGA fan is riding a scooter to the Rose Bowl
Watch Kirby Smart, Nick Chubb's hilarious reactions on 'Guardians of the Galaxy' ride
UGA football team flies in style to Rose Bowl
PHOTOS: Rose Bowl