No.1 Georgia is looking for its first back-to-back championship with a win against No. 3 TCU at SoFi Stadium in Inglewood, California, Monday at 7:30 p.m. ET.
Here's everything you need to know about Stetson Bennett.
Age/ Position
Bennett is a senior quarterback at UGA. At 25 years old, he became the oldest quarterback to win the SEC championship.
According to ESPN, he's also older than these 11 starting NFL quarterbacks:
Ravens QB Lamar Jackson
Eagles QB Jalen Hurts
Chargers QB Justin Herbert
Bears QB Justin Fields
Jaguars QB Trevor Lawrence
Dolphins QB Tua Tagovailoa
Falcons QB Desmond Ridder
Patriots QB Mac Jones
Steelers QB Kenny Pickett
49ers QB Brock Purdy
Texans QB Davis Mills
Career Highlights
Bennett was a walk-on at Georgia his freshman season. In 2018, he then made the transfer from UGA to Jones College in Ellisville, Mississippi, where led he led the school to a 10-2 overall record and a Mississippi Bowl win for a season, according to his UGA profile.
After Bennett re-enrolled at Georgia, he made big moves once again. Bennett started five of 10 games in the 2020 season and finished the Bulldogs' season as starting QB with him completing 86 of 155 passes for 1,179 yards and eight scores.
In 2021, he took a legendary leap. Bennett was named offensive MVP of the CFP Championship game, where he completed 17 of 26 passes for 224 yards and two touchdowns. In 2021, he had season-highs of 29 completions vs. Alabama in, five touchdown passes vs. UAB in, and a long pass of 89 yards vs. those same Blazers.
In 2022, Bennett had season highs of 368 passing yards vs. Oregon inside The Benz and a long rush for 64 yards vs. Auburn in an October home game. He was also one of four finalists for the Heisman Trophy and the winner of the 2022 Burlsworth Trophy, honoring each year the most outstanding college football player who began his career as a walk-on.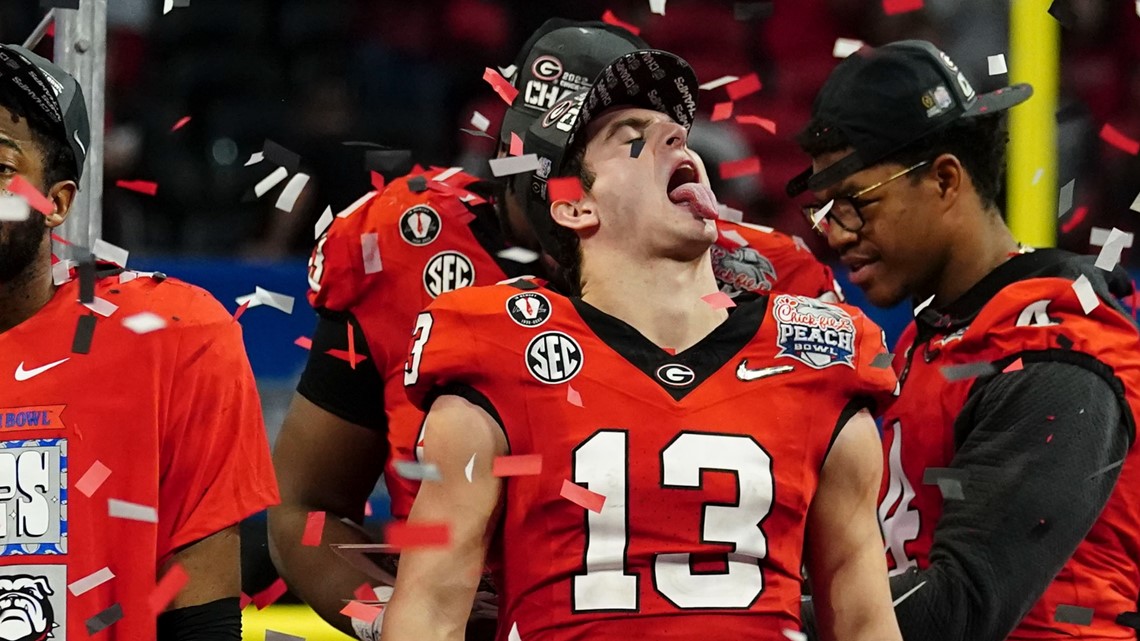 High School
He's a native of Blackshear, Georgia. Bennett attended Pierce County High School, between Valdosta and Brunswick, where he was coached by Sean Pender. There, he led the school to three consecutive state playoff appearances throwing an accumulated 3,700 passing yards and 500 rushing yards with 40 total touchdowns, according to UGA's website.
Nickname
Bennett's nickname "The Mailman" began when a Pierce County High teammate gave Bennett a U.S. Postal Service hat, according to ESPN. He began wearing it and showing up to recruiting showcases.
However, Bennett announced on Instagram that he's temporarily changing his nickname from "The Mailman" to "The Milkman" as part of a partnership with "Powered by Georgia Milk" – a Georgia Dairy Farmers initiative.
Family
His full name is Stetson Fleming Bennett IV. He's the son of Stetson and Denise Bennett, who both attended UGA. His grandfather Buddy Bennett was also a quarterback at South Carolina, according to Bennett's UGA profile. Bennett is reportedly the oldest of five children – with three brothers and one sister.
Girlfriend
Bennett has appeared to have been dating his girlfriend Cameron Liss for several years now, according to social media posts. Bennett posted a birthday tribute to Liss on Instagram in February 2021.
The CFP National Championship game between Georgia and TCU kicks off at 7:30 p.m. EST on Monday at SoFi Stadium in Inglewood, California. From Athens to Los Angeles, 11Alive is bringing you complete coverage in the Dawgs' quest to repeat as champions. Visit 11alive.com/bulldogs for more.