Chase Elliott can breathe a huge sigh of relief.
On Sunday at Watkins Glen, the Dawsonville native won his first-ever NASCAR Cup race, holding off Martin Truex Jr. in a crazy final lap, full of twists and (right) turns.
How surreal was the experience? The 22-year-old Elliott, the son of racing legend Bill Elliott (44 career victories), actually ran out of gas after passing the checkered flag; but in a poignant, touching moment, Hendrick Motorsports teammate Jimmie Johnson ended up pushing Elliott to Victory Lane.
Sunday's exhilarating race was Elliott's 99th outing of his Cup career, but it wasn't his first major flirtation with a win. In a three-year span, Elliott has eight second-place finishes on his career resume.
But that nugget serves as a mere footnote now, in lieu of the breakthrough performance at The Glen.
"Holy cow. What a thrill! I don't know what to say. So emotional. So much relief," Elliott told the Associated Press. "I've been working on this for three years. Finally able to get it done. I hope all my friends back home are ready to get rowdy because it's going to be a party tonight. ... What a day."
PHOTOS: Dawsonville's Chase Elliott earns 1st NASCAR Cup victory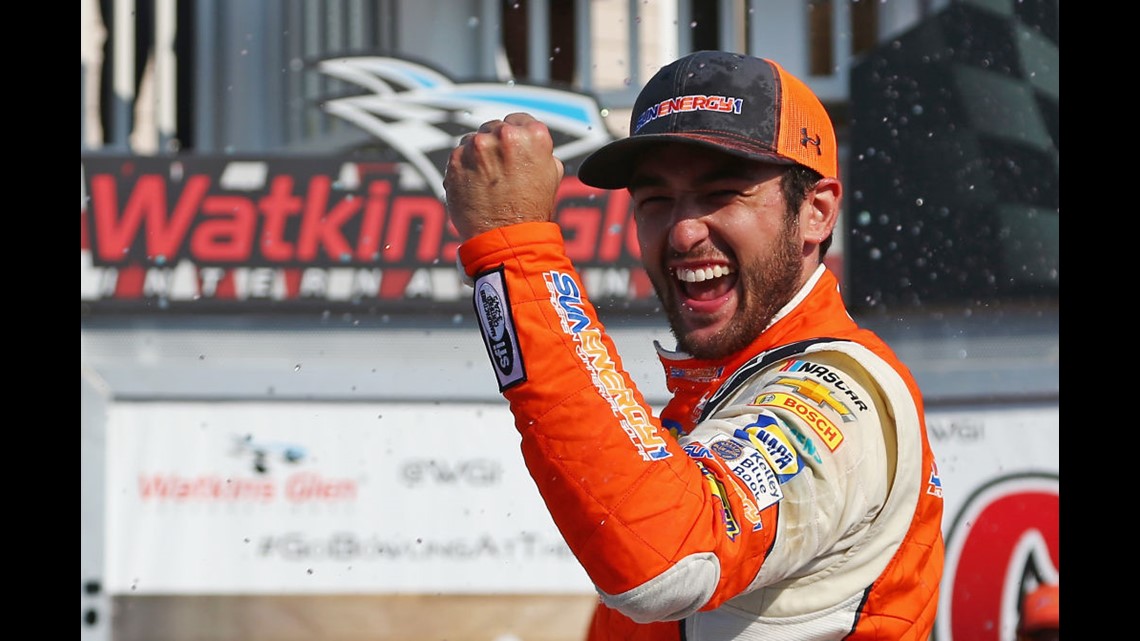 The quirky track at Watkins Glen required only 90 laps for this NASCAR Cup event; but it was a fitting number on this day, with Elliott, Truex and Kyle Busch accounting for the vast majority 'leader laps.'
And it essentially became a two-horse race for the final 20-plus laps, with Truex closely tailing Elliott at nearly every turn ... but never possessing enough oomph to score the ultimate pass.
The reason behind Busch's absence? A fuel mishap at a pit stop greatly hindered his chances at victory. On the plus front, Busch (49 career victories) overcame the setback to finish in third place.