On Sunday night, President Donald J. Trump tweeted out a note of congratulations regarding Woods' 15th major title, breaking his 11-year drought for either The Masters, U.S. Open, Open Championship or PGA Championship.
Specifically, the Presidential Medal of Freedom represents "an especially meritorious contribution to the security or national interests of the United States, world peace, cultural or other significant public or private endeavors."
It's been a whirlwind seven months for Woods.
**Heading into last September's Tour Championship at East Lake Golf Club (Atlanta), Woods had discussed his debilitating back problems in recent years, revealing there were days when he couldn't even get off the floor.
PHOTOS: Tiger Woods celebrates 5th Masters win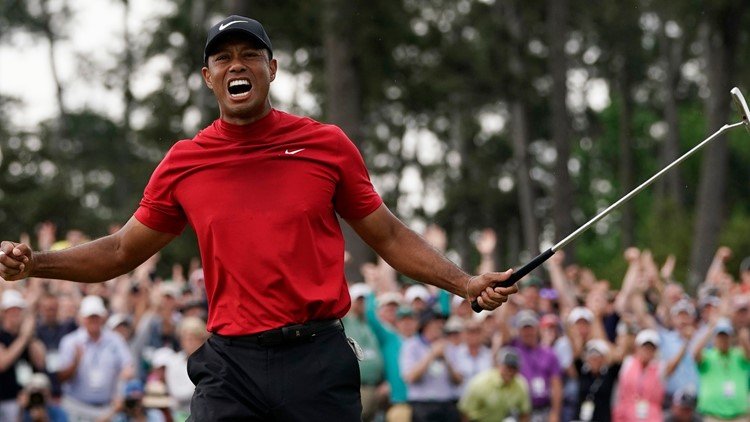 **Fast forward to Masters Week. Woods was among the top-10 favorites to win his fifth green jacket last week; but it felt more like an emeritus distinction ... than tangible belief that Woods would tame Augusta National and outlast every other blue-chip golfer in the country.
But that's how things played out. Woods methodically kept with the leaders for Thursday and Friday, before breaking out with a 5-under 67 on Saturday.
On Sunday, Woods adjusted seamlessly to Masters officials' decision of moving the tee times up five hours, as a means of getting ahead of severe weather.
As such, Woods currently serves as the youngest golfer to win The Masters (age 21 in 1997) ... and the second-oldest player to claim a green jacket (age 43 in 2019) – trailing only Jack Nicklaus, who collected his sixth green jacket at age 46 in 1986.
TIGER WOODS MAJOR TITLES
1997 Masters
1999 PGA Championship
2000 U.S. Open
2000 The Open Championship
2000 PGA Championship
2001 The Masters
2002 The Masters
2002 U.S. Open
2005 The Masters
2005 The Open Championship
2006 The Open Championship
2006 PGA Championship
2007 PGA Championship
2008 U.S. Open
2019 The Masters