ATLANTA — The Atlanta Braves won the World Series and now it's time to celebrate!
The Braves beat the Houston Astros 7-0 Tuesday night in Game 6. The season has been filled with highs and lows. However, the team orchestrated an amazing postseason to come out on top.
A parade is being planned for Friday, Nov. 5. Celebrations will be held around metro Atlanta. Truist Park is in Cobb County but the Braves spent decades playing in the Summerhill neighborhood in the heart of Atlanta at Turner Field.
City of Atlanta officials tell 11Alive that details are forthcoming about their specific plans. However, here's what we've learned so far from Cobb County sources. It's important to note that these details are fluid and could change.
The parade will begin at the corner of Marietta Street NW and Peachtree Street, where it will then move north up Peachtree and 10th Street. The second phase of the parade will continue through Cobb County on Cobb Parkway, beginning at the corner of Riverwood Parkway and culminating at Circle 75 Parkway.
Fans are invited to line the route to cheer on the team, as well as join a post-parade celebration and concert with Grammy Award-winning Atlanta artists Ludacris and Big Boi inside Truist Park.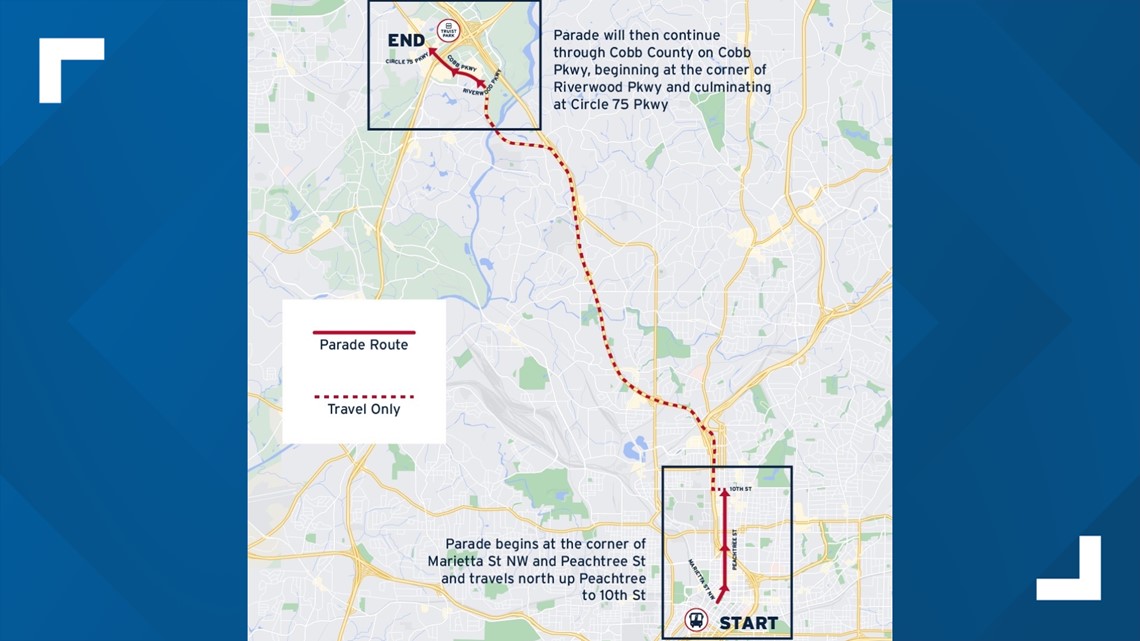 Tickets and parking passes for Truist Park will be available Thursday. Premium and A-List Members and Braves Insiders will have early access to reserve tickets, at 10 a.m. and 11:30 a.m., while tickets for the public will be available at 1 p.m.
The parade includes about 20 vehicles, including six double decker buses. There will also be a display at Spring Street and Circle 75 Parkway.
The 2021 postseason was not supposed to happen like this - not for these Braves, who only won 88 games and were without arguably their best player, Ronald Acuña, after his injury earlier in the summer. Despite their less-than-sterling resume, the team had something else that made them special beyond just wins and stats - they had a team spirit and a gritty resolve that showed up time and time again.
This is the first time the team has won the World Series title since 1995. The last time they appeared in the World Series was 1999.
Return to 11Alive.com for updates on timing and exact routes as they become available.