The team made a splash by previewing an Outkast bobblehead on Twitter. It features Andre 3000 in the team's road gray uniform while Big Boi sports their 1970s throwback.
That bobblehead will be available May 25 at Truist Park. It's sure to be in high demand - and there are also several other bobblehead days on the calendar.
For the full promotional schedule, scroll below past the bobbleheads.
Braves 2023 bobbleheads
The Braves have bobblehead days for the following dates: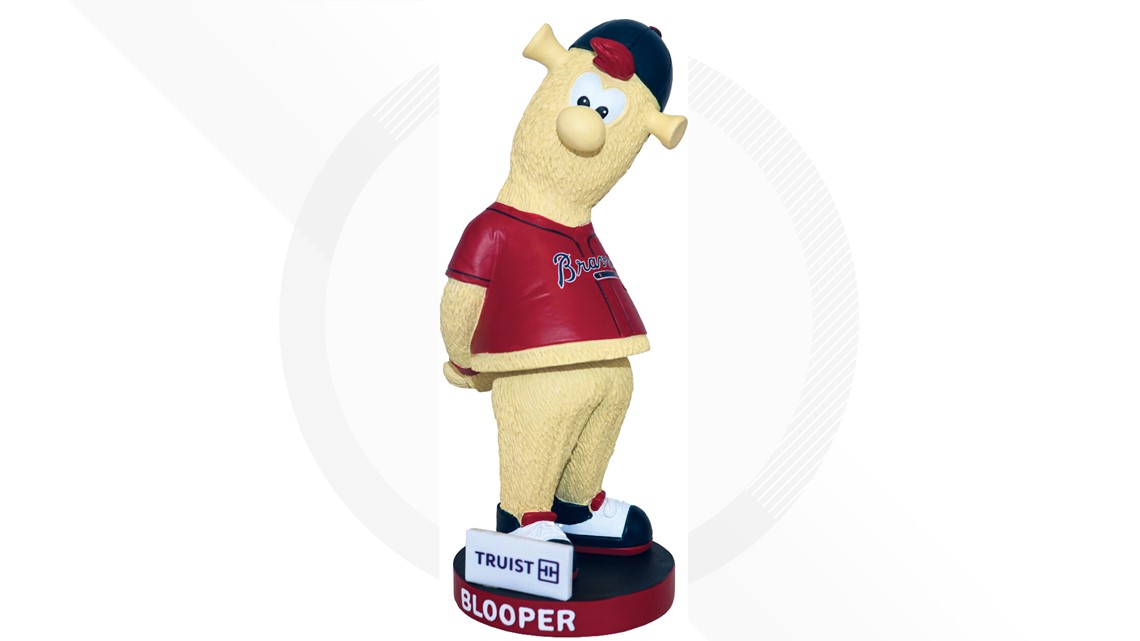 April 25: Matt Olson | Part 1 of the "Hometown" series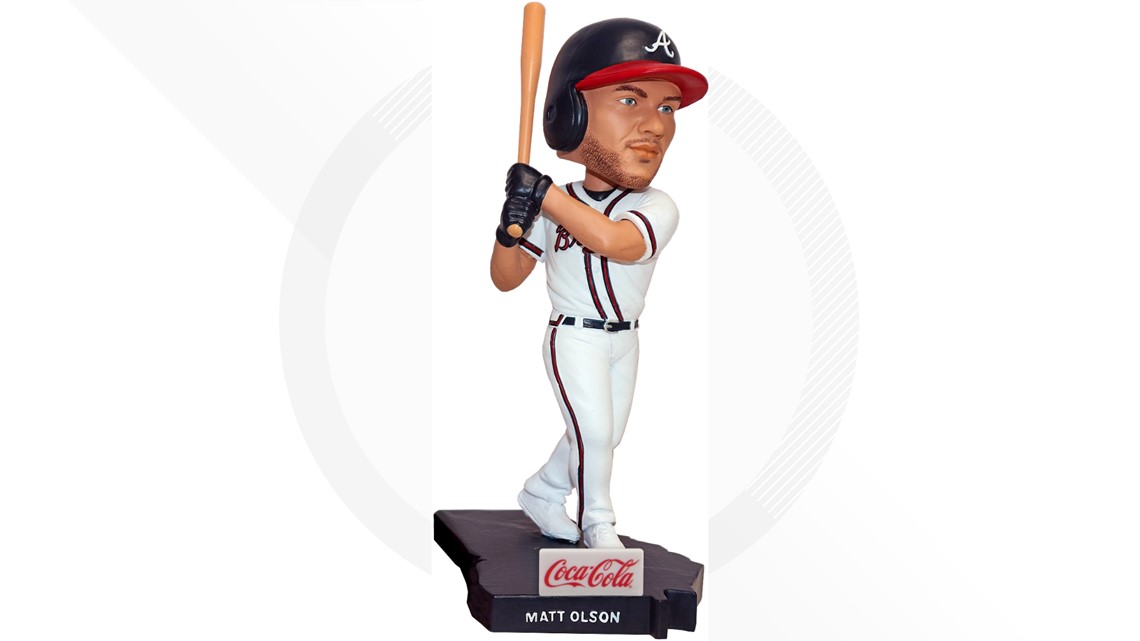 May 22: Kyle Wright | Part 2 of the "Hometown" series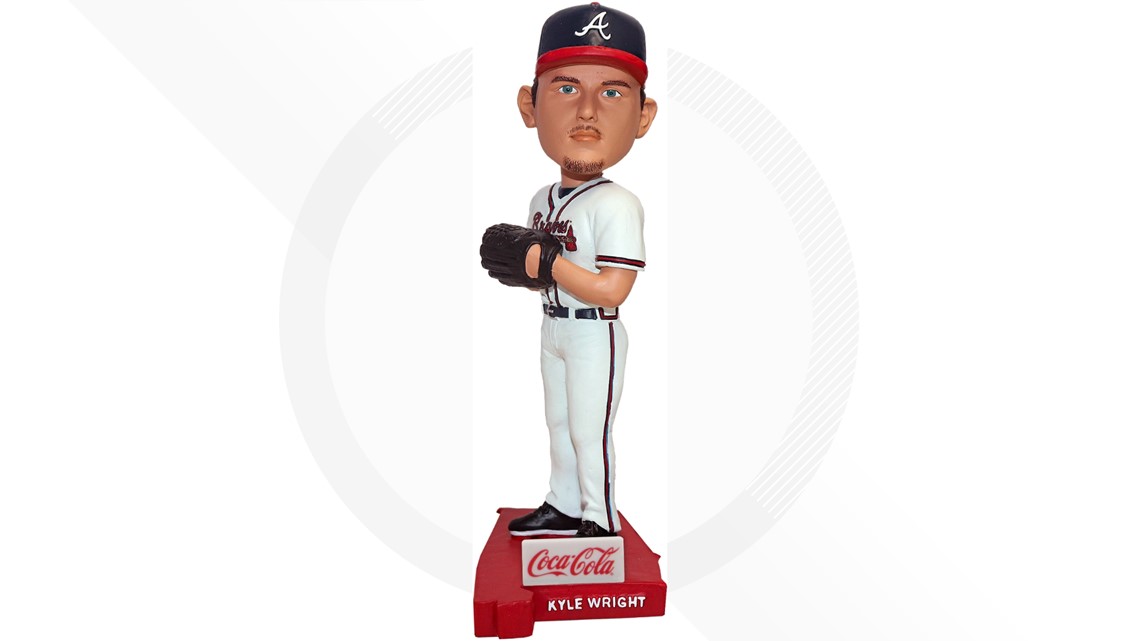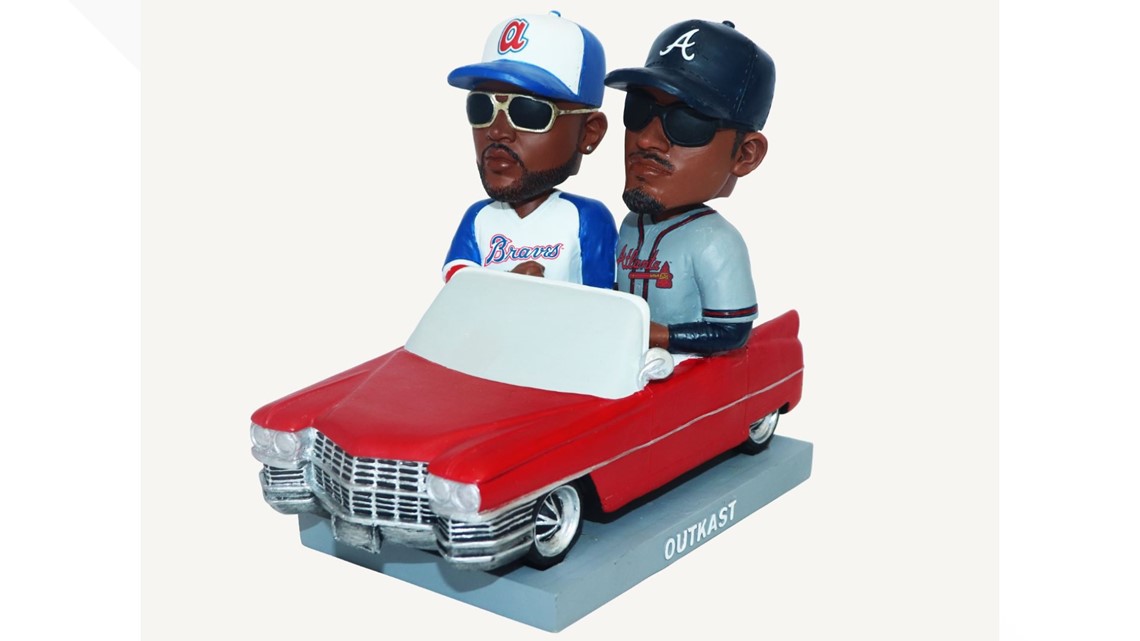 June 7: Austin Riley | Part 3 of the "Hometown" series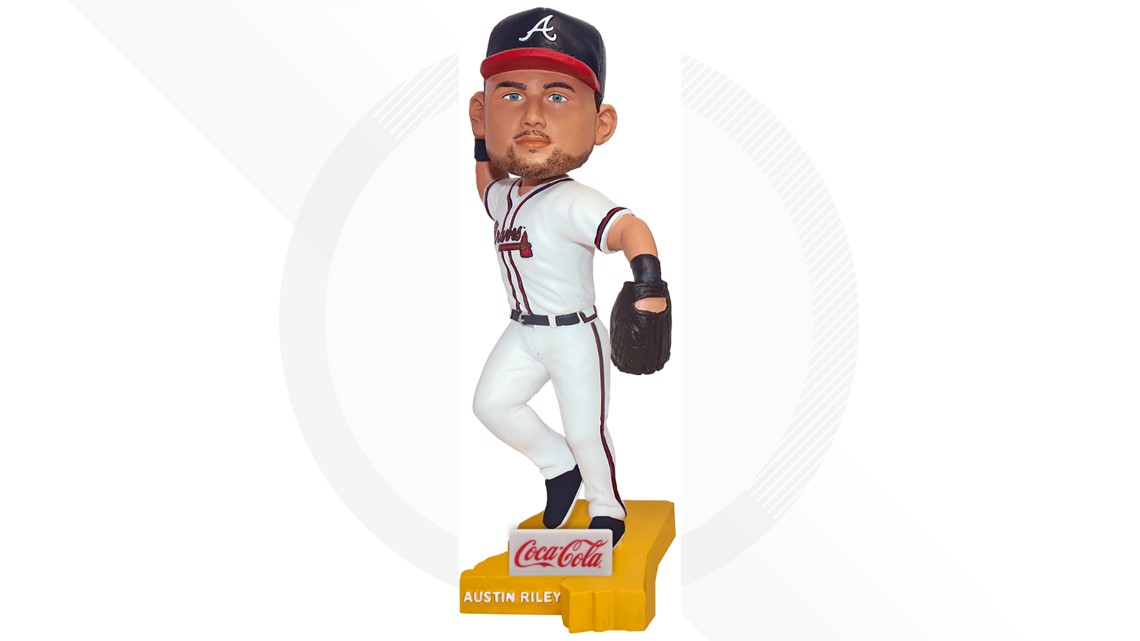 July 19: Ron Gant | '94 Press Box Fire theme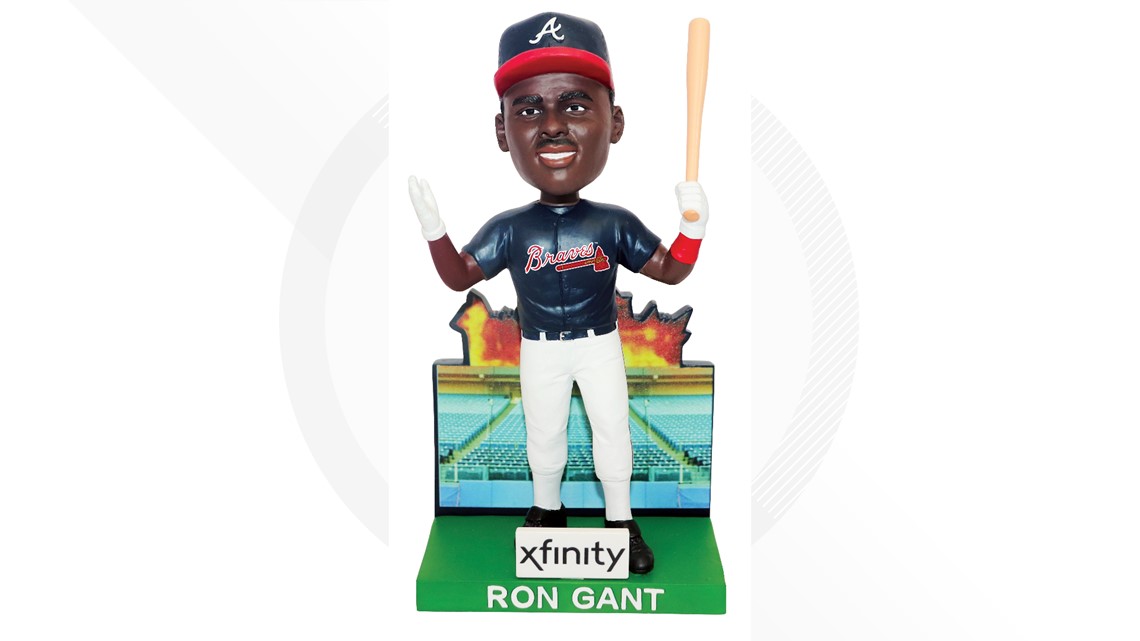 August 1: Fred McGriff | Hall of Fame theme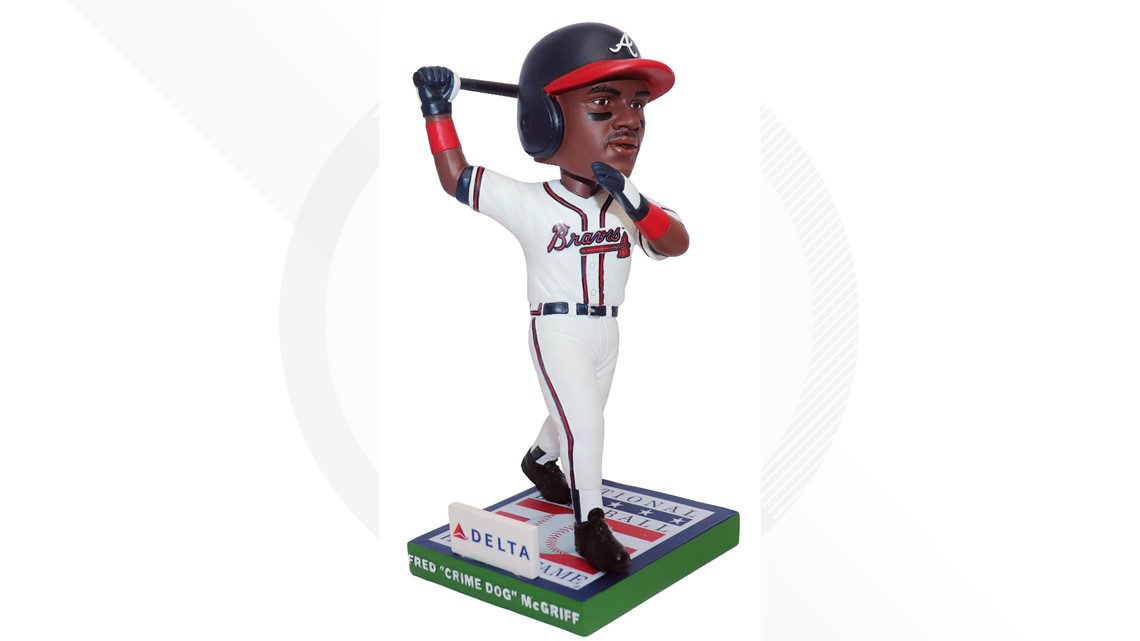 August 22: Michael Harris II | Rooke of the Year tribute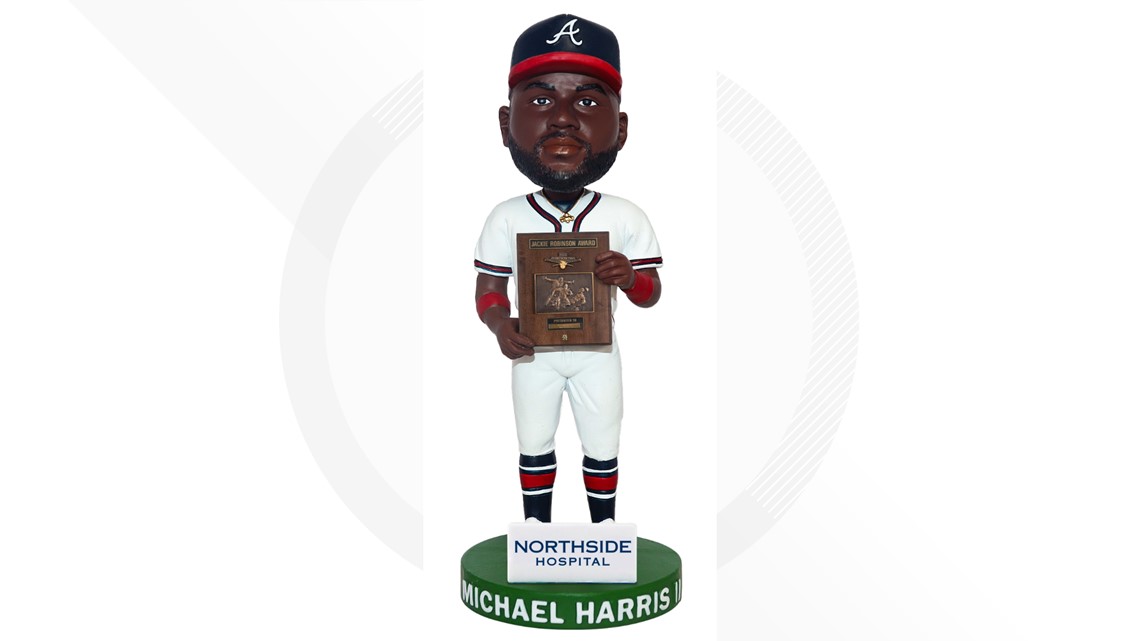 September 19: Ronald Acuña Jr. | "Best of" Bat Flip theme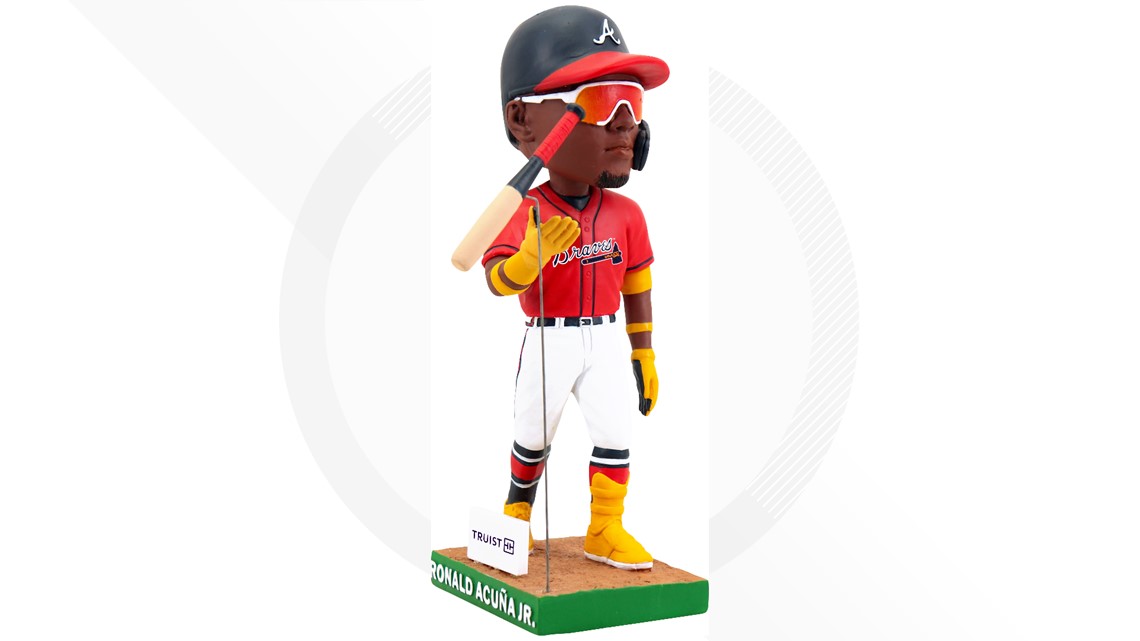 September 26: A.J. Minter | Cowboy theme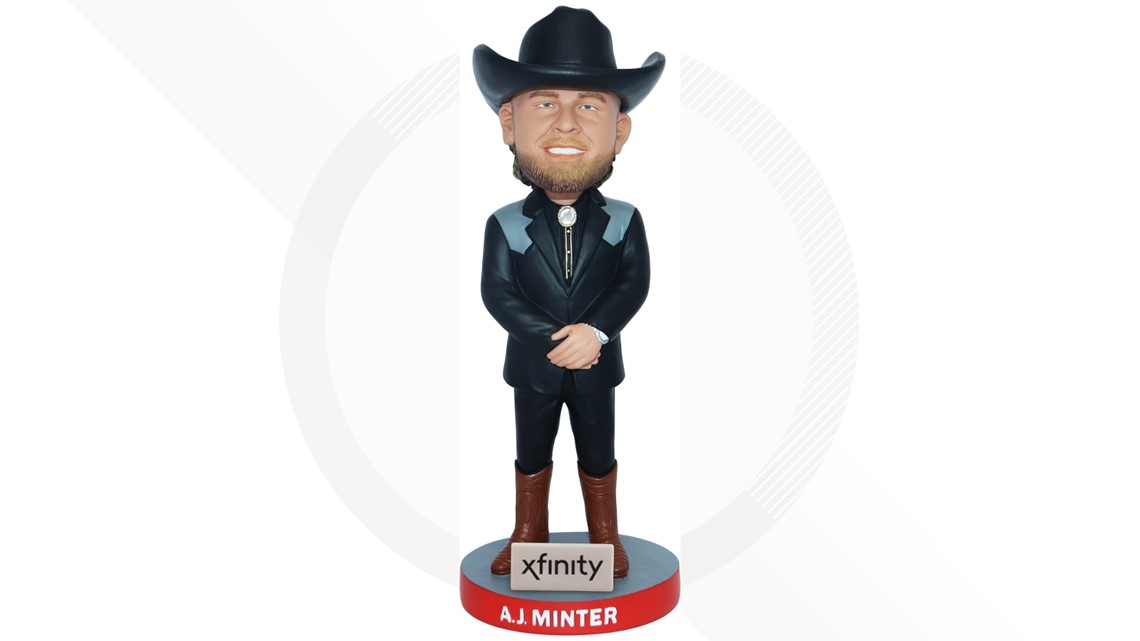 September 29: Spencer Strider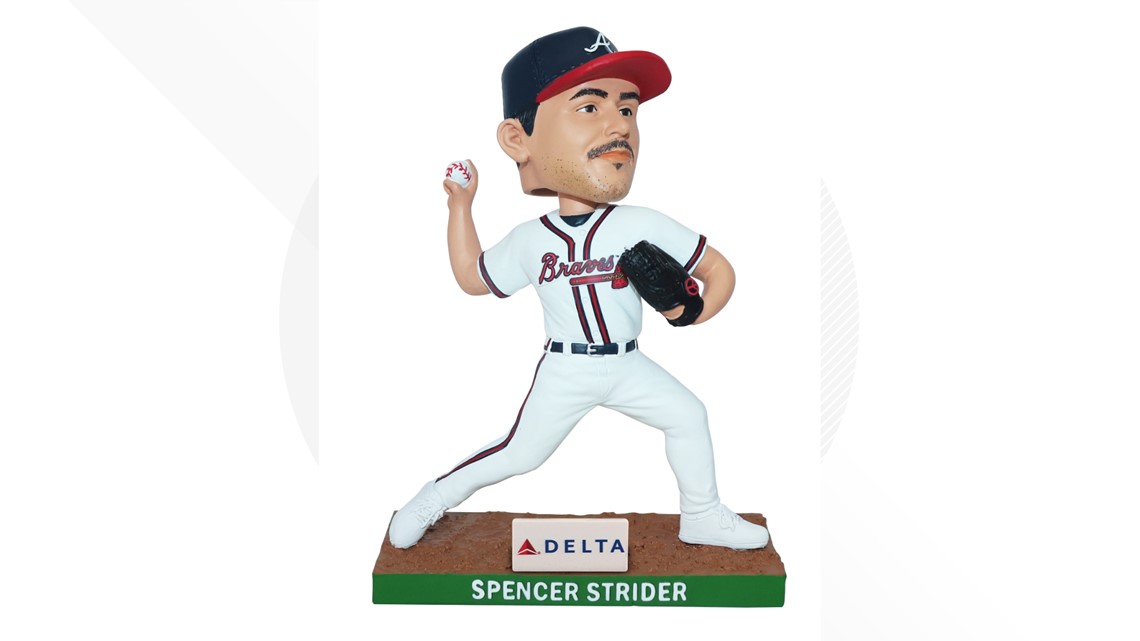 Full Braves promotional schedule
* indicates only available through a specialty ticket package.
April 6: Home Opener; Magnetic Schedule Giveaway presented by Georgia Power
April 7: Magnetic Schedule Giveaway presented by Georgia Power
April 9: Kids-Only Gate Giveaway – The Home Depot Tool Series Part 1 "B'Rush" Bobblehead built by The Home Depot
April 11: BLOOPER Bobblebody Giveaway together with Truist
April 21: Jackie Robinson Day
April 22: Girls Night Out*
April 23: Kids-Only Gate Giveaway – Michael Harris II "Money Mike" Piggy Bank; Deaf Awareness*
April 25: Matt Olson "Hometown" Bobblehead Series Part 1 Giveaway presented by Coca-Cola
April 26: Co-branded NAPA Cap Giveaway presented by NAPA
May 7: Breast Cancer Awareness Day presented by WellStar and Kroger; Kids-Only Gate Giveaway – Braves Sunglasses
May 9: Asian American and Pacific Islander (AAPI) Ticket Package*
May 10: Ozzie Albies "OA" Chain Giveaway
May 19: Star Wars Ticket Package*
May 20: Armed Forces Day presented by T-Mobile; Military Appreciation*
May 21: Kids-Only Gate Giveaway – The Home Depot Tool Series Part 2 "Phil the Bucket" Bobblehead built by The Home Depot; College Ticket Package: Auburn*
May 22: Kyle Wright "Hometown" Bobblehead Series Part 2 Giveaway presented by Coca-Cola
May 23: College Ticket Package: University of Florida*
May 25: OutKast Bobblehead Giveaway
May 28: Kids-Only Gate Giveaway – BLOOPER Beach Towel; Greek Night*
June 6: Lou Gehrig Day; Co-branded MLB Network Cap Giveaway
June 7: Austin Riley "Hometown" Bobblehead Series Part 3 Giveaway presented by Coca-Cola
June 8: College Ticket Package: University of Georgia*
June 9: Play Ball Weekend
June 10: Play Ball Weekend; Braves Country 5K*
June 11: Play Ball Weekend; Kids Club Day; Kids-Only Gate Giveaway – Choice of a Braves Arm Sleeve OR Softball Bow
June 15: Pride Night*
June 17: Eastern Band of Cherokee Indians (EBCI) Night
June 18: Prostate Cancer Awareness Day presented by Northside Hospital; Kids-Only Gate Giveaway – Braves Picture Frame; Father's Day Catch on the Field* (sold out)
June 26: A-List Appreciation Week; College Ticket Package: University of Alabama*
June 27: A-List Appreciation Week; Ronald Acuña Jr. "13" Chain Giveaway
June 28: A-List Appreciation Week; Summer Camp Day*
June 30: A-List Appreciation Week
July 1: A-List Appreciation Week
July 2: A-List Appreciation Week; Kids-Only Gate Giveaway – The Home Depot Tool Series Part 3 "Hammerin' Hank" Bobblehead built by The Home Depot
July 15: Georgia Tribes Night
July 16: Kids-Only Gate Giveaway – Braves Lunchbox
July 18: Spencer Strider "Peace Sign" Chain Giveaway; College Ticket Package: University of Tennessee*
July 19: Ron Gant '94 Press Box Fire Bobblehead Giveaway presented by Xfinity
July 20: For King + Country Postgame Concert presented by Chick-fil-A and Field Pass*; Summer Camp Day*
July 28: Hank Aaron Week (Will be celebrated in the Community during the week and in the ballpark this day)
July 30: Kids-Only Gate Giveaway – The Home Depot Tool Series Part 4 "Two Bit" Bobblehead built by The Home Depot; College Ticket Package: Georgia Southern University*; BLOOPER's Brunch* (sold out)
July 31: TOPPS Baseball Card Pack Giveaway
August 1: Fred McGriff "Hall of Fame" Bobblehead Giveaway presented by Delta Air Lines
August 14: College Ticket Package: Florida State University*
August 15: College Ticket Package: Kennesaw State University*
August 18: Alumni Weekend presented by Your Local Ford Dealer
August 19: Alumni Weekend presented by Your Local Ford Dealer
August 20: Alumni Weekend presented by Your Local Ford Dealer; Kids-Only Gate Giveaway – BLOOPER Soft Squishy Plush; College Ticket Package: Clemson University*
August 21: College Ticket Package: Georgia State University*
August 22: Jackie Robinson Rookie of the Year Michael Harris II Bobblehead presented by Northside Hospital
August 23: HBCU Night together with Truist*
September 7: Michael Harris II "Money Mike" Headband Giveaway; College Ticket Package: Georgia Tech*
September 10: Childhood Cancer Awareness Day; Kids-Only Gate Giveaway – Braves Arm Sleeve
September 18: Dobbins Air Reserve Base Day (U.S. Air Force Birthday) presented by T-Mobile
September 19: Roberto Clemente Day; "Best of" Ronald Acuña Jr. Bat Flip Bobblehead together with Truist; College Ticket Package: University of South Carolina*
September 26: A.J. Minter "Cowboy" Bobblehead presented by Xfinity
September 28: Los Bravos Night presented by Georgia Power
September 29: Spencer Strider Bobblehead presented by Delta Air Lines