ATLANTA — Braves fans will be ready to throw their hands in the air and wave 'em like they just don't care Thursday night in celebration of iconic hip-hop duo OutKast.
Festivities will be happening all night long throughout Truist Park and The Battery as the team honors Big Boi and André 3000 -- with those celebrations ranging from an "ATLiens Diner" food truck, a music performance from a band covering the duo's hits, and the much-anticipated OutKast bobblehead at the game itself.
Here's everything fans need to know about the events going on at Truist Park for OutKast Night when Atlanta takes on the Philadelphia Phillies.
OutKast bobblehead
The first 15,000 fans through the gate at Truist Park Thursday night will receive the bobblehead that Braves fans have been raving about since the promotional schedule dropped before the season.
The OutKast bobblehead features Big Boi and André 3000 wearing Braves gear and riding in a red convertible.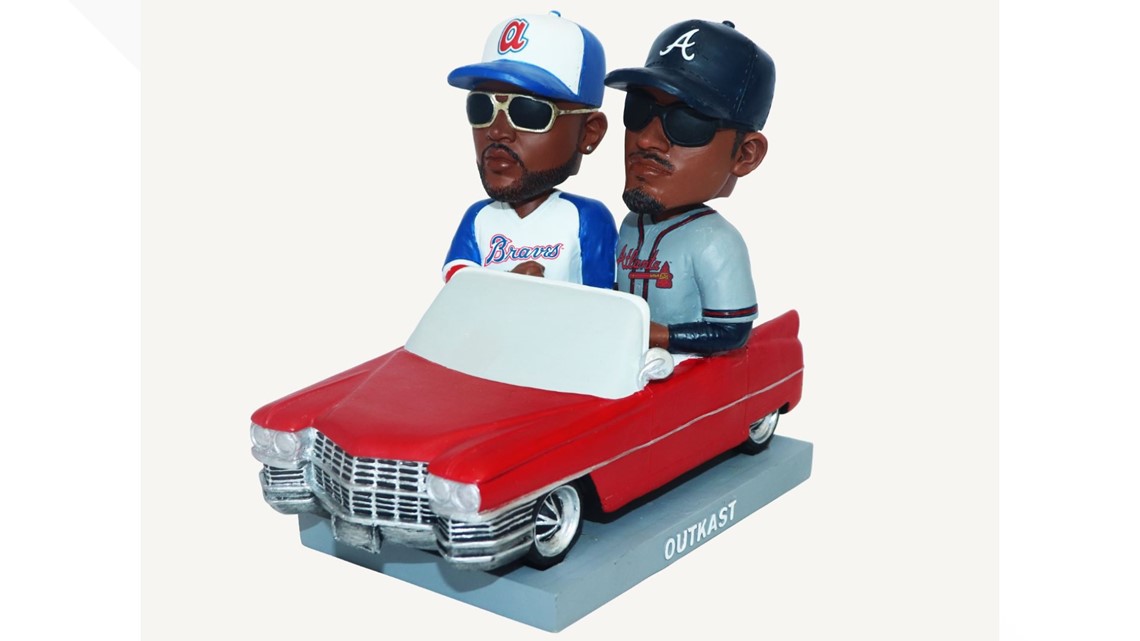 'ATLiens Diner' food truck
Fans better bring an appetite to The Battery if they are heading down for the festivities.
With a food truck in honor of the eats they sing about in their lyrics, "ATLiens Diner" will feature patty melts ("So Fresh and So Clean"), fried fish and grits ("ATLiens") and yams with extra syrup ("SpottieOttieDopalicious").
Ceremonial first pitch
Big Boi will be throwing out the ceremonial first pitch ahead of game one between the Braves and Phillies. André 3000 will not be in attendance at the celebration.
Pregame music in The Battery green space
OutKast will also be honored when the band Biological Misfits featuring Malcolm Jamal-Warner will perform famous OutKast songs on the Georgia Power Pavilion Stage starting at 6 p.m.
Three local artists -- Dr. Dax, Honey Pierre and Raphael Bahindwa -- will also be going throughout The Battery and create OutKast and Braves-themed artwork.
Other ways OutKast will be honored
The Braves will be popping up street names throughout The Battery that pay homage to OutKast and their legacy in Atlanta. There will also be an OutKast-inspired art wall for fans to take pictures in front of. And lastly, OutKast music will be booming throughout the stadium and The Battery all night long.