This year's city edition uniform will be based on the name of the famous Atlanta thoroughfare, Peachtree Street. Merchandise based on the new uniform will be made available for pre-order on the same day.
The new uniform will also be accompanied by a customized home court for their appearances and will be used 11 times during the season at State Farm Arena.
The planned appearances for this season are:
11/20 vs. Milwaukee Bucks
12/2 vs. Golden State
12/4 vs. Brooklyn Nets
12/15 vs. Los Angeles Lakers
1/18 vs. Detroit Pistons
1/20 vs. Toronto Raptors
1/22 vs. Los Angeles Clippers
2/20 vs. Miami Heat
2/22 vs. Dallas Mavericks
3/31 vs. New Orleans Pelicans
4/7 vs. Detroit Pistons
"The Atlanta Hawks are paying homage to Atlanta culture with our new Nike City Edition unis," said Atlanta Hawks and State Farm Arena EVP and Chief Marketing Officer Melissa Proctor. "Peachtree symbolizes the streets that connect our neighborhoods, from Bankhead to Buckhead, from the West End to East Atlanta Village, and all throughout the metro Atlanta area."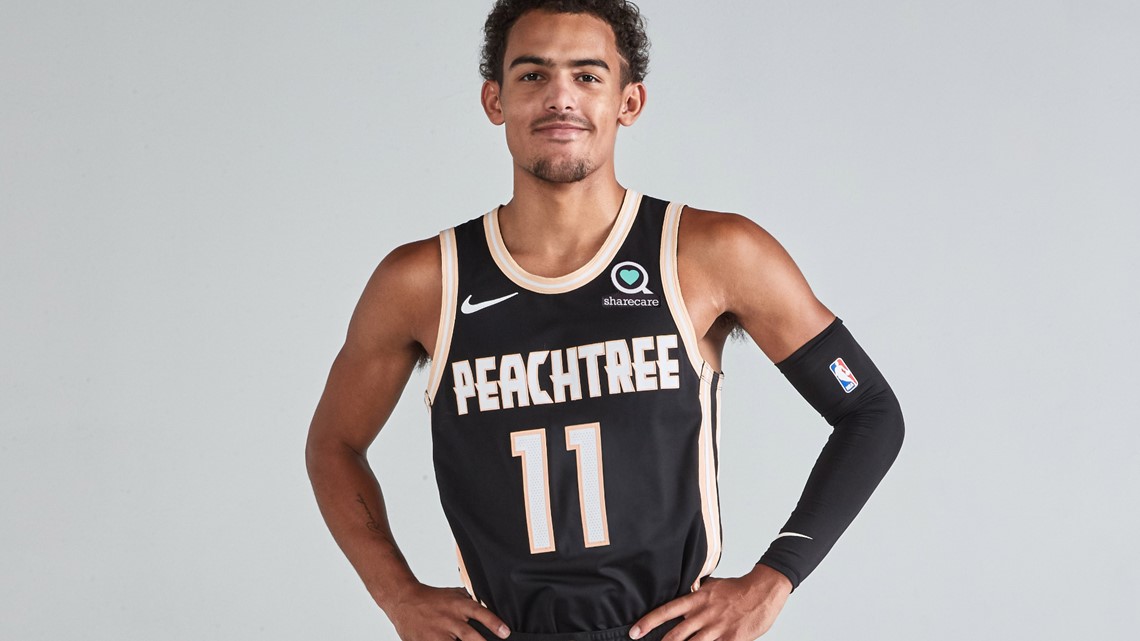 The new city edition uniform is black with accents of peach color throughout. The name "Peachtree" is emblazoned across across the chest. The team's "ATL" logo is across the waistband of the shorts, and a peach/basketball emblem is at the knee.
Peach and white-colored accent striping runs across the entire uniform and the sponsoring jersey patch of Atlanta-based digital healthcare company Sharecare is near the shoulder.
The NBA City Edition uniforms were introduced by Nike in 2017 across the league. They "represent insights and emotion from the court to the upper deck to the cities' streets, in pursuit of a unique way to capture each team and its city in a way that respects the past and present of the clubs while also positioning them for the future."
The Hawks game against the Bucks which introduces the Peachtree City Edition uniforms tips off at 7:30 pm.
MORE ATLANTA HAWKS HEADLINES |