FLOWERY BRANCH, Ga.—For most NFL rookies, the transition from college ball to the pros can be daunting.
Unless you played for Nick Saban.
When Calvin Ridley—Atlanta's first-round selection from last month (26th overall)—showed up for his first mini-camp practice on Friday, he was taken aback by the subtle differences between the Falcons and that of his alma mater, the University of Alabama.
With the Falcons, a wide-ranging selection of hyped-up music blared during stretching and running drills.
At Alabama ... not so much.
With the Falcons, Ridley also had the freedom to untuck his shirt a little, wear long black sleeves on a hot spring day and occasionally remove his helmet between drills—a noticeable sea change from the rules and regulations under Saban, who has captured six national championships with the Crimson Tide since 2007.
At the core of everything, though, it's just football. Whether you're attempting to curry the favor of Saban or Falcons head coach Dan Quinn ... the daily demands involve playing fast, physical and intelligently.
"Pretty good for an NFL practice," said Ridley, just seconds after walking off the practice field. "I wanted to play fast; just had to slow it down a little bit out there."
Most first-round receivers enter the NFL flanked with sky-high expectations, but Ridley has seemingly stumbled onto the perfect situation to launch a pro career, given three occurrences:
1) The southern mecca of Atlanta is a relatively familiar media market for Ridley.
2) The Falcons are hardly in rebuilding mode at receiver, thanks to establishment talents like Julio Jones and Mohamed Sanu.
3) As an Alabama alum, Ridley has undoubtedly heard the many comparisons to Jones, who rolled for 179 catches, 2,653 yards and 17 total touchdowns in three seasons with the Crimson Tide (2008-10), prior to getting drafted by the Falcons in 2011.
Falcons draft picks over the years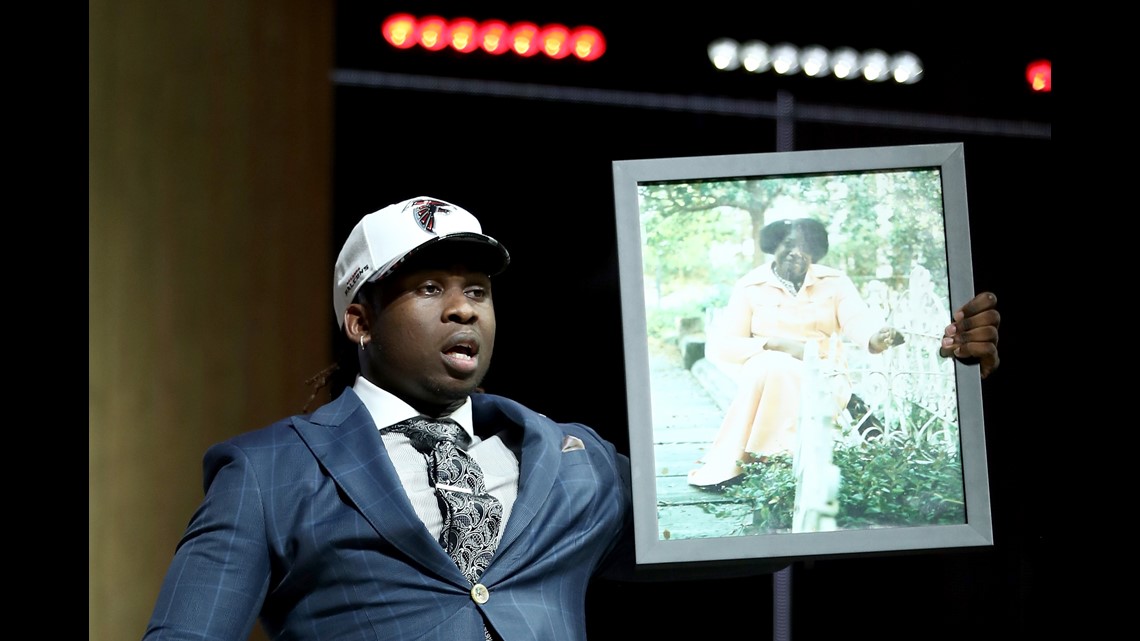 For what it's worth, Ridley's three years at Alabama yielded 224 catches, 2,781 yards and 20 total touchdowns.
"I'm just worried about me, to tell the truth," said Ridley, the No. 2-ranked wide receiver coming out of high school (2015—courtesy of 24/7 Sports).
Here's another thing that isn't a great concern to Ridley: His looming contract situation.
At the time of this writing, Ridley stands as the only unsigned Falcons draftee. But it doesn't faze the rookie, who says his handlers will take care of everything in due time.
For Ridley, the focus of the spring and summer entails absorbing the Falcons' playbook, getting to know his teammates and coaches and building off the foundational workouts which preceded last month's draft—emphasizing explosive footwork, getting stronger/faster and running more precise routes.
"The coaches have told me, 'Just be confident, don't be too overwhelmed,'" says Ridley, who didn't have any 'slot' receiving duties during the 7-on-7 drills.
During his first shell drill, though, Ridley had difficulty corralling one pass, while standing less than five feet from Coach Quinn. For the day, it would be the only blip on Ridley's radar.
"Mentally, he's really quick," said Quinn of Ridley after practice. "Like most of the guys, (Ridley) wants to do right so well—more reps, more turns. It's a good lesson for the players: 'Stay in the moment for this play' ... I was really pleased with the guys' effort today."
Quinn is a big proponent of gauging versatility during these close-knit mini-camp practices. He also likes to measure an athlete's competition level.
Prior to the on-field workouts, as a team-bonding opportunity, a number of Falcons rookies took part in a basketball shooting contest, fueling Ridley's drive to succeed.
"I even hit a couple shots to help my team win," said Ridley, wearing a large grin.