ATLANTA—The average Georgian's dream of attending this winter's Super Bowl at Mercedes-Benz Stadium is alive and well.
The NFL has begun the process of making a select amount of Super Bowl tickets available to the general public, through its NFL On Location site.
To sign up for the 'NFL On Location' promotion, click here for more information.
The NFL controls the ticket distribution of every Super Bowl; and according to SeatGeek.com, a site which specializes in the secondary resale of sports-event tickets, "historically, the two participating teams each received 17.5 percent of the tickets, and another 5 percent goes to the host city. The remaining teams in the league split 34.8 percent of the tickets evenly."
So, what's to account for the remaining 25.2 percent? According to Seat Geek, the media and corporate sponsors claim the vast majority of that pie. However, as part of the NFL On Location program, the NFL also reserves select packages for fans attempting to purchase Super Bowl tickets at face value.
According to Bloomberg.com, 9,500 tickets were doled out via the system for Minneapolis. Also, according to NBCNews.com, the Minnesota Super Bowl generated an all-time rate on the secondary-ticket market—at more than $5,000 per average tickets.
Using the '9,500' figure from above, it represented 13 percent of the seating capacity for U.S. Bank Stadium in Minneapolis (73,000 total). For Mercedes-Benz Stadium (capacity: 83,000), the NFL On Location program would account for 11.4 percent of the venue seats.
TicketCity.com already speculates a single ticket for the Atlanta Super Bowl (Feb. 3, 2019) will have a price range of $3,667 to $9,570.
The Atlanta packages slated for the NFL On Location site include:
**In-Stadium Clubs: A private tailgate party at SunTrust Club (pregame/in-game), where guests get a unique, field-level view of the action, "just steps from the sidelined bench."
**Field Access: After the game, the guests are invited to walk onto the field, as NFL Commissioner Roger Goodell presents the Vince Lombardi Trophy to the Super Bowl champion.
**Luxury Hotel: Select guests have their choice of staying at four prestigious Buckhead-based hotels during Super Bowl weekend—The Whitley, Grand Hyatt, Hilton and the St. Regis.
PHOTOS: 2018 NFL Draft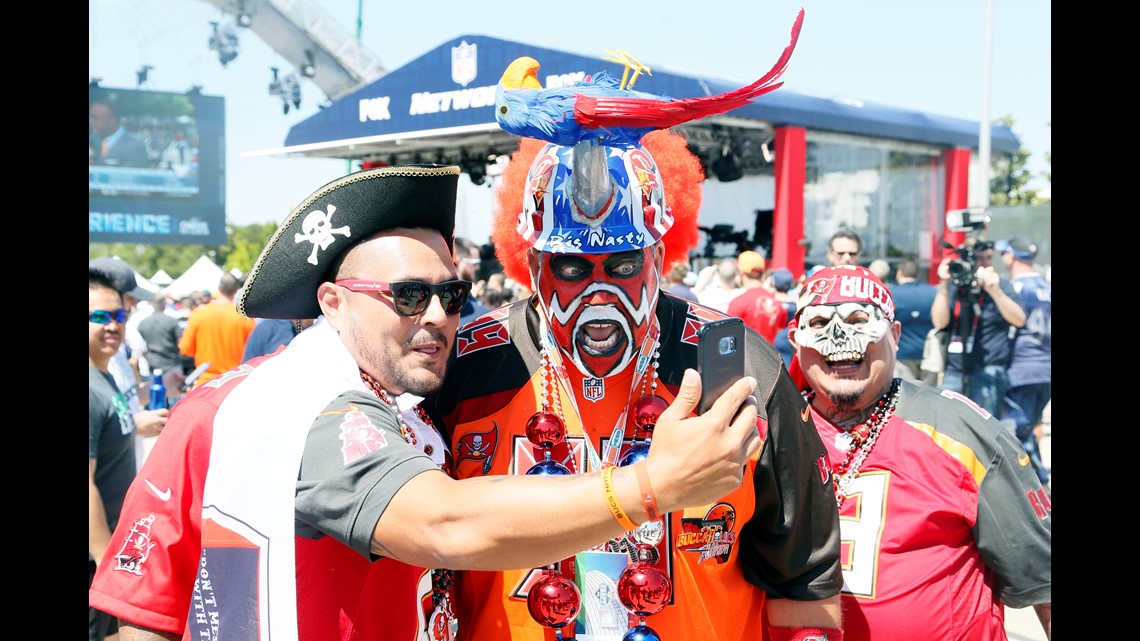 Last February's championship experience offered a 'Hall of Fame' package: For Super Sunday, select fans hung out with a handful of Pro Football Hall of Fame members in one of U.S. Bank Stadium's hospitality suites. They were also treated to pre-game parties with recording artist Kelly Clarkson (performed the National Anthem) and world-famous chef Andrew Zimmern.
The price: $6,299 (source: Vikings Wire/USA TODAY).
SPECIALTY PACKAGES FOR THE ATLANTA SUPER BOWL
"On The Fifty"—$17,500
**50-Yard Line seating
**Premium Pregame Party
**SunTrust Club Access
**In-Game Food/Beverage
**Postgame Field Access
**Dedicated Entrance
**Select Entertainment Ticket
**On-Site Concierge Service
**Priority Access to Concerts/Events
**Upgrade Opportunity for Luxury Hotels
"Sixty7"—$14,500
**Prime Club Sideline Seats
**Premium Pregame Party
**Access to Select In-Stadium Clubs
**Postgame Field Access
**Dedicated Entrance
**On-Site Concierge Service
**Priority Access to Concerts/Events
**Upgrade Opportunity for Luxury Hotels
"Champions"—$12,500
**Prime Club Sideline Seats
**Premium Pregame Party
**Access to Select In-Stadium Clubs
**Dedicated Entrance
**On-Site Concierge Service
**Priority Access to Concerts/Events
**Upgrade Opportunity for Luxury Hotels
"Legends"—$8,500
**Lower/Mid-Level Sideline Seats
**Premium Pregame Party
**Access to Select In-Stadium Clubs
**Dedicated Entrance
**On-Site Concierge Service
**Priority Access to Concerts/Events
**Upgrade Opportunity for Luxury Hotels
"53 Live"—$5,000
**Official Game Tickets
**Pregame Party
**Dedicated Entrance
**On-Site Member Services
**Priority Access to Concerts/Events
**Upgrade Opportunity for Luxury Hotels
"All Inclusive"—$8,135
**Official Game Tickets
**Pregame Party
**Dedicated Entrance
**Three-night hotel stay
**Friday night reception (Super Bowl Week)
**On-Site Concierge/Guest Reception
**Priority Access to Concerts/Events