CLEVELAND — When the Cleveland Browns arrived at the decision that Kevin Stefanski would be the perfect fit as the next head coach of the franchise, they took great comfort in knowing that the organization found a well-respected on-field leader.
That respect was not limited to his fellow coaches either, as several Minnesota Vikings players had positive things to say about Stefanski, the Browns' 10th full-time head coach since the franchise returned to the National Football League in 1999.
"Coach Kevin has had such a positive influence in my life since I came to Minnesota," Vikings star running back Dalvin Cook said. "He believed in me as a person and player and entrusted me with a featured role in our offense.
"Cleveland got a great one and their entire organization will benefit from his leadership."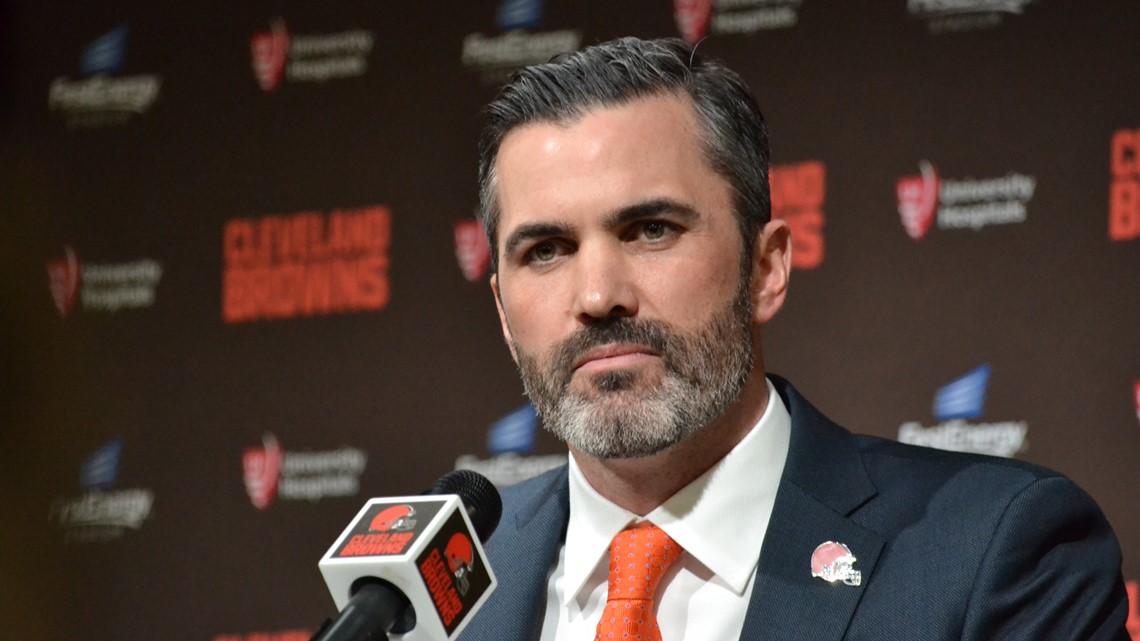 A graduate of the University of Pennsylvania and son of a long-time NBA executive, Stefanski was chosen to be the next Browns coach over several top offensive coordinators around the league, including Eric Bieniemy (Kansas City Chiefs), Josh McDaniels (New England Patriots), Brian Daboll (Buffalo Bills) and Greg Roman (Baltimore Ravens), as well as a Super Bowl winner in Mike McCarthy.
The Browns wanted a new head coach with NFL experience, and Stefanski fits that bill.
Stefanski was the long-tenured Vikings assistant prior to his departure for Cleveland, where he most recently served as offensive coordinator in 2019 after previously mentoring the quarterbacks, running backs and tight ends in 13 seasons with the club.
"The way he prepared each week and helped me prepare was top-notch," Vikings tight end Kyle Rudolph said. "The command he had over our room and the respect I had for him was second to none.
"From day one last season when he took over as our interim OC, he's had a command over our offensive room that guys respond to, which in my opinion would translate perfectly to a team room. Kevin also has the ability to relate to guys and he has a way of showing every player how they can help the team win."
In 2009, Stefanski helped Hall of Fame quarterback Brett Favre transition into the system after joining the team in mid-August, and the experiment was a successful one, as the Vikings earned their way to the NFC Championship Game.
In 2012, Stefanski helped improve the play of former quarterback Christian Ponder, who led the Vikings to a 4-0 stretch in the final weeks of the season, as well as a playoff berth. Ponder's best outing came in a must-win situation late in the season, and he did not throw an interception over the final three games.
After mentoring the tight ends (2014-2015) and running backs (2016), Stefanski transitioned to quarterbacks coach, where in 2017, he helped the Vikings overcome injuries to Teddy Bridgewater and Sam Bradford by leading Case Keenum to his most successful professional season.
Under Stefanski's guidance, Keenum posted an 11-3 record after completing 325 of his 481 attempts (67.6 percent) for 3,547 yards and 22 touchdowns against only seven interceptions. Despite being sacked 22 times, Keenum had a career-best 98.3 quarterback rating.
"I think it's a great role for him," Vikings wide receiver Adam Thielen said. "He's a great leader, he has a great demeanor, and I have so much respect for him and the way that he carries out his life, his business -- and thankful for his support and everything he's done for me over the years.
"I'm happy for him to get that bump."