Whether it is in college or high school, there is always a ton of football talent coming out of the state of Georgia.
This year, there were 25 players with ties to Georgia that were invited to the NFL Scouting Combine. There are nearly a dozen players with connections to Georgia that are projected to be drafted in the first two rounds of this weekend's NFL Draft in Dallas.
During the draft, 11Alive Sports will update this list so you can find out where Georgia's boys land. We'll also add the free agents who sign with teams after the Draft. Continue to check this page for updates.
Falcons draft picks over the years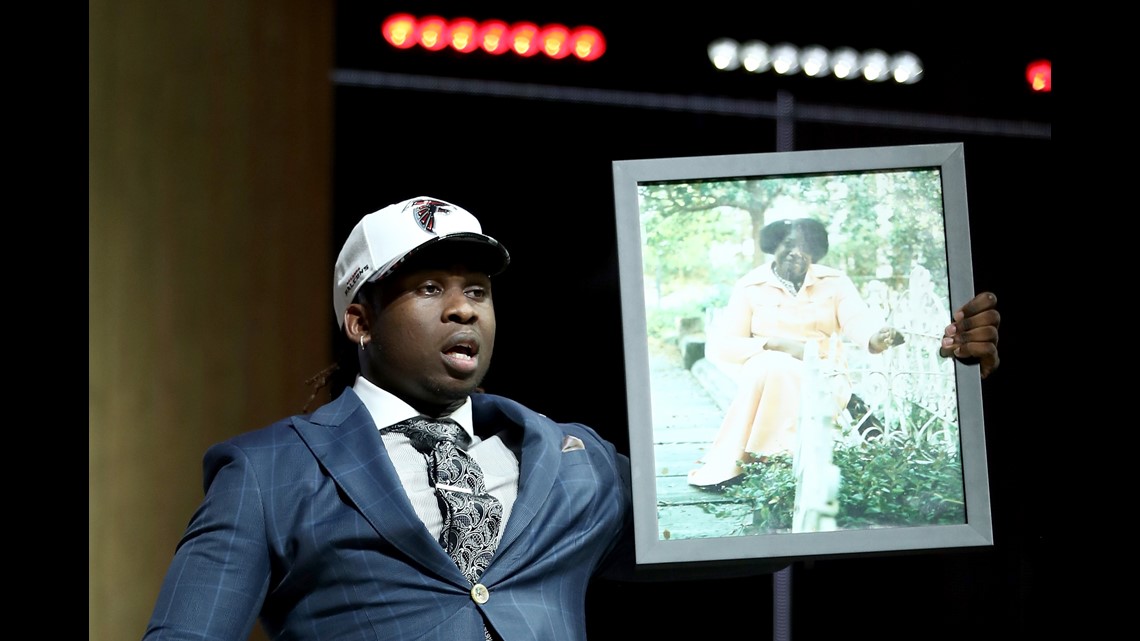 Round 1
No. 5: Broncos - DE Bradley Chubb - NC State - Hillgrove High School
No. 8: Bears - LB Roquan Smith - UGA - Montezuma, Ga.
No. 23: Patriots - OL Isaiah Wynn - UGA
No. 31: Patriots - RB Sony Michel - UGA
Round 2
No. 3: Browns - RB Nick Chubb - UGA - Cedartown High School - Cedartown, Ga.
Round 3
No. 2: Giants Lorenzo Carter - EDGE - UGA - Norcross, Ga.
No. 17: Cowboys Michael Gallup - WR - Colorado State - Monroe Area High School - Monroe, Ga.
No. 18 Lions: Tracy Walker - S - UL-L - Brunswick High School - Brunswick, Ga.
No. 19 Ravens: Orlando Brown - OL - OU - Peachtree Ridge High School Duluth, Ga.
No. 20 Chargers: Justin Jones - DT - NC. State - South Cobb High School Austell, Ga.
No. 23 Raiders: Arden Key - EDGE - LSU - Hapeville Charter - Atlanta, Ga.
No. 34 Texans: Jordan Akins - TE - UCF - Union Grove High School - Atlanta, Ga.
Round 4
No. 7 Jets Chris Herndon - TE - Miami - Norcross High School, Norcross, Ga.
Round 6
No. 39 Vikings: Colby Gossett - G - App. State - North Forsyth High School, Cumming, Ga.
Round 7
No. 6 Bears: Javon Wims - WR - UGA
Undrafted Free Agents & Rookie Camp invites (No particular order)
GSU's Chandon Sullivan - CB - Philadelphia Eagles
GT's Antonio Simmons - DL - Tampa Bay Buccaneers
UGA's Aaron Davis - DB - New York Giants
GT's Freddie Burde - C - Cleveland Browns
UGA's Davin Bellamy - DB - Houston Texans
UGA's John Atkins - DT - New England Patriots
Indiana's Rashard Fant (Our Lady of Mercy) - CB - Eagles
PSU's Grant Haley (Lovett) - CB - Giants
GSU's B.J. Clay - DB - Los Angeles Chargers
GSU's Mackendy Cheridor - Atlanta Falcons
GT's Corey Griffin - DB - Green Bay Packers
GT's KeShun Freeman - DE - Baltimore Ravens
UWG's Des Harrison - OL - Cleveland Browns
UT's Evan Berry (Creekside High School) - S - Cleveland Browns
UGA's Trenton Thompson - DT - Cleveland Browns
GT'S Lance Austin - DB - Atlanta Falcons
GT's Lawrence Austin - DB - Atlanta Falcons
GT's Ricky Jeuns - WR - L.A. Rams