ATLANTA — Super Bowl LIII is taking over downtown Atlanta and ticket holders should be prepared to move around like a local, said Atlanta Police.
On Super Bowl Sunday, there will be a secured perimeter places around Mercedes-Benz Stadium and the Georgia World Congress Center and there will be bag checks, said Carlos Campos, public affairs director for Atlanta Police.
"We very much encourage people to travel light – needless to say, no weapons or fireworks. Also, no umbrellas," Campos said. "Pack a poncho in case of rain."
ABOUT MERCEDES-BENZ STADIUM
Located at 1 AMB Drive NW in Atlanta, the stadium is on the East-West MARTA Rail Line and served by two stations – GWCC/Philips Arena CNN Center Station and the Vine City station.
The area surrounding the stadium includes popular Centennial Park, Philips Arena and the Georgia World Congress Center, where Super Bowl Experience Driven by Hyundai will be held. It's also an easy walk from Five Points, Peachtree Center and Midtown.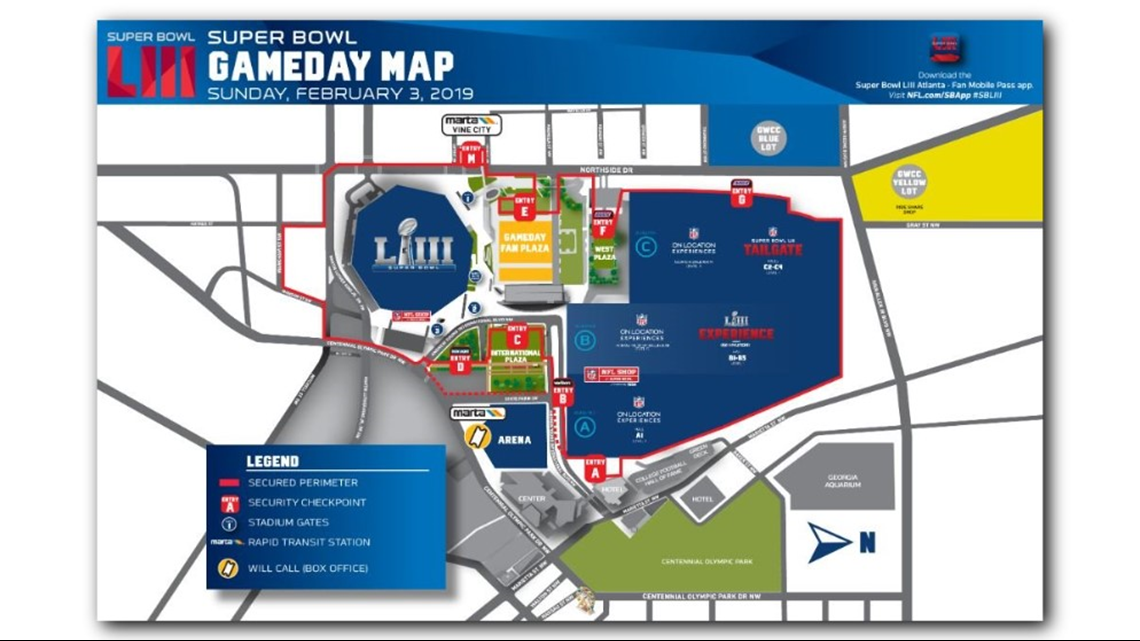 SUPER BOWL SCREENING PROCEDURES FOR FANS
Fans are strongly encouraged not to bring any kind of bag into Mercedes-Benz Stadium for the Super Bowl, but if necessary, those outlined below are permissible:
Bags that are clear plastic, vinyl or PVC and do not exceed 12x6x12 inches
One-gallon clear plastic freezer bag (Ziploc or similar)
Small clutch bags: 4.5 inches by 6.5 inches, with or without a strap or handle, can be taken into the stadium with one of the clear plastic bag options.
Prohibited bags include: purses or bags larger than 4.5 inches by 6.5 inches, coolers, briefcases, backpacks, fanny packs, cinch bags, luggage of any kind, computer bags, binocular cases, camera bag and large traditional seat cushions.
Prohibited items at Super Bowl LIII:
Animals (except service animals)
Banners, signs
Battery-operated clothing
Beach balls or inflatable devices
Bottles, cans, thermoses, cubs and beverages purchased outside the venue
Cigarettes, e-cigarettes and all other smoking devices
Containers of any kind
Fireworks of any kind
Frisbees
Illegal substances
Mace / pepper spray
Motorized scooters and skateboards
Noisemakers and horns
Poles, sticks, missile-type objects of any kind
Pom-poms, shakers
Selfie sticks
Strollers
Tripods
Umbrellas
Firearms, weapons or explosives
Whistles
Items purchased after passing through security on Game Day will be allowed into the stadium.
Cameras and binoculars: Small cameras and binoculars will be allowed. No spectator cameras with lenses more than 6 inches long will be permitted. Camcorders are prohibited. Binocular cases and camera bags are not permitted.
ATLANTA POLICE SAFETY TIPS FOR TICKET HOLDERS
Take MARTA, use rideshare or other alternatives to driving
Don't leave valuables, especially firearms, in your car. A car can be easily broken into and is not a secure place for personal property, police said.
Call 911 to report any suspicious activity, or notify the nearest police officer. Atlanta Police will be visible throughout the area.
Follow APD on Facebook and Twitter for security updates throughout the Super Bowl period, which begins Jan. 26. Atlanta Police also plan to roll out a new website with more Super Bowl security tips.
OTHER ADVICE FOR TICKET HOLDERS
Arrive early: On Super Bowl Sunday, Super Bowl tickets are required for entry at Super Bowl Experience Driven by Hyundai at the Georgia World Congress Center and Super Bowl LIII at Mercedes-Benz Stadium.
Remember Georgia is "hands-free:" If you choose to drive, remember that it is illegal to hold your phone in your hand while driving.
Download the Fan Mobile Pass App: Be sure to download the Super Bowl LIII Atlanta – Fan Mobile Pass for the most up-to-date information. The app is available now for iOS and Android devices. Make sure to keep your cell phone charged to receive important messages.
According to the Super Bowl host committee, about 1 million are expected to visit Atlanta for the Super Bowl – which is roughly the same as the entire population of San Antonio. Most hotels near Mercedes-Benz Stadium are already booked to capacity for Super Bowl weekend, along with hotels close to the airport and Midtown.
The NFL has a website dedicated to Super Bowl LIII fan housing, with availability at hotels in Alpharetta, Atlanta and Stone Mountain. At last check, the cheapest options start at just over $400 per night for Super Bowl weekend.
The most popular day to check in is Feb. 1, and most popular check-out is Feb. 4. It would be wise to stay away from the airport that day.
AirBnb anticipates that about 3,000 people will use its service in Atlanta during the Super Bowl. Rental prices range from around $50 per night to up to $1,500 per night, according to the site.
Many parking lots will operate differently during Super Bowl week due to security restrictions and lack of space – so plan ahead.
Downtown parking will be extremely limited.
Pre-purchase parking is available through ParkSuperBowl.com.
Super Bowl LIII Parking Hotline: 404-223-8327, or email sbtransportinfo@gmail.com
Downtown Atlanta's Super Bowl campus is walkable. There will be no direct access to Super Bowl LIVE or Super Bowl Experience from Northside Drive.
ADA parking is available in selected lots. A state-issued ADA tag must accompany an ADA parking permit, and the person to whom the tag is issued must be present in the vehicle.
After purchasing an ADA parking permit, a member of the NFL Mobility Assistance Team will reach out to determine needs once parked. They will be available on Game Day to help anyone with mobility needs get from their cars to their seats.
Starting Saturday, Feb. 2 through Mon., Feb. 4, Northside Dr. NW will be closed between Ivan Allen Jr. Blvd NW and MLK Jr. Dr. SW.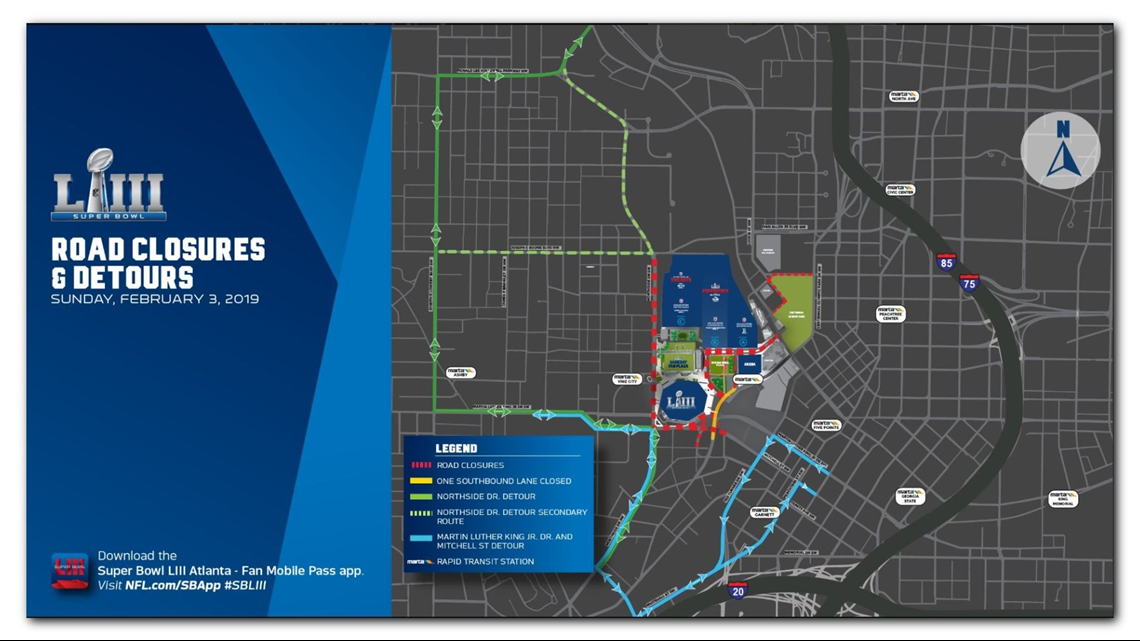 Super Bowl 53 volunteer uniforms