The Super Bowl LIVE concert series is underway.
Singer Monica, country music star Craig Campbell, Atlanta-born indie rock and pop group Hero The Band and other entertainers are a part of the line up.
There are also a series of concerts that are not free happening the weekend of the Super Bowl. Here is your ultimate concert guide for the 2019 Super Bowl.
Super Bowl LIVE presented by Verizon will run from Saturday, Jan. 26 until Saturday, Feb. 2 at Centennial Olympic Park in downtown.
Click here to see map of Centennial Olympic Park for Super Bowl LIVE.
Super Bowl Host Committee
Everything you need to know about Super Bowl week in Atlanta
2019 Super Bowl: What Atlanta ticket holders need to know
"We are excited to welcome renowned talent from a variety of musical genres to Super Bowl LIVE presented by Verizon," said Brett Daniels, chief operating officer of the Atlanta Super Bowl Host Committee. "With daily concerts, festivities and engaging partner activations, Super Bowl LIVE will give Atlanta locals and visitors alike a unique and free opportunity to be a part of Super Bowl LIII."
Click here for hours of operation and what you need to know before you go to Super Bowl LIVE.
Below is the concert schedule. The events will be held at Centennial Olympic Park:
Saturday 1/26 – Hip Hop:
1 p.m.: Emerald Empire Band
3 p.m.: Gritz & Jelly Butter
5 p.m.: Robnhood Tra
6 p.m.: Taylor Girlz
7 p.m.: Street Bud & Friends:

Atlanta Drum Academy, LayLay, Bankroll PJ, Tootie Raw, Nia Kay, King Imprint, Backpack Kid, Lil Donald, Ayo & Teo

8 p.m.: Pastor Troy
9 p.m.: S.O.S. Band
Sunday 1/27 – Country:
1:30 p.m.: Sunday Gospel Brunch, Players Gospel Choir
2:30 p.m.: REMakes
4 p.m.: Jack Michael
5 p.m. Josh Bricker
6 p.m.: Seckond Chaynce
Monday 1/28 – Hip Hop/R&B:
5 p.m.: Ayanis
6:30 p.m.: 5am
7 p.m.: Goodie Mob
8 p.m.: DJ Holiday & Friends:

YFN Lucci, Waka Flocka, Trinidad James, DJ Unk, Travis Porter, 1playy, Young Dro, Derez Deshawn, Fly, Coca Vango, Light Skin Keisha, Swag Surf Boys, Scrappy
Thursday 1/31 – Country & Rock:
4 p.m.: Lyn Avenue
6 p.m.: Tyler Tritt
7 p.m.: Hero the Band
8:30 p.m.: Craig Campbell
Friday 2/1 – Pop & EDM:
3 p.m.: Super Bowl LIVE Happy Hour, Seed & Feed Marching Band
5 p.m.: Leah Culver
6 p.m.: The Jacks
7 p.m.: Hearty Har
8 p.m.: Heroes X Villains
9 p.m.: ATLiens
Saturday 2/2 – Hip Hop:
11:30 a.m.: "Around the NFL" (NFL Podcast)
12:30 p.m.: Georgia Tech Pep Band
1 p.m.: Team (TBD) Fan Rally
2:15 p.m.: Georgia Tech Drum Line
3 p.m. Team (TBD) Fan Rally
5 p.m.: Kelechi
7 p.m.: Monica
8 p.m.: DJ Smurf & So So Def All-Stars

MC Shy D, Raheem the Dream, Kilo Ali, Playa Poncho, Deuce, DJ Kizzy Rock, KP & Envyi, DJ Taz, Freak Nasty, 12 Gauge, Tag Team, Ghost Town DJ's, Lathun
RELATED: Super Bowl Gospel Celebration will bring big names to Atlanta
RELATED: Super Bowl LIVE activities, music acts for concert series announced
In addition to the concert series, there are free activities that families can enjoy each day.
Officials said that they are keeping a tight lid on security around the Super Bowl LIVE venue in order to make the experience a safe one for everyone.
Click here for a list of items officials said they are not permitting into the park.
Hosts of popular NFL podcast "Around the NFL" will tape one of their shows from the Verizon Up Stage at 11:30 a.m. on Saturday, Feb. 2.
Fans will also see the illuminated Vince Lombardi Trophy towering over Centennial Olympic Park. The Lombardi Trophy at Victory Square in Super Bowl Live is an interactive sculpture 35 feet to the top that stands on a fan-accessible 10-foot platform. It shoots confetti!
Super Bowl Live Monday night concert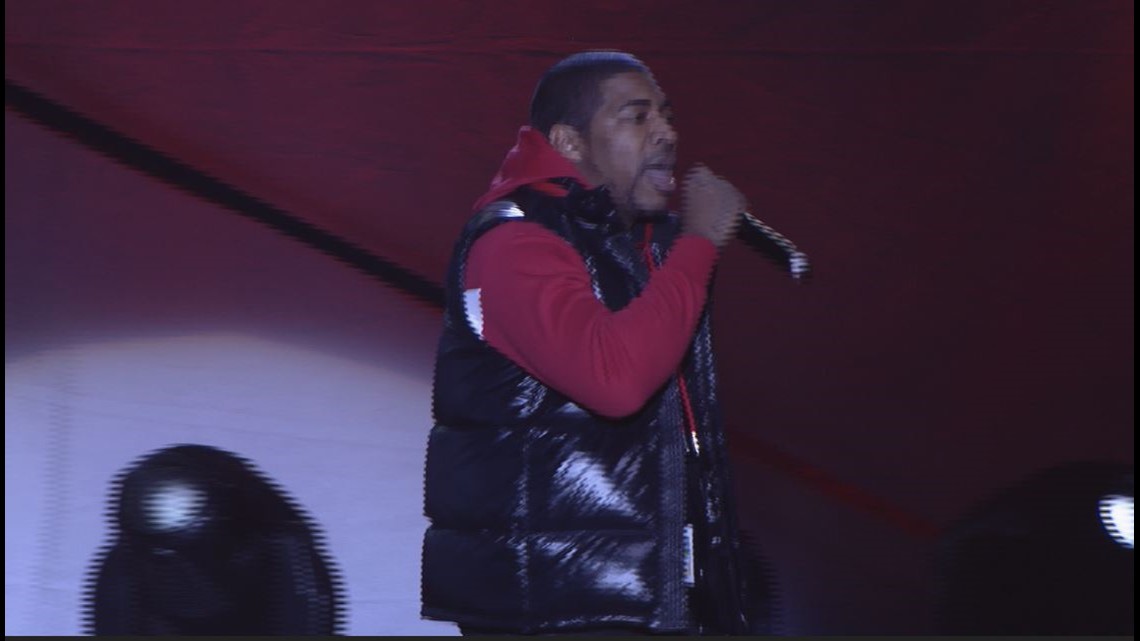 Verizon will engage with fans through multiple activities, including the stage side Verizon Up Members Lounge where NFL players and legends will make appearances throughout the week.
In partnership with WonderRoot, host committee will commission 12 public artworks to be displayed at Super Bowl LIVE at the Art Cube.
There is a host of other activities for families at the park. Get the full list here.
SUPER BOWL GUIDES
How to get around Atlanta during Super Bowl LIII
Free Super Bowl concert lineup at Centennial Park released
Super Bowl LIII | 'Know Before You Go' Guide
Maroon 5 to perform at 2019 Super Bowl halftime with these guests
2019 Super Bowl popup shops in Atlanta
Your guide to accessing players, teams, celebs before Super Sunday