ALPHARETTA, Ga. — One of the 21 men arrested in a child sex sting in DeKalb County has been identified by his employer as Thomas Cheung, a gamer with a large following on Twitter and, apparently, is a Twitch partner.
A man who identifies himself Thomas Cheung on LinkedIn and Twitter lists himself as a partner with Twitch and Humble, in addition to being an employee at Hi-Rez Studios, the Alpharetta company behind the video games "SMITE," "Tribes: Ascend" and the "Battleground of the Gods."
The Georgia Bureau of Investigation identified Cheung as a "gaming studio employee" from Alpharetta but has not formally commented on his background or released any other details about the circumstances surrounding his arrest.
DeKalb County Police Department
The sting, called "Operation Interception", was a month-long operation targeting people who "communicate with children online, have sexually-explicit conversations, and then travel to meet them for the purpose of having sex," according to a release.
RELATED: 21 men arrested in football-themed child sex sting
According to the DeKalb County Police warrant, Cheung started communicating with a person he thought was a 14-year-old girl through the dating app, "Whisper." The person Cheung was communicating with was actually an undercover agent with the Internet Crimes Against Children Taskforce.
During the conversation Cheung allegedly told the undercover agent that he wanted to meet up for sex and was aware that he was talking to someone who appeared to be underage, according to the warrant. Cheung allegedly asked to meet in the parking lot of a Kroger on Johnson Ferry Road in Brookhaven.
According to the warrant, Cheung stated in his messages to the undercover agent that he "wanted to show her some things" and that he didn't like using a condom. He continued to talk to the undercover agent through text messaging and sent explicit messages, police said.
He arrived to the Kroger at 12:45 a.m. on Jan. 31 and was taken into custody by the Southeast Fugitive taskforce, according to the warrant.
Stewart Chisam, the CEO of Hi-Rez Studios, issued a statement on Twitter regarding Cheung and the arrest, announcing he was "no longer employed by Hi-Rez Studios."
"On Monday, February 4th, we learned through local news that Thomas Cheung was arrested in an operation by the Georgia Bureau of Investigations. At this point, we know only what has been reported by local law enforcement and cannot comment on the specifics of Mr. Cheung's case, other than to say that, as of today, Mr. Cheung is no longer employed by Hi-Rez Studios," Chisam's comment read. "As a parent, it is difficult to imagine more disturbing allegations than those laid out in news reports. We commend the efforts of the Georgia Bureau of Investigations and other law enforcement to protect our state's children and to send a strong message that the behavior targeted in their Operation Interception will not be tolerated in Georgia."
Chisam also tweeted that he was donating to Polaris, a non-profit dedicated to eradicating human trafficking and supporting those recovered from sex slavery.
According to Cheung's LinkedIn bio, he worked as a community specialist on SMITE and Paladins Strike.
Twitch has not issued a formal response to Cheung's alleged arrest but his account appears to be suspended on the popular gaming site.
Twitch
Twitch, a popular online streaming service, boasts over 2 million active users every month. Users can follow and direct message one another, and each stream has a unique chatroom where users can interact with popular Twitch streamers, who can broadcast to a live audience.
As a Twitch partner, Cheung would have had access to thousands of viewers and could have received subscription payments and ad revenue generated on his channel. In order to qualify as a Twitch partner, users have to "act as role models" on the platform and "demonstrate large, engaged viewership/following on other services," according to the Twitch partners website.
Cheung's LinkedIn profile states that he has been a Twitch partner since June 2012.
He is still in police custody and will be back in court on Feb. 14, 2019.
Operation Interception netted men from multiple backgrounds, police said, including rideshare drivers, construction workers and a behavioral health case manager, to name a few.
Brookhaven served as ground-zero for Operation Interception and included multiple agencies across Georgia who are members of the Georgia Internet Crimes Against Children Task Force.
RELATED: 'Motivation' is in jail for sex trafficking; hear his warning to parents
Men arrested in 'Operation Interception'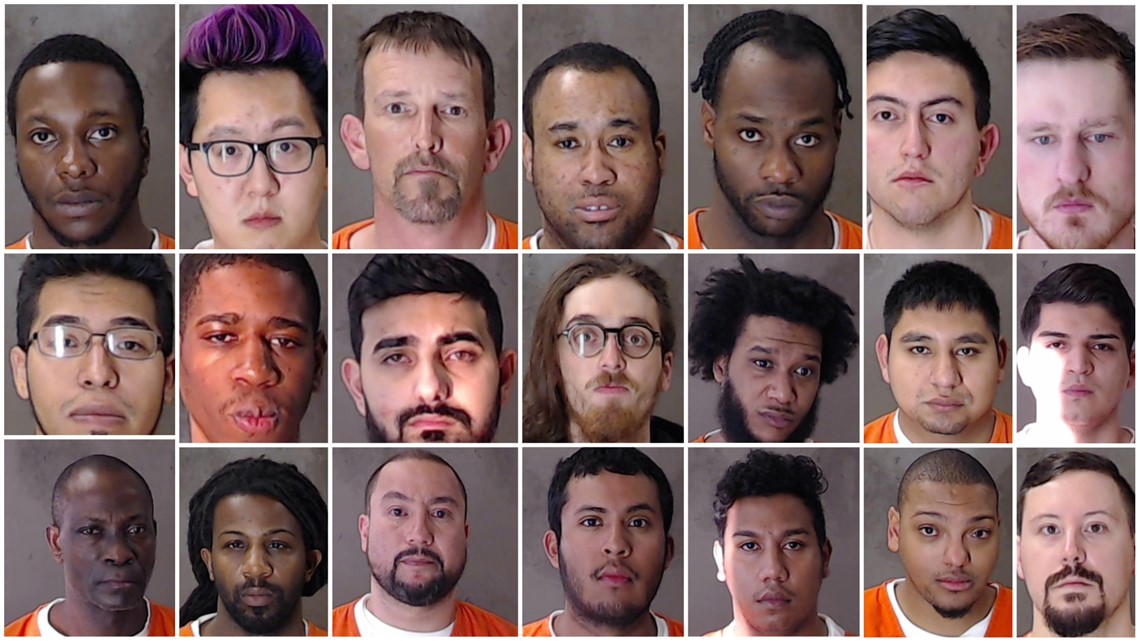 "Those arrested had sexually explicit conversations with whom they believed to be a child and most of those arrested traveled to meet a child for sex," according to the release.
Police also said a conversation about money was involved in most of those conversations.
Another note the task force made was that some of the suspects were interacting with multiple investigators posing as children.
While this operation was underway, other task forces were making arrests. The Friday before the Super Bowl, investigators with Homeland Security said 40 people had been arrested for sex trafficking in metro Atlanta as part of a crackdown before the game.
At the time, Homeland Security spokesperson Brian Cox said four people have been recovered: two adults and two juveniles.
The cases will be prosecuted by the Office of the DeKalb County District Attorney.
You can report missing children or child pornography to the National Center for Missing and Exploited Children (NCMEC) at 1-800-843-5678 (THE-LOST) or through their CyberTipLine.
MORE HUMAN TRAFFICKING STORIES |
Child, infant sex trafficking: It's like 'the Wild West'
This suburban dad paid for sex with 25 girls. Why?
Teens lured into sex slavery via phone app
Volunteers needed to help raise awareness about sex trafficking during Atlanta Super Bowl
Mother's search for missing son leads police to bust alleged sex trafficking ring