The Rolling Stone Super Bowl Live party is known for its high-profile guests and performers.
This year was no different. Of course, there's classism in every party or else the term VIP wouldn't exist, but is Rolling Stone VIP the top tier? Well, here's what I saw.
The party was in a very discreet metro Atlanta event center called The Goat Farm located off Foster Street. The center had a rustic feel on the outside and a rustic meets modern look on the inside.
It was filled with beautiful lighting that shined from the main stage. It was open concept. The venue had two levels inside of the party area. The bottom level was for general admission and the top level was exclusively for VIP.

After doing some digging, I found that general admission tickets began at $650, which included admission, premium open bars, & headline entertainment. The VIP tickets were priced at $900 and included VIP admission, access to VIP area, VIP Bathrooms, fast entrance lane, premium open bars, & headline entertainment.
However, for those people who prefer a table -- well, that ran guests a whopping $10,000. Yep.
The VIP tables came with a private table with dedicated Bottle Service and replenished spirits, access to VIP area, fast entrance lane, premium open bars, VIP bathrooms, & headline entertainment.
I must admit the VIP area was CROWDED. However, that didn't seem to slow down the party.
Tell me about the alcohol and food.
Each table came with four bottles: Patron, Ciroc, Crown Apple and Don Julio. Some of the tables also included Champagne, bottled water and of course the normal alcoholic mixers (orange juice, cranberry juice and one other juice I couldn't distinguish).
Each table also had a tray of finger food including wings, chicken tenders, sliders and a few things that looked like hush puppies. The food was nothing fancy from the looks of it and the presentation.
Who I saw inside of the party?
It was a very diverse crowd. Very. It was clear that a lot of bosses were in the room. Celebrities, agents and well-known industry bosses were dancing, taking the traditional "we bumped into each now let's take a selfie" photo and watching the performances on stage.
I saw people like record executive Kevin Liles, "Ambitions" actor Brian White, Instagram comedian Lala Milan, singer Sevyn Streeter, "God Friended Me" actor Brandon Micheal Hall and "Black-ish" star Deon Cole.
"RHOA" stars Cynthia Bailey, Nene Leakes, Kenya Moore were all in attendance. Luann De Lesseps and other members of the "Real Housewives" franchise were also in attendance.
Everyone seemed to be in good spirits -- (I'm sure the open bar helped with that) from the top floor to the bottom floor.
Rolling Stone 2019 Super Bowl party pics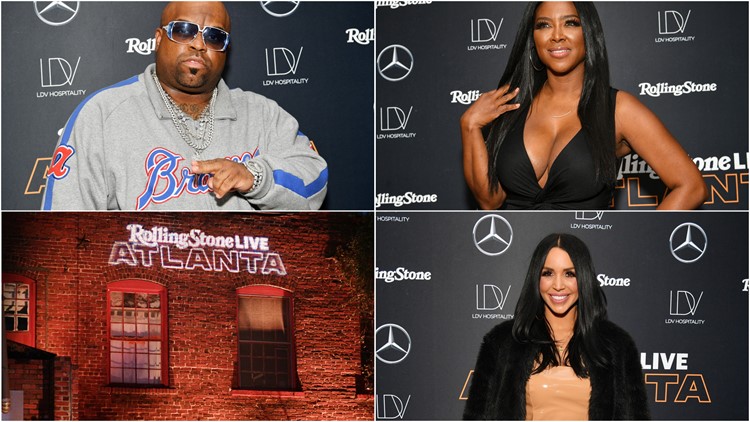 How were the performances?
Since I arrived at the party later -- I missed some pretty big names like Ludacris, Gunna and Lil Keed. According to multiple videos posted all over social, Ludacris' set had the crowd and celebrities everywhere hype.
I later saw social video of Ludacris' set.
I arrived as Young Thug was performing, and the crowd loved it. This white guy in the very front of the general admission section was clearly a super-fan and everyone could see that his night was made when Young Thug pointed him out and said, "I'm playing this song just for you."
All of sudden, that's when "Best Friend" came on and the crowd turned up. DJ Questlove was the final act of the night and he took the crowd through multiple hits. I don't remember which songs were played, but I remember seeing the crowd live.it.up. Questlove's set ended with confetti being shot in the air.
Most of the guests were out of the building by 1:30 a.m.
**The journalist writing this story received late access and can only recount what they saw when they walked in.
Maxim Super Bowl party pictures