ATLANTA — For a long time, performing at the Super Bowl halftime show has been one of the most sought-after gigs for any musician, regardless of music genre. Within the last year, we've seen how accepting to perform became a controversial battleground leading to debates.
After leaving the 49ers as a free agent, he has yet to be signed to another team. Many people believe that's because of his protest. So many athletes decided to support in solidarity by also taking a knee during game days.
Atlanta rapper T.I. has said, "I have made the conscious decision not to support the NFL this year." He's also gained the support of music mogul Diddy. "Believe me, we all we got. It has nothing to do with football or business," Diddy expressed on his Instagram.
So when it was announced that the Super Bowl was coming to Atlanta, the mecca of the Civil Rights Movement and hip-hop music, confirming artists to perform the halftime show took a while to announce. Longer than usual.
There were reports that Cardi B declined. The New York rapper was asked by TMZ "When will you perform the halftime show?" She responded "When they hire Colin Kaepernick back,"
We also saw the reports that Rihanna declined as well.
Rapper Jay-Z mentioned in his recent song Apes--- with wife Beyonce that "I said no to the Super Bowl. You need me. I don't need you."
After the long wait, confirmed to hit the stage were Maroon 5, Big Boi and Travis Scott. Then, reports surfaced that Jay-Z was trying to convince Travis Scott to back out of the performance. Rapper Meek Mill also tweeted his disapproval.
There were mixed emotions. After that, Gladys Knight felt the need to address her decision on social media.
"I understand that Mr. Kaepernick is protesting two things, and they are police violence and injustice," she wrote to Variety. "It is unfortunate that our National Anthem has been dragged into this debate when the distinctive senses of the National Anthem and fighting for justice should each stand alone."
Despite the controversy, some Atlanta artists still wanted to utilize the crowd of Super Bowl week to showcase the musical talents of the city to the music fans in town.
During Super Bowl week, there was a weeklong free music concert series at Centennial Olympic Park celebrating Atlanta music from a variety of genres. This music events leading up to the big game is produced by Atlanta's very own Jermaine Dupri.
Dupri says he took on the responsibility to showcase Atlanta talents with the concert series in midst of the kneeling controversy. He says he made the decision because the concerts are held at the park and have nothing to do with the big game or the halftime show.
"As many people that expect me to do what I'm doing, there's a handful of people that expect me to say no," he said.
Dupri says he's focusing on putting on for the city, adding that the world deserves a warm welcome to Atlanta. There are several high profile concerts in the city all week long.
PHOTOS | Stars saturate 'The Walking Dead' Super Bowl party in Atlanta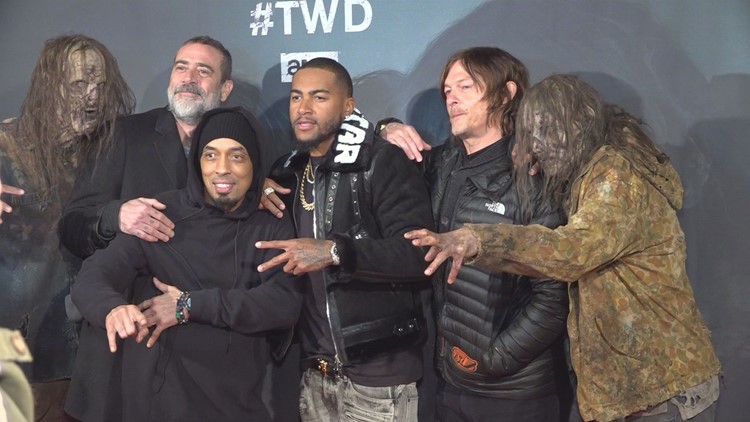 "This has something to do with people coming to my city and leaving with a mindset that Atlanta was the best city to have a Super Bowl in," he said.
While Kaepernick and the kneeling controversy continues to make headlines before Sunday's game, the conversation about justice and quality is one that will continue far after the game is over.