CARROLLTON, Ga. — While Sony Michel was the name most Georgians were familiar with in the New England Patriots roster, there's another Georgia player that had the full support of a metro Atlanta community.
The Carrollton Police Department wished hometown hero Jonathan Jones "much luck and much fun" in the Super Bowl bout against the L.A. Rams.
It appears the well-wishes didn't hurt much, either, since the Patriots took home their sixth ring - tied only with the Pittsburgh Steelers - for most Super Bowl wins in history.
Jones ended up with eight tackles and one sack for the night - so he was definitely part of the action. At least one of those was against former UGA great Todd Gurley II - and it was caught on camera.

"They were a great team, hats off to those guys - they came out to fight," Jones said in a post-game interview. "We knew we had a fight on our hands when we were going up against them."
Photos: New England Patriots celebrate winning Super Bowl LIII in Atlanta

He also thanked the coaches for putting together the winning game plan and teammates for supporting him through a previous injury.
"It's been a great year - great year for the team - and so much of their support," he said.
Now, that great year has culminated into something that will make the current batch of Carrollton High School Trojans proud - especially since the win happened right down the interstate from home.
"Oh man, it feels good to be home - family, friends, everyone here - it's been a great journey, it's been a great journey but nothing's better than coming back home and winning the Super Bowl."
PHOTOS: Super Bowl 53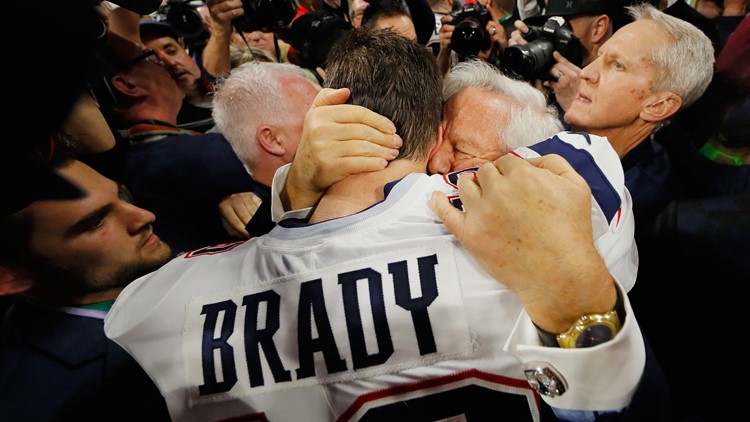 On Twitter, he describes himself as an Auburn Alum who's "chasing a dream that started in the back yard." It also points out that this isn't his first rodeo with the words "SuperBowl 51 champ" and a trophy emoji.
For some, that might hit a sore spot. It was the game where the Patriots made a massive comeback to beat the opponent. That was ring number five - against the Atlanta Falcons.