The Atlanta Super Bowl Host Committee has revealed some of the music acts and other activities that will be included in Super Bowl LIVE, presented by Verizon.
Music mogul Jermaine Dupri is producing a concert series for Super Bowl LIVE at Centennial Olympic Park in downtown Atlanta.
Dupri and other Atlanta music talents came forward on Wednesday to speak on some of the talents the Host Committee has confirmed so far -- including Goodie Mob, DJ Holiday, Waka Flocka, K Camp, Ying Yang Twins, and others.
Super Bowl LIVE presented by Verizon will be open to the public the following days and times:
Saturday, January 26: 11 a.m. – 10 p.m.
Sunday, January 27: 12 p.m. – 7 p.m.
Monday, January 28: 4 p.m. – 9 p.m.
Tuesday, January 29: Closed
Wednesday, January 30: Closed
Thursday, January 31: 4 p.m. – 10 p.m.
Friday, February 1: 2 p.m. – 10 p.m.
Saturday, February 2: 11 a.m. – 10 p.m.
Sunday, February 3: Closed to pubic
Dupri is excited he has the opportunity to put some of Atlanta's music scene in the spotlight head of the big day.
"It's important that it's right and it's done right," he said.
Dupri said while Atlanta is known for hip-hop and R&B, he wants to make sure other genres are represented.
"This is a family event and I want to make sure everybody understands that," he said.
There will be a different genre for each day.
Below are the talents that are already confirmed:
YFN Lucci
Waka Flocka
K Camp
Trinidad James
Swag Surf Boys
Coca Vango
Light Skin Keisha
Derez Deshon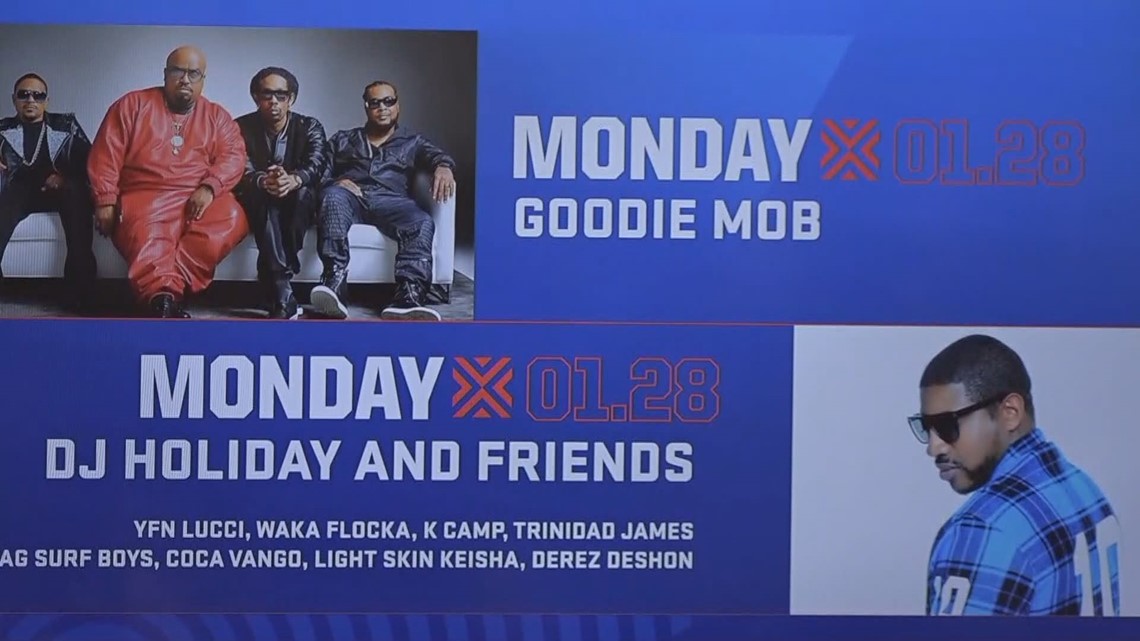 Tag Team
MC Shy D
Ying Yang Twins
Kilo Ali
KP & Envyi
"Atlanta is going to be lit," radio host KD Bowe said at the news conference.
The committee said they will reveal other acts at a later date.
Brett Daniels, chief operating officer of the Host Committee said other invents include activities with partners from Hyundai, Frito-Lay, Ford, and Verizon.
Frito-Lay and Tostitos, the "official chip & dip of the NFL," will have a Tostitos Cantina at Super Bowl LIVE, where NFL legends will stop by to compete in various challenges and greeting fans.
"It's our chance as the host committee to put an Atlanta stamp on the Super Bowl," Daniels said.

Hyundai Fan Jam will have games, like football tosses, and other activities for families.
Ford will have a Built Ford Tough VR Drive-In where guests can experience a virtual reality journey to Atlanta.
"We're making it a true Atlanta experience," Bowe said.
"I want to show the connection we all have," Dupri said. "It's no hatred in this city. "I think that's what I want to show people."
11Alive is also a media partner of the Atlanta Super Bowl Host Committee.
The Super Bowl will be held in Atlanta at the Mercedes Benz Stadium on Feb. 3, 2019.
Super Bowl LIVE music acts announced