ATLANTA — Several children thought to have been trafficked were recovered, and dozens of people were arrested during several operations during Super Bowl LIII in Atlanta.
Authorities arrested 169 people during an FBI-led operation, which also recovered nine adult and nine juvenile sex trafficking victims. The youngest was 14 years old. In a separate operation led by the Georgia Bureau of Investigation, 21 men were arrested for allegedly arranging to have sex with a child.
Both operations are prime examples of what nonprofits, like The Hope Box, worked to warn the public about prior to the Super Bowl.
"We need to pay attention more than ever, because it is very easy to lose a child in a crowd," Koeppen said.
"If you see something, report it," she urged. "Just because they are with an adult, that does not mean that is their parent. Don't ever look the other way. Better to be safe than sorry."
Koeppen warned many crimes are committed on the black market or dark web. On the Tuesday following the Super Bowl, FBI Special Agent Taylor Dervish said there's always an increase in online solicitation with a big event.
Dervish added the influx of people to the city, and the event itself, made for more awareness of the issue, as well as more offenses.
"If you see an increase in the population of Atlanta, obviously you are going to see an increase in the crime," said Dervish.
Prior to the Super Bowl, Koeppen told 11Alive there's no "type" of person who buys children for sex.
"I've seen old to young. It doesn't matter what your ethnicity is, it doesn't matter what your color is, it doesn't matter what your belief is," she explained.
Men arrested in 'Operation Interception'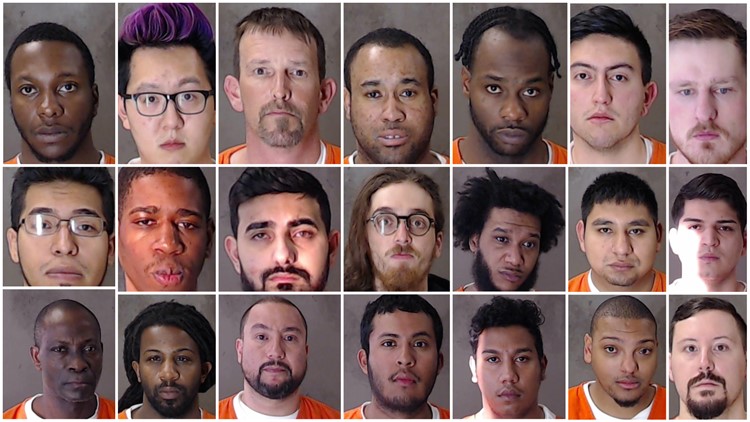 In fact, the people arrested for allegedly trying to buy children for sex, ranged in age, race, and job title, while the victims in the FBI-led sting, ranged in age and background.
And just like there's no "type" of alleged predator, Dervish reiterated the same goes for those being trafficked.
"It could be the girl next door, it could be a runaway," Dervish said.
The FBI and GBI both credited their tasks force, law enforcement and non-government agency partners for the arrests, as well as the public for being aware in the days leading up to the Super Bowl. But, now that it's over, they want to remind people that sex and human trafficking simply doesn't go away.
"This is a problem that is prevalent throughout Atlanta and throughout the country, 365 days of the year," they warned.
Koeppen said her organization is collecting data on how often infant and child sex trafficking occurs.
In addition, she hopes everyone is aware of the app, "See Something, Send Something," which provides a platform for people to capture photos of suspicious activity, including possible human or sex trafficking, and send the information to law enforcement immediately.
MORE HUMAN TRAFFICKING STORIES |