ATLANTA — It's finally here! A full week of fun events and free concerts with top name artists right here in downtown Atlanta, leading up to the biggest event on the planet!
Super Bowl LIVE presented by Verizon opens Saturday, Jan. 26 at 11 am. and runs throughout the week leading up to Super Bowl LIII. It's located in Centennial Olympic Park in downtown Atlanta.
Super Bowl LIVE is a family-friendly experience with activities for fans of all ages. It offers a fun and free way for locals and visitors to enjoy the sporting world's largest annual event.
With more than one million visitors expected during the festivities, please plan ahead and allow extra time when traveling due to special event road closures and detours throughout the area.
11Alive will be broadcasting live from a two-story studio at Super Bowl LIVE each day. Our team will on the air from the top floor, while you'll be able to visit the first floor and meet our team, get 11Alive swag, charge your phone and take a 3-D photo in front of the Atlanta skyline! Be sure to download the Super Bowl LIII Fan Mobile Pass app and register your account to get your 3-D photo delivered straight to your email!
Super Bowl LIVE Events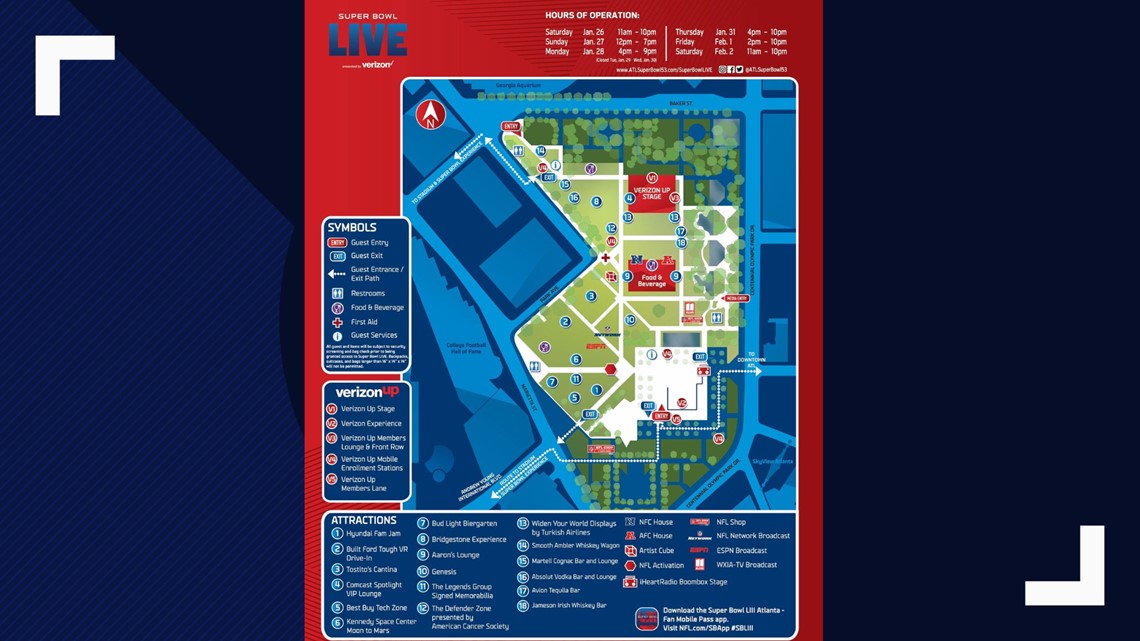 In addition to the concerts taking place, other free events will be taking place throughout Centennial Olympic Park from many Super Bowl LIVE sponsors:
11Alive
Verizon Experience
Built Ford Tough VR Drive-In
Hyundai Fam Jam
Tostito's Cantina
Kennedy Space Center Moon-To-Mars
Best Buy Tech Zone
iHeartRadio BoomBox Stage Sponsored by Orangetheory Fitness
Bridgestone Experience at Super Bowl Live!
Genesis
American Cancer Society
Bud Light's Biergarten
Aggreko
Widen Your World Displays by Turkish Airlines
Verizon Up Stage
Lombardi Trophy at Victory Square
Hours of Operation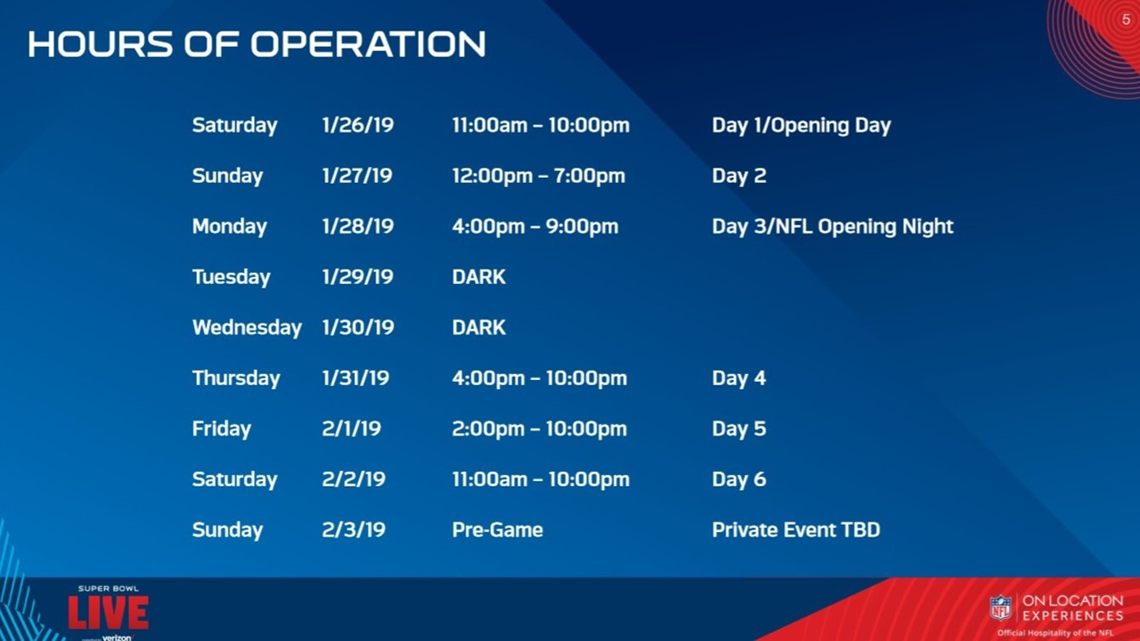 Saturday, January 26: 11 am - 10 pm
Sunday, January 27: 12 pm - 7 pm
Monday, January 28: 4 pm - 9 pm
Tuesday, January 29: CLOSED
Wednesday, January 30: CLOSED
Thursday, January 31: 4 pm - 10 pm
Friday, February 1: 2 pm - 10 pm
Saturday, February 2: 11 am - 10 pm
Security Policies & Screening Procedures for Spectators
All guests entering the Super Bowl LIVE area are subject to careful physical inspection and screening by security personnel, and potentially may not be permitted to enter Centennial Olympic Park. Any guest who does not agree to the search will be restricted from entering the premises.
The following list of prohibited items is not all-inclusive. It only meant as a guide.
These items are prohibited at Super Bowl LIVE presented by Verizon:
Alcohol (may not be brought into the Park, but is available for purchase inside the event)
Animals (except assistive animals)
Any item deemed dangerous or inappropriate, in management's sole discretion
Artificial noisemakers
Backpacks, suitcases, or bags larger than 18" x 16" x 8"
Bottles, cans, liquid containers, or coolers (except for guests with medical or dietary needs)
Canopies, tents, or shade structures
Drones or UAVs (Unmanned Aerial Vehicles) of any kind
Fireworks, explosives, or other combustible items
Folding chairs, bikes, hammocks or other large personal items
Food or beverage (except for guests with medical or dietary needs)
Glass items of any kind
Hoverboards, skateboards, scooters of any type (including electronic and/or motorized scooters), or any other self-propelled devices (except for designated devices used for ADA or medical purposes only)
Illegal drugs of any kind
Knives of any kind, pepper spray, electronic stunning devices
Laser pointers
Objects that may obstruct another guest's view, including umbrellas more than 4 feet in diameter
Poles or sticks of any kind, including selfie sticks, totems, and 'rage sticks'
Promotional items with commercial slogans or identification without written consent from the NFL
Smoking, matches, lighters, vapers or e-cigarettes
Unauthorized vending or solicitation, including flyers
Video recorders or professional photography/equipment (including GoPros), except for credentialed media
(NOTE: Items purchased at NFL Shop at Super Bowl Experience presented by Visa will be allowed entry into Super Bowl LIVE)
Prohibited items and items determined to not be appropriate for entry into Super Bowl LIVE will the responsibility of the guest and cannot be accepted, held or stored by the NFL, the GWCC, Centennial Olympic Park, security personnel or any law enforcement agency. Spectators are urged to secure these items in vehicles or hotel rooms. Items left in vehicles should be stored out of sight. Confiscated items will not be returned. Instead, they will be disposed of.
Small cameras will be allowed. No spectator cameras with detachable lenses or lenses more than six inches (6") long will be permitted. Binocular cases and camera bags are not permitted.
Prohibited activities in Centennial Olympic Park include panhandling, soliciting, commercial activity, camping, campfires, barbecue grills, feeding pigeons, and drug use.
YOUR GUIDE TO NAVIGATING SUPER BOWL 2019