ATLANTA — The honeymoon phase between Tiger Woods and apparel manufacturers and merchandisers has officially begun amid the afterglow of the iconic golfer's Masters championship.
In a nutshell, thanks to Woods and his 15th major title (five green jackets), Tiger-related businesses are booming and media companies are enjoying the benefits of sizable web traffic.
Here are two prime examples:
PGA TOUR SUPERSTORE
In an email to 11Alive Sports, the Superstore confirmed the following tallies with Tiger-related products:
**A more than 50-percent bump with online comp sales for Thursday-Sunday (last week), compared to the same four-day period from last year.
1) Tiger's mock neck, short-sleeved shirt from NIKE.
But rest assured, thousands of mock shirts (presumably in Tiger's 'Championship Red' for Sundays) will soon be hitting the superstores. (Orders can be placed here.)
PHOTOS: Tiger Woods celebrates 5th Masters win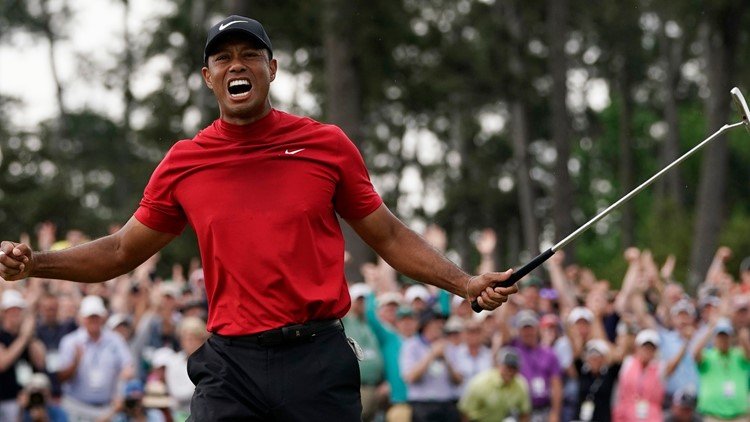 BRIDGESTONE GOLF
But the recent 'Tiger Effect 2.0' has taken off like a rocket, in the wake of The Masters triumph.
In the email, Bridgestone officials are thrilled with the "bigger-than-normal" orders and the awareness boost in terms of customers now consciously looking at retail outlets for Bridgestone Tiger Woods balls.
WEB PERSPECTIVES
Bridgestone was kind enough to share the following figures with 11Alive:
**Website traffic has increased up to 200 percent since Masters weekend.
**Social media engagements have gone up by a whopping 300 percent.
**Online sales have experienced a major bump of 60 to 70 percent since the weekend, lending more credence to The Tiger Effect 2.0.