ATLANTA — ATLANTA—It's known as the Deep South's Oldest Rivalry, and fans of Georgia and Auburn have had more than a century to sharpen their dislike for one another.
The Bulldogs and Tigers will meet on the football field for the 124th time on Saturday. There is a lot on the line as Georgia has a shot at making the College Football Playoffs. Meanwhile, Auburn would love to play spoiler.
No matter the situation, fans of Auburn and Georgia despise seeing their team lose to the other.
Here's why.
Auburn University is only 37-miles from the Georgia state line. There have been plenty of good players leave the state of Georgia to compete for Auburn, while Auburn has seen athletes leave their state bound for UGA. Freshman receiver George Pickens was once committed to play for Auburn, but now lines up at wide receiver for UGA.
At one time, Auburn graduate Vince Dooley was the head coach at Georgia, while UGA grad Pat Dye coached Auburn.
Familiarity breeds contempt.
The two teams have met nearly every year since 1892. Few schools have played each other that often.
Georgia Bulldogs' Uga through the years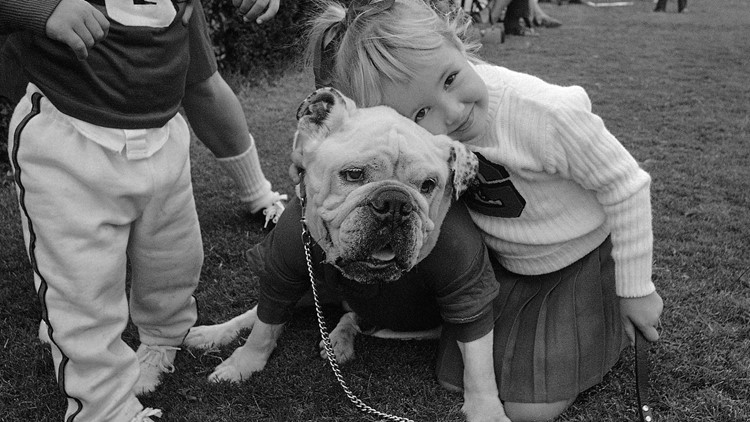 When you meet that many times there are bound to be games that fan the flames of contempt.
In 1986 after Georgia upset the heavily favored Tigers, Bulldog fans stormed the field and started ripping up the turf at Auburn's Jordan-Hare Stadium. In chilly temperatures, Auburn used fire hoses to spray Georgia fans off of the field, then turned the water on fans still in the stands.
Just last year, Georgia had a comfortable lead, but Coach Kirby Smart called for a fake field goal to try for another touchdown. Auburn fans saw it as an attempt to rub salt in Auburn's wounds.
There have been 8 ties in the rivalry. Georgia currently leads the series 59–56–8.
Frequently over the past 127-years, one team has ruined the season of the other. In 1942, Auburn kept Georgia from an undefeated season and blocked the Bulldog's claim to an undisputed national championship. In 2006, Auburn entered the contest ranked 5th in the country with an eye on the national championship game, but big underdog Georgia stopped Auburn's championship talk with a stunning 37-15 win.
If Georgia can win the rest of their games this season, including the SEC Championship Game, they would likely make the College Football Playoffs.
A loss to Auburn would ruin that.