** WARNING: The following story contains sensitive topics and racist/gang-related imagery. Viewer discretion is advised. **
PRINCESS ANNE, MD -- Growing up, Dave Cutlip dreamed of being a rock star.
But when he was only making $25 a day from music shows, he chose the next best career path – a tattoo artist.
Today, he has achieved rock star status to those seeking a different path in life. Dave is traveling the country covering racist and gang-related tattoos free of charge. No questions asked.
A CAREER IN INK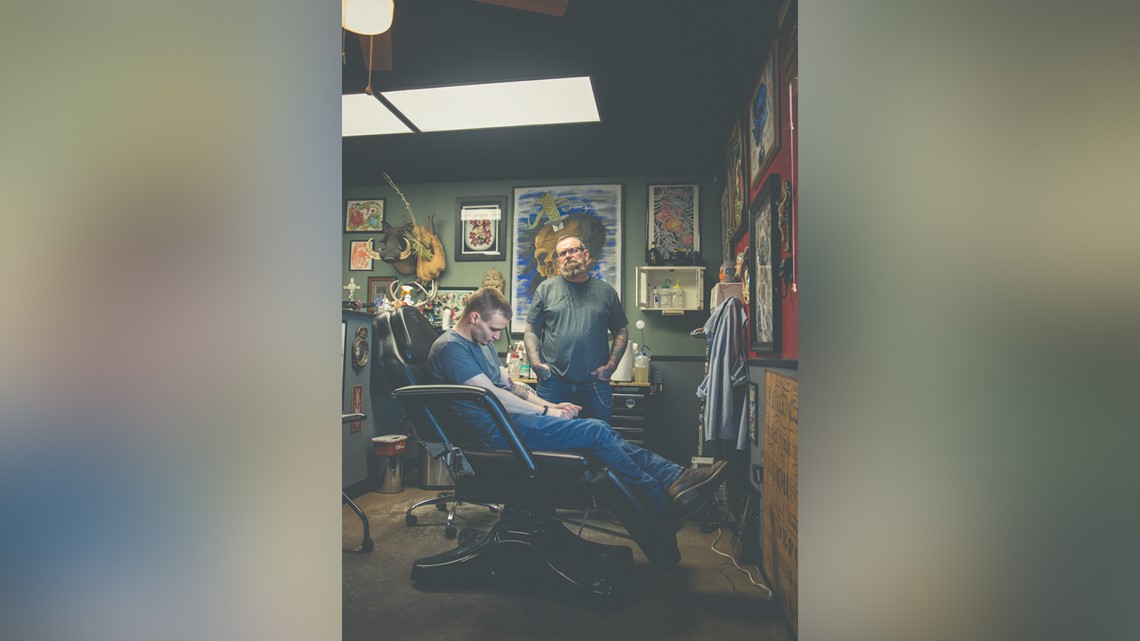 From head to toe, Dave is covered in tattoos. From a stick-and-poke tattoo on his chest to the words "work" and "play" across his knuckles, every single one of Dave's tattoos has its own unique story.
He learned the art himself and began a successful career as a tattooist.
From the beginning of an idea to permanent ink, there's a process behind each of Dave's tattoos. Consultations are required for him to design custom tattoos for his clients.
"My favorite part is getting to know somebody," said Dave. "It very much is an intimate process doing that."
Dave's former tattoo parlor, Southside Tattoo, was in Baltimore in an area with high poverty rates and crime. He loved the location of his shop because of the realness of it and of his clients. Everything was authentic.
As Dave grew his reputation in the area, his clientele grew. Gang members started coming into his parlor asking for a new start. After getting out of gangs, they hoped Dave could cover their gang symbol tattoos.
"They put these tattoos on them and now they can't get jobs or people are afraid of them. I have found they weren't scary... they weren't scary at all. They just have scary tattoos I guess. They were genuine, and they wanted help," said Dave.
The problem was many of those seeking to cover these images didn't have the money to pay for a tattoo requiring the intricate designs required.
So, Dave decided if people were willing to do the hard work of changing their life path, he would help cover their past. Before leaving work one night, he took to the Southside Tattoo Facebook page wrote a post:
If you have a racist or gang-related tattoo and need help, we will cover them for free. No questions asked.
The next morning Dave had about 2,000 emails in his inbox.
ERASING THE PAST
Dave was overwhelmed by the response.
On one hand, he was stunned by the amount of people wanting change from a life designed by hate.
On the other hand, he knew he couldn't continue to make an honest living and help everyone without pay.
But when people began catching wind of Dave's story, they wanted to help. Strangers began donating money for Dave's supplies through a GoFundMe account. GoFundMe even made a short documentary featuring a former KKK member seeking Dave's help.
Even with some income, the task at hand was daunting.
"I did get some threats. Death threats and stuff like that," said Dave. "It is hot water. Even though I'm trying to do a good thing, there's people out there that don't look at it that way."
Yet, Dave was determined to help.
"People change. They do. They work hard to do that. Everybody makes mistakes. People deserve a second change. They're humans. We're all humans," said Dave.
Dave launched the Random Acts of Tattoo Project, but with such a long title he changed it to simply Redemption Ink.
Redemption Ink is now a nonprofit that has transformed into an international effort to demonstrate what a little love can do in the face of hate. Dave has covered over 80 racist or gang-related tattoos free of charge. Each tattoo takes around five or more hours to complete.
BALTIMORE AND BEYOND
When Southside Tattoo was forced to temporarily close its doors due to construction issues, Dave decided to take his work on the road.
"If you can't afford a tattoo then you probably can't afford the gas to drive there. So why not go to where they are and see if I can help them?" said Dave.
With the help of other tattoo artists and friends opening their doors to Dave, he plans to travel the United States taking on clients for traditional custom tattoos and to complimentary cover up racist or gang-related tattoos.
On March 13, Dave met with Jeff Turco at Kip's Primal Tattoo in Princess Anne, Maryland.
Jeff sought Dave's help covering an Iron Cross tattooed on his forearm.
Jeff got the tattoo while in jail.
"It's not a representation of how I feel today," said Jeff. "I was impressionable and really hateful."
Jeff said once he was out of jail and began experiencing different types of people, he came to the realization that no one ever did anything to him to make him feel the hatred he did.
Dave and Jeff worked together to design a tattoo to cover the Iron Cross. Dave designed a Tibetan skull, which he said represents a fresh beginning and new start.
From start to finish, the cover up took around five hours. The part of Jeff's arm the tattoo covered included areas with thin skin, causing tattooing there to be extra sensitive and painful.
The pain was well worth it. Five hours later, Jeff's Iron Cross was completely covered.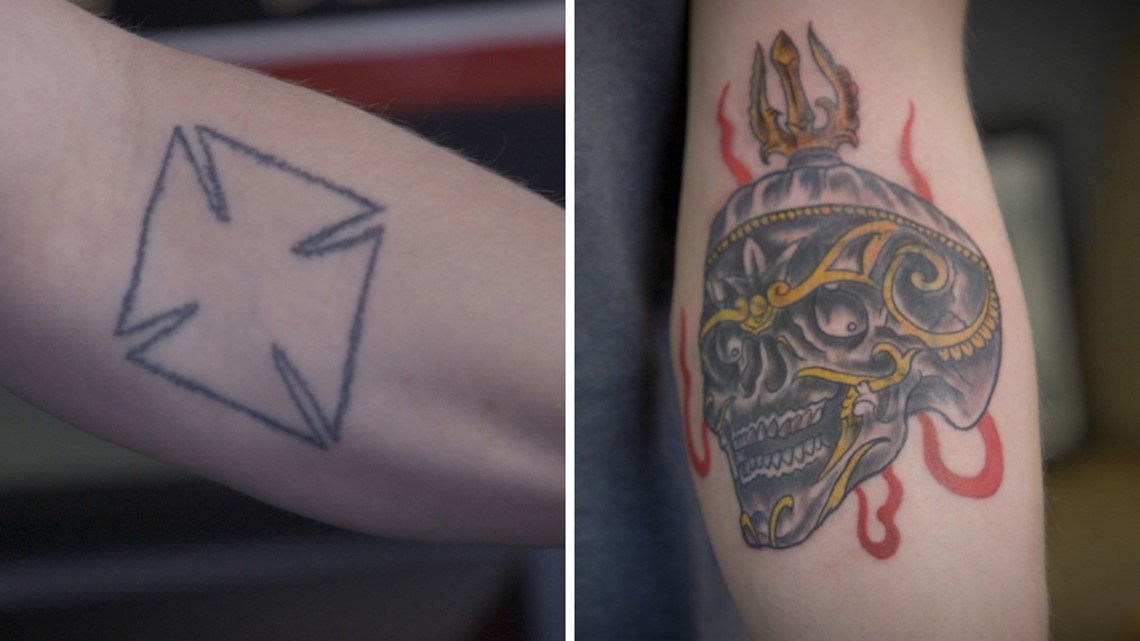 "Now I don't have to turn my arm out so nobody can see it," said Jeff. "Nobody is going to think I'm a skinhead anymore… that's good because I'm not a skinhead anymore."
Seeing how he could change a life in five hours is full compensation for Dave.
"I'm a part of the process [of change] but those guys did the work. They did all the hard work and they deserve all the credit," said Dave. "You have to earn the respect and if they're working hard then that's the respect they deserve."