In the gym in her apartment building, Jamie Watts goes through her workout—first, she hits the treadmill, then she repeats sets of dumbbell curls.
But for Jamie, the exercises are a little different. Her pace is slower than the other runners at the gym, and she holds a cane as she lifts the weights.
That's because Jamie was born with cerebral palsy, a condition that impairs her balance, coordination, muscles and strength. It's caused by an abnormality while the brain is developing before a baby is born.
But cerebral palsy has never kept Jamie from her passion—running.
It was just supposed to be one 5K
Jamie, a communications specialist, wasn't always a runner. At first she just wanted to get in shape for a trip to Italy she had planned with her friends.
"We were going to be on a tour and I just didn't want to be the last one on and off the tour bus," she said.
Jamie decided to make some healthier changes in her life, so when she got an email about a local 5K race, she signed up.
"It was only supposed to be one 5K. That's all I was ever supposed to do," Jamie said.
It didn't take long until she fell in love with running. It gave her a way to de-stress and contemplate her day.
"Running is when I solve my most complex problems," she said.
After her first run, Jamie read about a woman who ran her age in races each year and began thinking about doing the same thing herself.
"In the back of my mind I thought, 'I'm going to start trying to work towards this goal,'" she said.
33 races for age 33
She started without a plan, signing up for race after race as they fit into her schedule. Before she knew it, she had completed her goal, completing 33 races between her 33rd and 34th birthdays. The rigorous pace made for a busy running schedule.
"You're basically running every weekend," Jamie said.
She began with 5K runs but slowly increased the distance of her races, completing 10-mile runs and even half marathons.
The challenge Jamie made for herself may have started on a whim, but for the next two years, she made a serious commitment to running, completing 34 and 35 races the next two years. She also made a website and Facebook page called "Jamie Runs the World" where she gave updates on her journey, gaining over 1,000 followers.
A new challenge
As Jamie reached age 36, her running goals changed course. While out to dinner with some friends, the idea of a marathon came up. It wasn't the first time—people always asked Jamie if she would consider tackling 26.2 miles.
Jamie always knew she had the wherewithal to complete a marathon, but it was more than just a question of willpower. There were some serious logistics that would have to be taken into consideration for an undertaking like that. Because of her running speed, Jamie knew the race would take her more than half a day. She would also have to train even more and carefully control her diet.
Her friends, however, were undeterred. If they helped her sort everything out, would she do it, they asked?
Jamie didn't even have to think about her answer.
"I said, 'absolutely yes,'" Jamie said. By the end of the dinner, she had committed to running a marathon.
She and her friends arranged for a trainer, and Jamie began a meal plan in preparation for the big day.
After nine months of hard work, she traveled to race in the New Jersey Marathon. She and her team started running the night before the marathon officially began to give her enough time to complete the race.
A marathon is no easy feat for any runner, but it's even harder running through the night and into the day.
Many runners will "hit the wall" when they reach a period of exhaustion, and Jamie said she's no different. But on the race course, privacy to break down is hard to come by. The only place where she could be alone to compose herself was the porta potty. It was then, when she felt like she couldn't keep running, that a friend took Jamie's face in her hands and gave her the advice she needed to carry her across the finish line.
"She said, 'you're going to make it, but you have to believe it," Jamie said.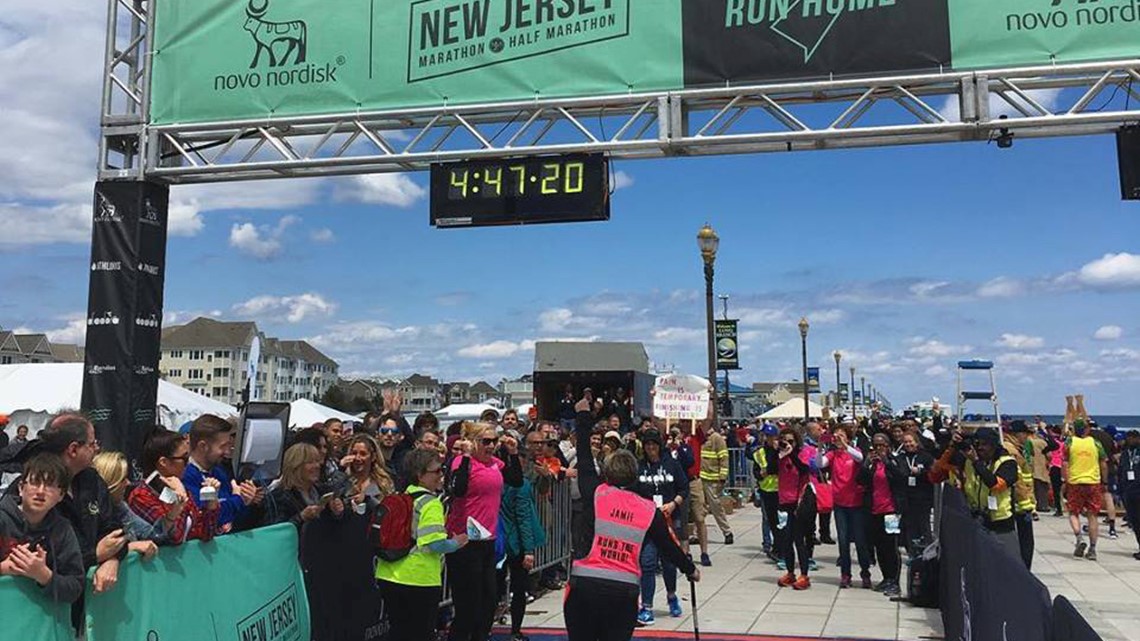 And she did make it. Crossing the finish line was "probably the most incredible thing I've ever done," Jamie said. She finished the New Jersey marathon in 14 hours and 33 minutes.
Inspiration to others
Jamie's story of inclusion and perseverance has inspired countless others, runners and non-runners alike. She's been featured by the New York Times, USA Today, The Washingtonian magazine, and appeared on Harry Connick, Jr.'s talk show.
For beginners, her running advice is to just get started.
"Never take anything off the table because something is always attainable," she said.
When it comes to taking on a marathon, her advice is simple.
"If I can run a marathon, literally anyone can."
HeartThreads are the best stories about the best of us. Want more? Follow us: