MATTHEWS, N.C. — VIEWER DISCRETION ADVISED: The following story contains sensitive imagery including nudity related to breast reconstruction.
Julie Markow and Teri Smith don't know each other.
Yet, a dark commonality has led the women on a vulnerable journey.
The scars of a disease
Following surgery, Markow and Smith avoided mirrors.
"I really wasn't happy with my self-confidence. [I had] literally none," Smith said.
While putting Vicks on her chest on a spring evening in 2017, Smith found a lump. After a series of tests, she remembers shaking her new doctor's hand while he started his sentence with, "Unfortunately…" and ended it with a diagnosis.
Smith had stage two breast cancer, causing her to undergo six months of chemotherapy.
Despite trying to keep a positive attitude, the journey to being deemed cancer-free was difficult physically and, especially, emotionally. Smith's fight with the disease felt personal. She had lost her mother and two sisters to ovarian and colon cancer when they were in their early 50s. At 57, Smith's fear that "her turn would come" had materialized.
Markow and Smith both underwent surgery for double mastectomies.
While the scars served as a reminder of their current good health, they were also an agonizing memory of the disease that cut their loved ones' lives short.
"I didn't want to look in the mirror. I looked damaged," Markow said. "I was always thinking about [my mom], her battle and what she had to go through."
With just a glance, a scar can resurface a painful past. That's why Markow and Smith made the journey to Matthews, North Carolina, to pay Nikki Thompson a visit.
As the owner of Nikki's Tattoo Studio, Thompson has made a name for herself in the tattoo world for a unique specialty: making scars, stretch marks and birthmarks disappear. The 52-year-old has spent hundreds of hours perfecting her craft, one that isn't commonly considered in the beauty industry.
While all her work is crafted with care, breast cancer clients have a special place in the tattoo artist's heart and parlor. Like Markow, Thompson also lost her mother to breast cancer.
"[My mother] knew she wasn't going to survive and she was looking at what she would've done differently in life," Thompson said.
With a passion for art, Thompson pursued a tattoo apprenticeship in her early 20s. But with a full-time computer drafting job, she practiced her hobby post-work. When the drafting company suddenly closed, Thompson's mother encouraged her to pursue tattooing full time. It was a leap Thompson said she wouldn't have taken without her mother's encouragement. Three years later, in 1995, she opened her own tattoo studio.
Coming full circle, Thompson often uses the talent her mother encouraged on women like Markow and Smith, who have beat the illness that claimed the lives of those closest to them.
Covering a painful past
Every tattoo is personal. Thompson works with each client to create original pieces that cover their scars.
Rather than remember her mother from the marks left by her mastectomy, Smith paid homage by working with Thompson to re-create needle-point art of chrysanthemum flowers done by her mother and an ode to her father with the psalm 'Don't Quit,' now tattooed across Smith's chest.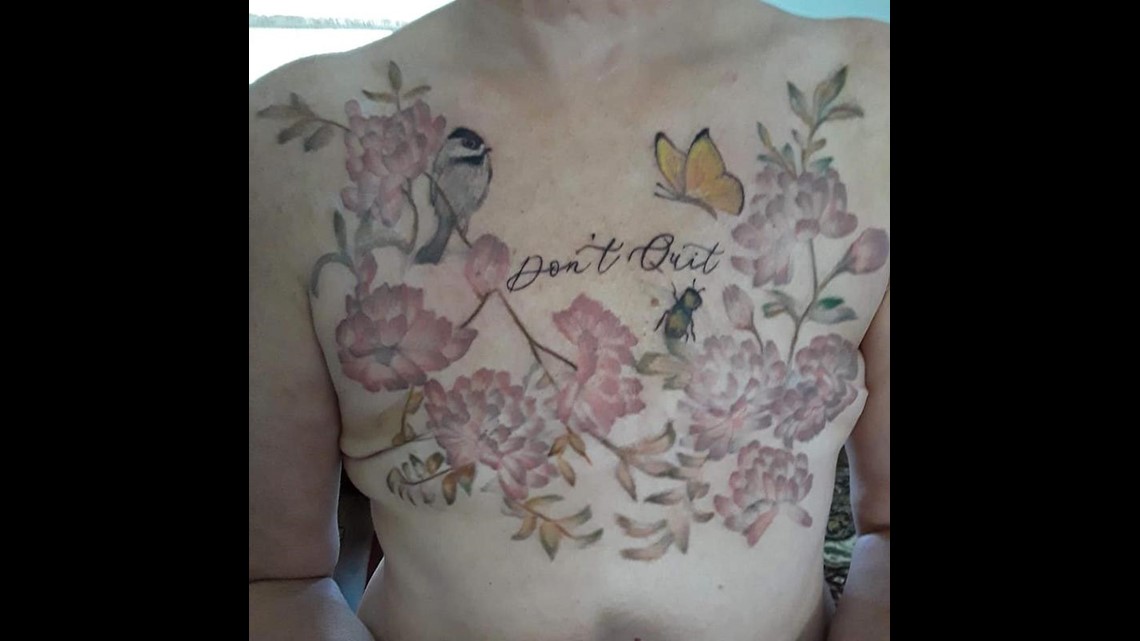 "This had special meaning. When you go through something like that, you kind of want your mom and dad," Smith said. "Both of my parents are deceased, so it bonds us together."
Smith said after her first session with Thompson, her self-confidence soared. She could get out of the shower and look at herself.
"It can be emotionally heavy when you hear people's stories, the struggles they've been through," Thompson said. "I learned doing this that it's not about me. I'm the tool to help this person."
Markow and Thompson pulled their inspiration from the ocean, a spiritual place for Markow.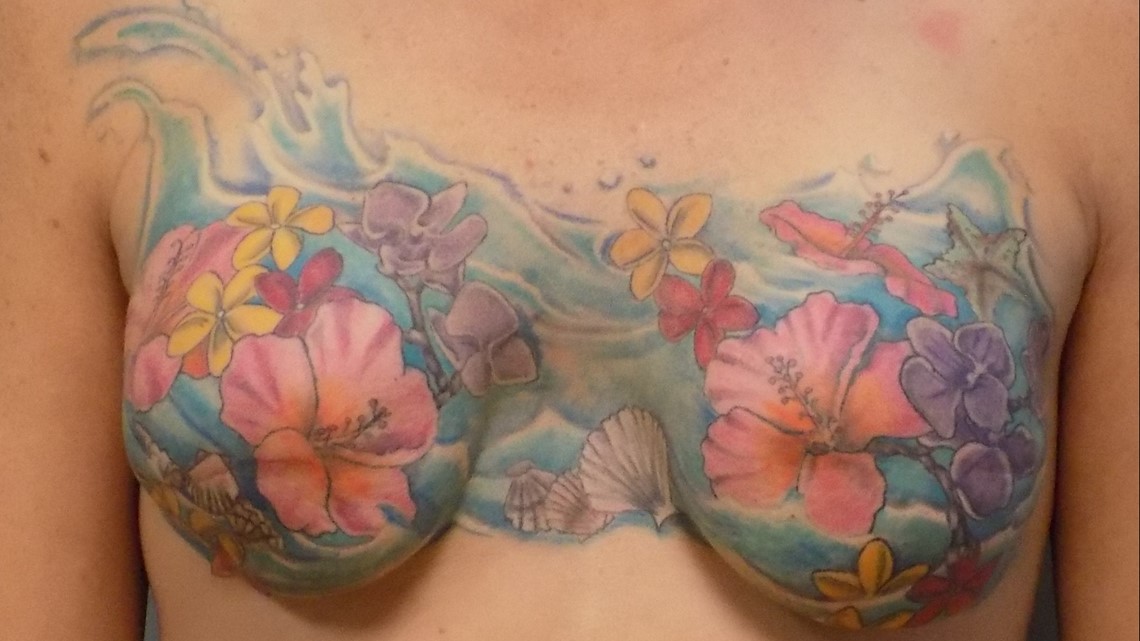 Along with mastectomy patients, Thompson tattoos a variety of clients with scars, stretch marks and birthmarks using two techniques: camouflaging and covering.
Smith and Markow's transformative tattoos fall under "covering," a technique in which Thompson tattoos her creative artwork to mask scars. Camouflaging is a different method used to make scars and stretch marks virtually blend in and disappear with the client's skin.
"Camouflage works for people that have hypopigmentation," Thompson said.
Hypopigmentation is the reduction in melanin production in the skin. This can be the result of a variety of skin damage including infection, stretch marks, blisters, burns or trauma to the skin.
Thompson's technique fills in the scarred or white areas with a pigment-matching ink. The scars and stretch marks virtually vanish.
For many, these can be points of self-consciousness and, with few tattoo artists specializing in the covering and camouflaging techniques, Thompson's clients travel from all over the United States.
"From the moment she did it, it's just [a reminder] like, 'Wow. You're strong,'" Smith said. "I never knew I was going to feel that happiness again. She has given my confidence back. I've conquered [breast cancer] and I can just enjoy life."
No matter the technique, tattooing is more than skin-deep for Thompson, something that her clients will wholeheartedly agree with.
"[Nikki] was obviously put on this earth to do this. No doubt about it. She'll even thank you when she's done with a tattoo for giving her the opportunity to put it on you," Markow said.