TABOR CITY, North Carolina — On one side of the nursing home window, Carly Boyd teared up as she pressed her hand to the glass, her new engagement ring sparkling on her other hand.
From inside the building, her 87-year-old grandfather Shelton Mahala mirrored the gesture, looking out at his recently-betrothed granddaughter.
The photos of Carly and Shelton's emotional moment perfectly captured both the realities and small encouragements of daily life during the coronavirus pandemic.
Social distancing measures meant to slow the spread of the coronavirus have taken an emotional toll on family relationships, particularly for older Americans like Shelton who are especially isolated inside nursing homes and senior living communities.
Many nursing homes nationwide have locked down their premises and banned visitors from entering for the safety of their residents, who are at a higher risk for contracting COVID-19.
That was the case at the North Carolina facility where Shelton lives, Premier Living & Rehab Center.
Carly usually visits her grandfather, who has dementia, to do his laundry and bring him money for the vending machines. When Premier Living & Rehab banned all guests, Carly said she understood and knew it was for the best.
But while dropping off the items for Shelton one day, staff at the facility noticed a new ring on Carly's left hand. Her fiance, Trevor Sellers, had proposed the weekend before.
Not wanting Shelton to miss the happy news, staff suggested Carly show him the ring through the window.

Carly peered in and told Shelton, tearing up when he told her he wanted to be at the wedding. They pressed their hands to the window and said "I love you."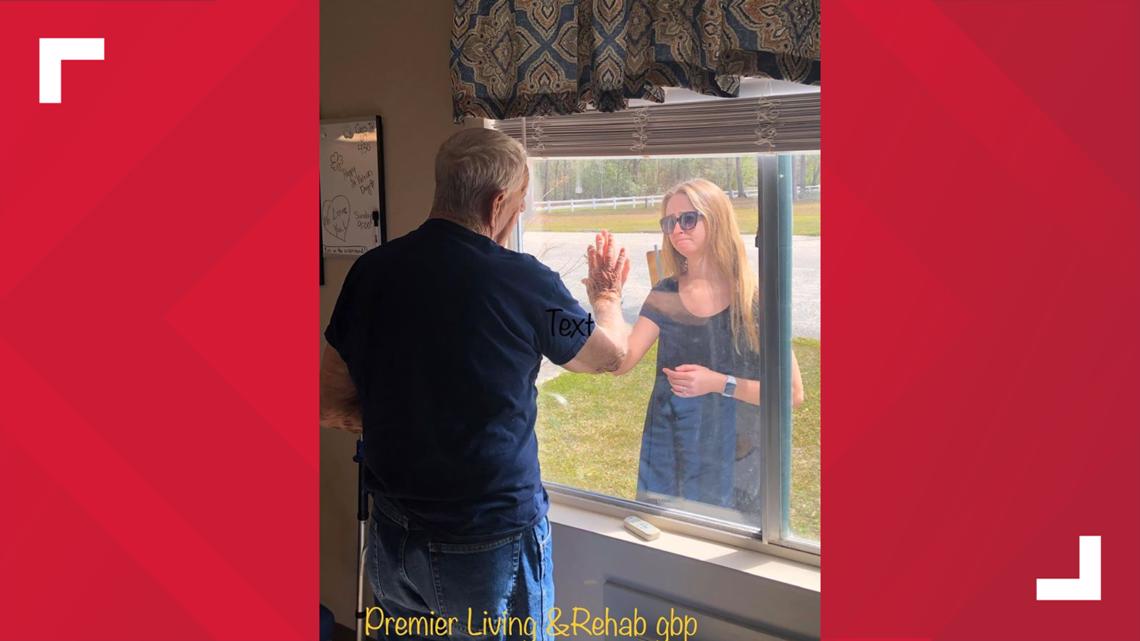 "I hope this shows people this virus doesn't just affect people symptomatically, it also affects family relationships," she said.
Carly said she hopes the photos encourage people to find creative ways to stay in touch with elderly relatives.
"Find ways to reach out, when there's a will there's a way," she said.
HeartThreads are the best stories about the best of us. Want more? Follow us: