It's a Sunday service at a neighborhood church in East Point. It's not the church where Rev. Dr. Gerald Durley spent 25 years as a pastor. But it's the church that's close to home, a church where he's always welcome, and a church that on this day will hear the message that fuels Durley's new mission.
"Climate change," he says to the churchgoers who fill the pews. "Global warming. Do you believe it's real?"
A chorus of yesses echo through the chapel.
"We are suffering the most, yet we know the least about it because climate change is not a priority for us. Let's go to the first Commandment: take care of my earth, and because we haven't, we're dying," recites Durley.
In 1963, a young Durley was among the hundreds of thousands who attended the March on Washington. Then he spent his adult life as pastor of Providence Missionary Baptist Church in southwest Atlanta. Now he speaks out on what he believes to be the civil rights movement of this era.
WXIA
"At this stage of my life," he told 11Alive's Matt Pearl, "I thought I would join the rest of my friends in what they call retirement. But I call it re-wire-ment. I'm taking all the things I learned in the Civil Rights movement and the faith community and bringing them to bear in something that I think is so pressing today, the environment."
In the past decade, Durley has become a leader in the faith community to provide awareness of climate change. He has written on the subject for numerous publications, including a 2013 piece for Huffington Post titled, "Why Climate Change is a Civil Rights Issue." He has spoken at countless venues, including this past spring at the Climate Reality Workshop, an initiative run by former Vice President Al Gore that filled a Georgia World Congress Center auditorium with eager climate advocates.
What made Durley take so passionately to the cause? It began with a conversation with Ted Turner about polar bears.
"I mean, what did I know about a polar bear?" Durley recalls. "And what did I know about carbon dioxide and greenhouse gases? But when I saw how it negatively, disproportionately impacted African-Americans – those I was called to serve all my life – I said, 'Someone has to articulate this.'"
It's a weekday afternoon in southwest Atlanta. And it's hot. The sun scorches down on a suited Dr. Durley as he walks down Herring Road, which borders the church where he spent a quarter-century.
Every minute or so, a passerby waves and says hello. They all seem to know Durley.
These days, they also know about the urban garden that Durley's here to speak about.
"The church bought this property," he explains. "We put this garden together where we're growing corn, tomatoes, sunflowers … foods that are good for the body. And people can take pride in them."
Anyone in the community can stop in and get fresh vegetables. Several people from the church volunteer to work in the garden and tend to the vegetables.
► OTHER URBAN GARDENS MAKING A DIFFERENCE | In a community only known for shootings, this man chose to give the kids more
It was an empty space in a rough neighborhood before the church stepped in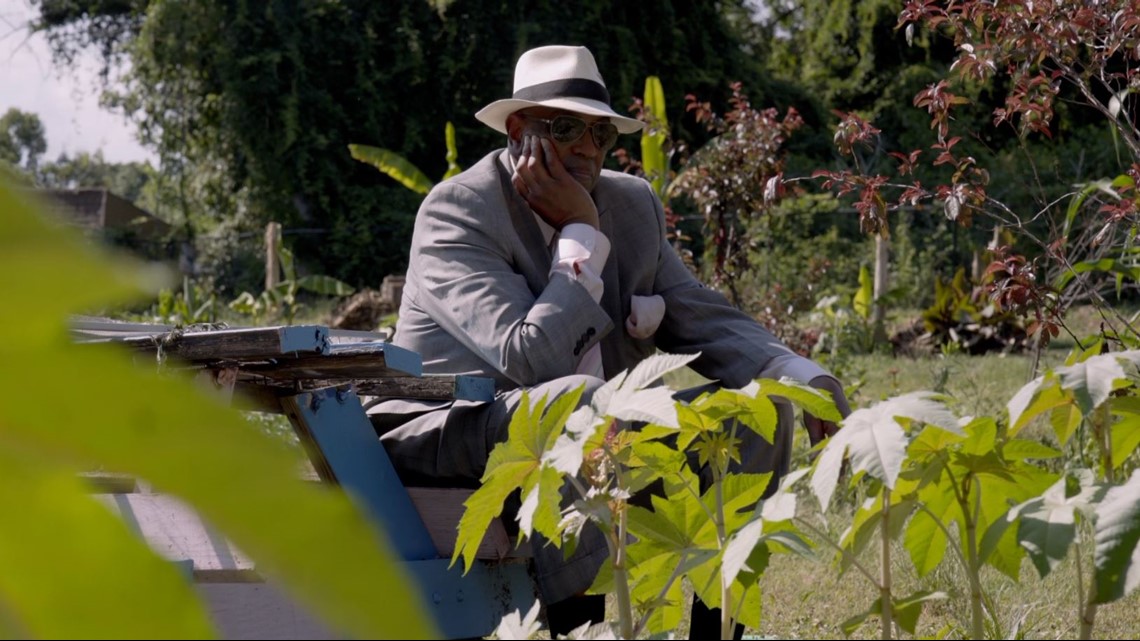 Then he pivots to his primary subject.
"This is what it's all about," he says. "This is the impact of climate change and what it's making people do. We would have never thought about an urban garden."
Numerous reports and studies have been produced about this disproportionate impact, which was summarized in last year's Fourth National Climate Assessment produced for Congress and the president by the U.S. Global Change Research Program.
"The health impacts of climate change are not felt equally," said the report. "Across all climate risks, children, older adults, low-income communities, some communities of color, and those experiencing discrimination are disproportionately affected by extreme weather and climate events, partially because they are often excluded in planning processes."
A separate study from the ACEEE found that low-income, African-American, and Latino households spend up to three times as much of their income on energy as other, higher-income households. Atlanta had among the widest gaps.
The effects occur particularly in high-density urban environments, also called urban heat islands. According to NASA, these areas can be up to eight degrees warmer than suburban or rural landscapes.
"That something like this in our community can exist," Durley says, "and is tied to the church? It's encouraging me to know why I do what I do."
► WATCH | 11Alive's special report, PLAN G, about how Georgians are leading the climate conversation. For more, follow reporter Matt Pearl on Facebook, Twitter, and Instagram.
It's a Thursday morning in mid-March. An auditorium at the Georgia World Congress Center is filled with people from across the country – but largely from the Southeast – wanting to make an impact on the climate. It's a three-day conference called the Climate Reality Leadership Corps Workshop, run by the Climate Reality Project – an organization dedicated to effecting change and spearheaded by former Vice President Al Gore.
On Day 1, before Gore's first appearance on stage, Dr. Durley gives the invocation.
"You're here to save the planet!" he exclaims. "That's what's important!"
Durley typically speaks to two communities that, he believes, don't get associated enough with issues around the climate: minority communities and faith communities. But he goes beyond, speaking with politicians on both sides and at conferences and workshops like this.
"When I first got into this, I would go to so many meetings impacting the minority communities. But I got tired of people talking about me rather than to and with me. We must be at the table, not just talked about, but in the planning process," said Durley.
Since the workshop, the Climate Reality Project has opened five new chapters in Georgia. Durley has continued with speaking engagements at home in Atlanta and on the road in cities like Washington, D.C. In August he'll be in Nashville, addressing 150 state legislators on climate change.
"People perish because of lack of knowledge," Durley says.
Then he brings it back to his community.
"It's important for me to let people in this community know that climate change is a part of your well-being," he said.
He lets them know however he can.
More from our Plan G - Climate Change Series:
How Georgians are taking control of the climate conversation
For generations his family has been farming peanuts, now he sold portion of land to solar
The more you raise a highway, the more it sinks: Tybee Island's climate change paradox
How 18 miles of Georgia interstate became a 'way to save the world'
Fort Benning reports 1,500 heat-related injuries in last five years, largest in the country
'The Civil Rights movement of 2019': how Atlanta found its voice in the climate conversation