ATLANTA — Many of metro Atlanta's largest school systems are set for spring break next week - which makes Friday afternoon a major travel time as families head for their vacations.
GDOT is anticipating an increase in traffic and congestion from Friday, March 31, until Sunday, April 9. The transportation department is asking drivers to have patience on the road as they may face longer travel times than usual, especially around popular Spring Break attractions like Centennial Olympic Park, Georgia Aquarium, Six Flags, Zoo Atlanta and the Atlanta Botanical Gardens.
Meanwhile we'll be tracking conditions as they develop Friday afternoon with updates below:
Traffic updates around metro Atlanta
Major alert (3:25 p.m.): All lanes are blocked on I -285 South down near the airport with two tractor trailer fires causing a full shutdown.
The incident happened at Camp Creek Parkway, and I-285 South traffic is being diverted of the Langford Parkway exit, GDOT advises.
"Motorists are advised to avoid traveling near this location and use alternate routes," a GDOT alert said.
4:20 p.m. | GDOT currently listing several minor crashes that aren't blocking any lanes, but you might want to keep in mind if you're passing through:
I-75/85 before University Ave.
I-75 South at Moores Mill Rd.
I-285 South at Covington Hwy.
And, further out, I-75 South at State Route 140 in the area of Adairsville as well as the I-75 North exit to State Route 16 south of Locust Grove.
4:15 p.m. | Here's an updated look at the ITP situation - you can see a lot of deep red at the top of the Downtown Connector, bit of deep red where I-285 meets I -85 as well. And of course some deep red on the Westside perimeter south of I-20 as traffic builds up from the Camp Creek shutdown.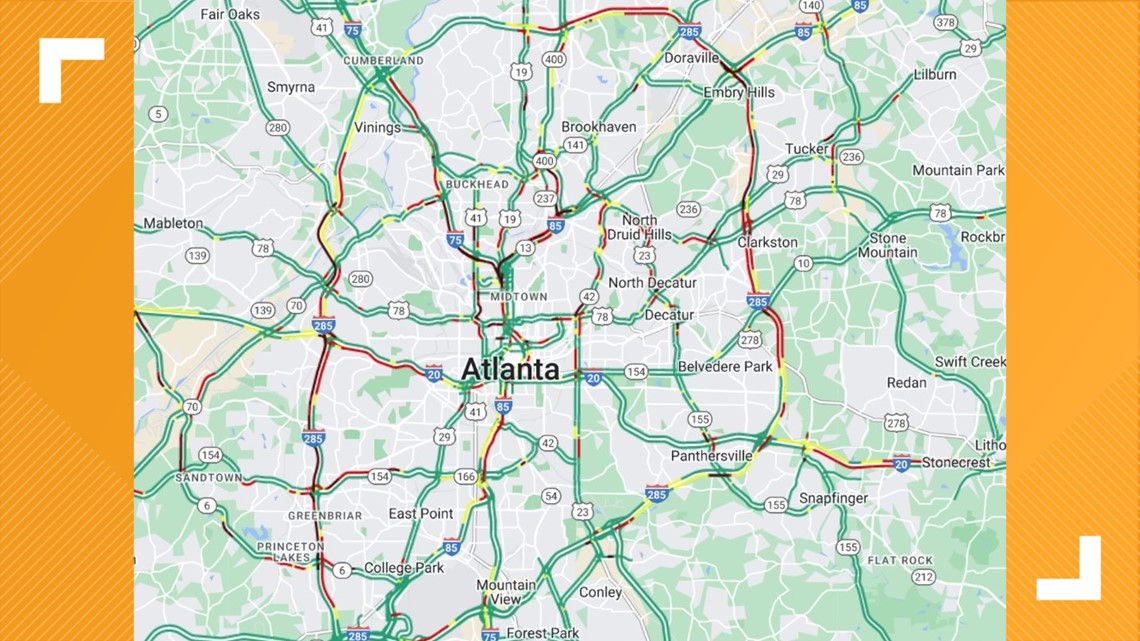 4:00 p.m. | Decent news right now, if you're heading south for the beach is that things are pretty clear outside the perimeter. Biggest slowdown appears to be on I-75 South through the McDonough and Locust Grove areas, if you're heading toward Macon and I-16 on down to coastal Georgia.
3:45 p.m.: Not anything surprising, but you can tell from the deep red on the GA 511 maps that things are going very slowly where I-285 meets I-85.