HENRY COUNTY, Ga. — State officials have identified two people who died after a fiery crash on I-75 NB in Henry County at Jodeco Road early Tuesday morning.
It happened at 2:07 a.m. and involved a car reported stolen out of Chamblee striking a Henry County officer's car as he attempted to stop it. The Georgia State Patrol said that the driver of the stolen 2008 Mazda CX9 first entered I-75 north from Jonesboro Road during the chase then exited at Jodeco Road and did a U-turn back onto the highway in the wrong direction. That car collided with a 2003 Ford F-150 head-on, Georgia State Patrol (GSP) said.
The agency later added that the stolen Mazda took exit 222 and came back onto the highway going the wrong way before hitting the truck head-on.
The resulting accident left the Ford driver, later identified as 38-year-old Kalif B. Patterson of Dalzell, South Carlina, dead at the scene. The driver of the stolen Mazda, 19-year-old Adolphus D. Knight of Riverdale, died while being taken to Grady Memorial Hospital. A passenger of the Mazda apparently survived the crash and was taken to an area hospital though their condition wasn't released.
In addition to these two vehicles, a tractor-trailer and several other vehicles were also involved in the crash. The barrier also caught fire in the crash.
During the investigation, several lanes were blocked and although they have now cleared, the back up was extensive.
Police chase and crash on I-75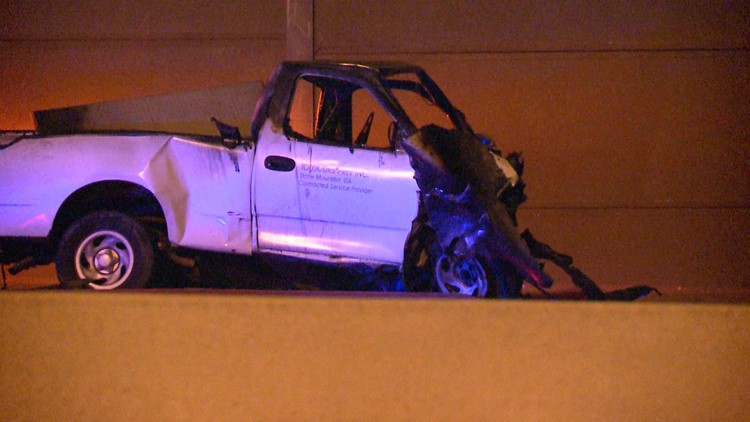 A previous version of this story identified GSP as being involved in the chase. That information has been corrected.