SPALDING COUNTY, Ga. — A tractor-trailer driver has been life-flighted to a hospital after investigators say the big rig struck a Henry County patrol car on I-75 on Thursday.
The accident, which backed up traffic into the early morning hours of Friday, happened around 7 p.m. in Spalding County near mile marker 207. According to the Georgia State Patrol, the crash happened when a patrol car, which was heading south in the center median turnaround attempted to make a wide turn.
Authorities said the driver of the patrol car had initially come to a stop at the end of the turnaround and was waiting for traffic to clear before heading North. However, the patrol car then made a wide turn that entered the left lane and then the middle lane. A tractor-trailer headed north moved into the middle lane at the same time.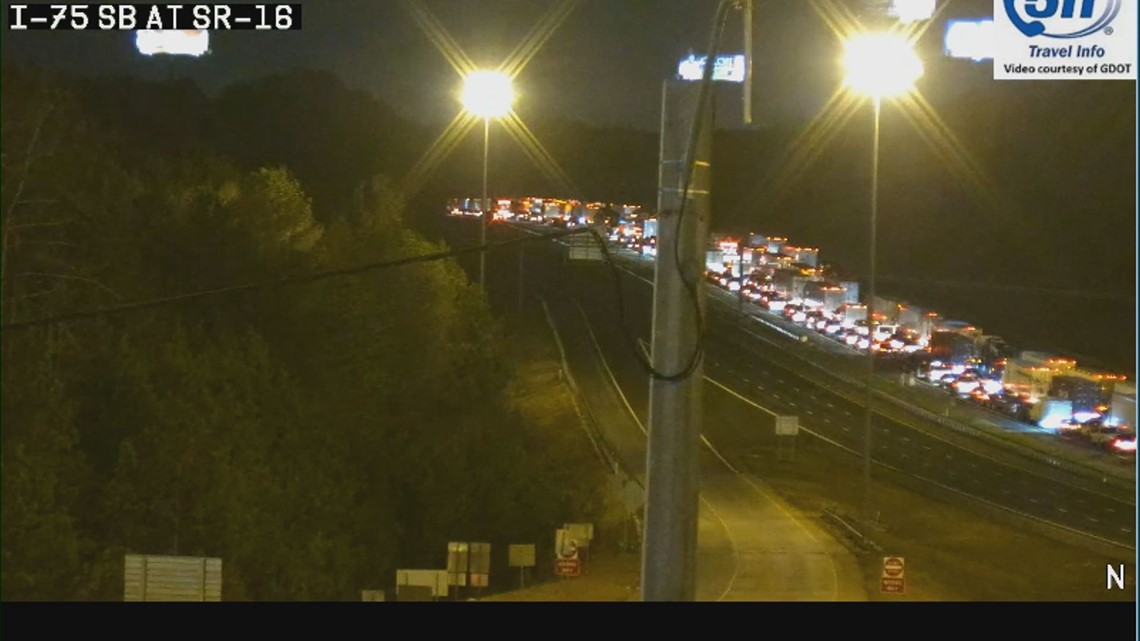 It ultimately struck the patrol car in the passenger side door sending it spinning into the guardrail on the west shoulder of the interstate. The force of the crash, meanwhile, sent the tractor-trailer into the far-left lane and over the guardrail where it flipped over in the center median.
The driver and passenger of the patrol vehicle survived the crash and only had what the Georgia State Patrol described as minor injuries. They were taken to Piedmont Henry Hospital for treatment.
The tractor-trailer driver, however, was air-lifted to Grady Memorial Hospital. While the driver's injuries weren't specified, helicopter ambulance transportation is generally reserved for significant emergencies where time is a factor.
A GSP spokesperson said the agency's investigation into the accident is still ongoing as are attempts to clear the highway several hours after the crash.
GSP said crews are still working to get wreckers onto the scene to clear the wreckage and reopen the interstate. As of midnight, only one southbound lane was open and there was no timetable for having the highway completely cleared.
TOP HEADLINES ON 11ALIVE.COM: