ATLANTA — If you were outside in the metro on Wednesday, you might've thought it felt more like a mid-summer day. If you thought that it was abnormally warm, you're not wrong -- Atlanta broke its all-time record February temperature Wednesday.
Hartsfield-Jackson International Airport reached 81 degrees. This broke the old monthly record of 80° from Feb. 7, 2019. It also smashed the previous daily record for Feb. 22 of 79° from 2018.
This week, temperatures have felt more like May than February. And the extreme heat will last a little longer. 11Alive Chief Meteorologist Chris Holcomb is forecasting a high of 79 degrees for the capital of the Peach State. That would tie the daily record from over four decades ago in 1980.
In the last decades, record warm temperatures are becoming more common. But in the opposite, we are seeing fewer record-cold temperatures broken. Atlanta tied or broke daily record highs eight times in 2022, but failed to reach any record lows.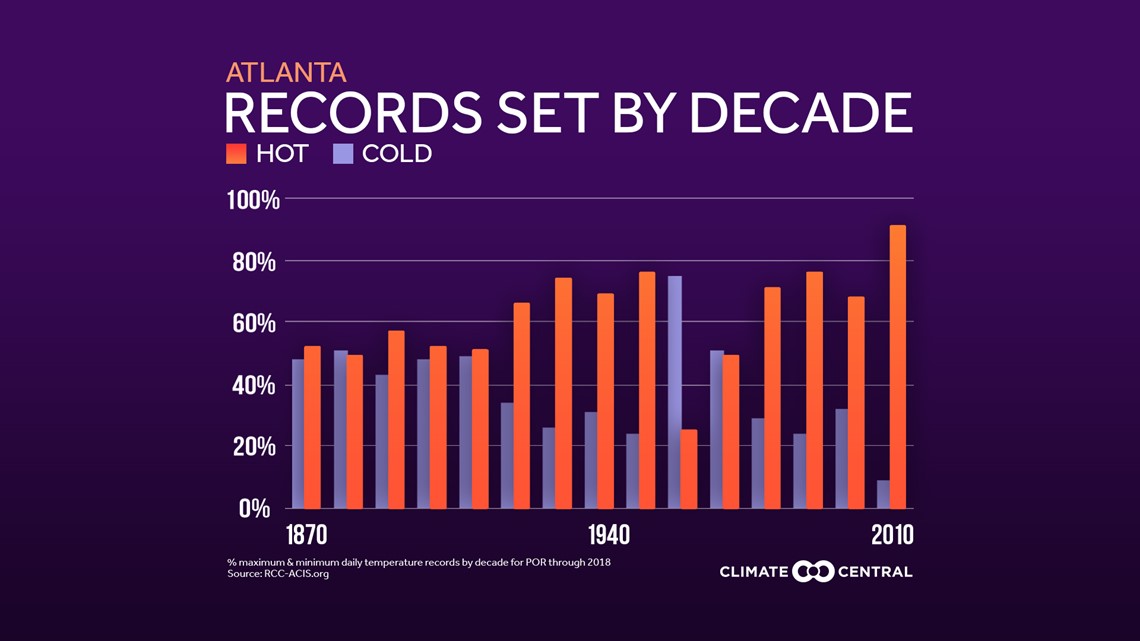 Outside of a warming climate, the ever-growing concrete jungle that makes up the city of Atlanta keeps our temperatures warmer in the overnights through the Urban Heat Island Effect.
City areas with buildings, asphalt and concrete absorb and re-emit heat, keeping these areas warm both during the day and at night. Researchers at several of Atlanta's universities have been studying how daytime and overnight temperatures vary across parts of the city and how it may be impacting minorities disproportionately.