ATLANTA — This week in Atlanta is all about the heat. Friday's record high of 98 from 1986 is in jeopardy. And the heat index climbs past the century mark through Saturday.
But did you know, in some city neighborhoods, it can be more than 10 degrees hotter than outlying suburbs some afternoons? In fact, in some city neighborhoods, it can be 15 to 20 degrees hotter than in the suburbs.
The reason why? Something called a heat island.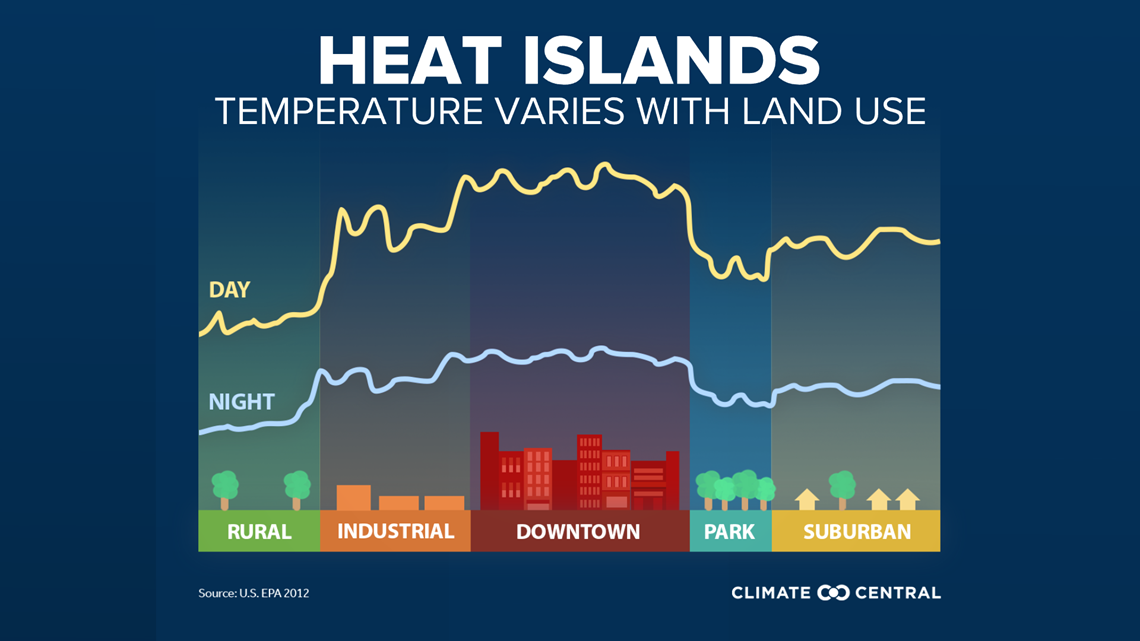 A heat island is a metropolitan area that is hotter than its outlying counterparts. They exist because of a multitude of factors, including albedo, a measurement of whether a surface reflects sunlight or absorbs it retaining heat, a lack of greenery and trees, taller builds and more narrow roads, and heat created by human activities like driving cars.

A new study released by Climate Central has now quantified just how hot an average the city of Atlanta is from outlying suburbs. The study found that on average, Atlanta is about 6 degrees warmer than the suburbs on a given summer afternoon.

Atlanta ranks 48th on the list out of 159 cities measured across the country. The most prolific heat islands were in New Orleans, Newark, N.J., and New York City. In those locations, the average city temperatures was nearly 9 degrees hotter than in outlying areas.
The 6 degree difference in Atlanta is an average. There are neighborhoods within the city than can be 10 to 15 degrees hotter, and some cooler neighborhoods with less development and more trees and greenery.

Planting trees, creating 'green roofs' with lush vegetation, and 'cool roofs' with reflective materials can help combat this 'heat island effect'.