ATLANTA — The first true cold snap of the season has arrived, sending temperatures across north Georgia 20 degrees below average -- potentially in record territory.
Sub-freezing lows will be found in the north Georgia mountains, and could even sneak into some Atlanta suburbs.
Why? The coldest temps since mid-March move in after a cold front that passed Monday. A big dip in the jet stream allows the cold air to seep into the deep south.
A freeze warning has been issued for all of North Georgia Wednesday morning. A Freeze Watch has been issued for Thursday morning.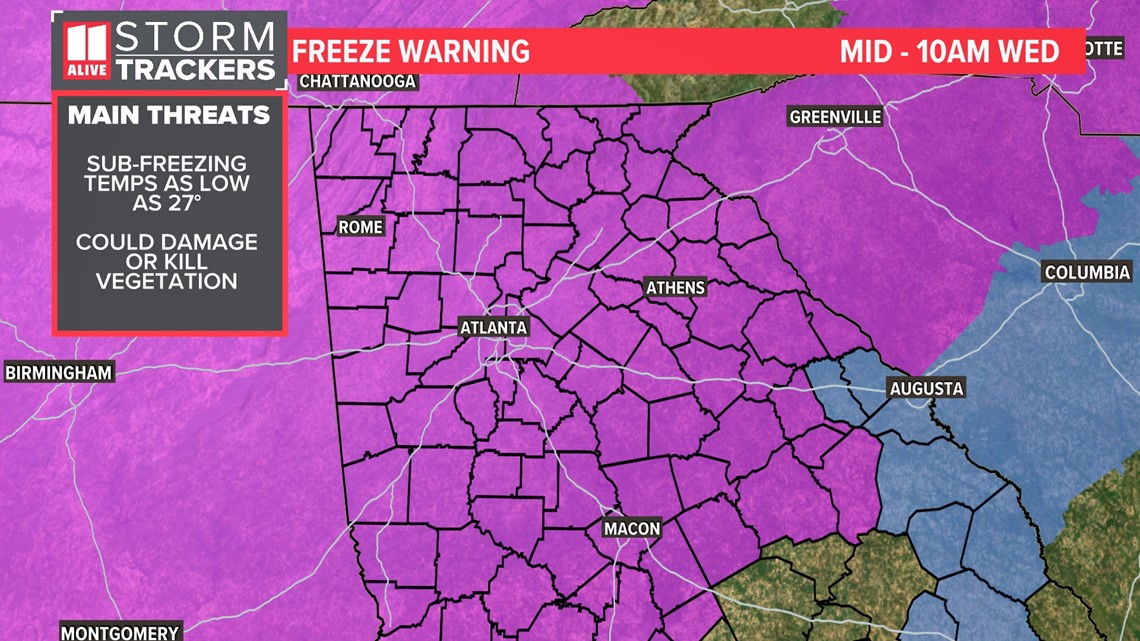 3 Things To Know:
An early season cold snap sends temperatures 20-degrees below average this week
The first frost or freeze of the season is possible for many.
Temps by Wednesday morning fall into the 20s and 30s across North Georgia.
Timeline | When does the cold arrive?
Although sunshine will be plentiful, the mornings will be just downright cold. Our lows both days drop into the mid 30s in Atlanta and colder in the suburbs.
This will be close to record. The daily record for Atlanta Wednesday morning is 35° from 1976. The record for Thursday morning is 34° from 1989.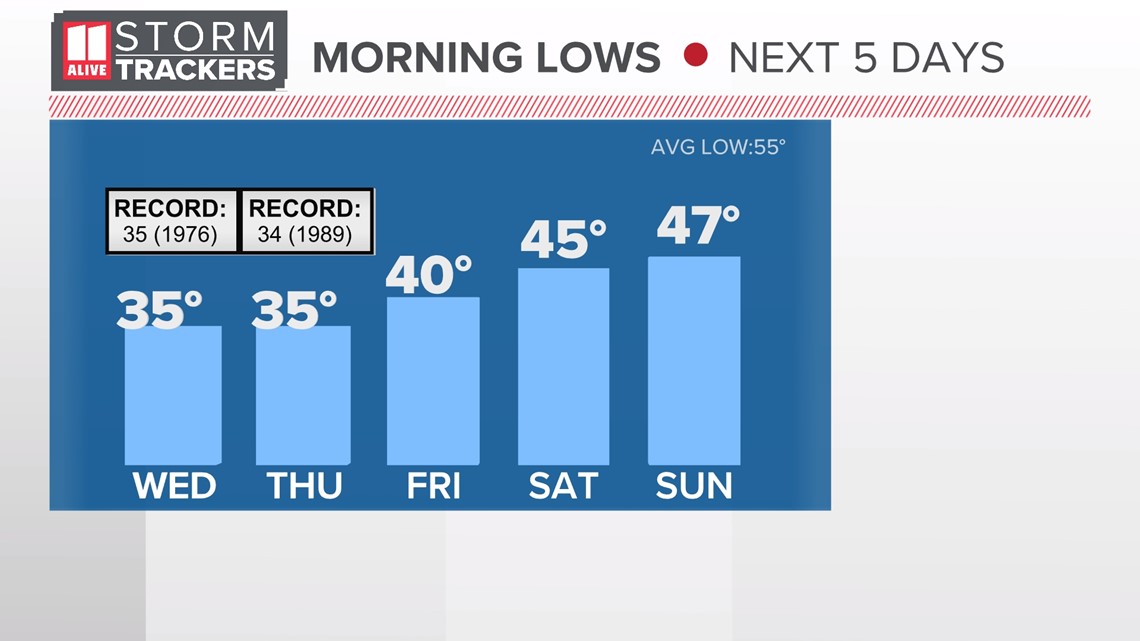 Wind won't be quite as much of a factor on Wednesday morning, but even with a light breeze, wind chills will fall into the 20s.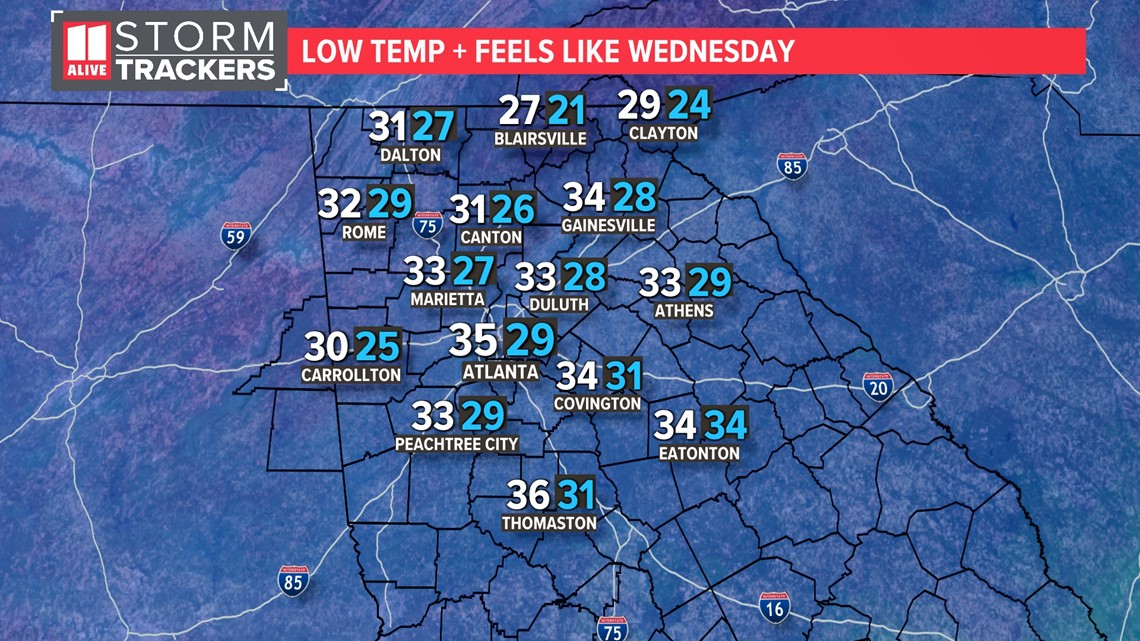 If we keep a 10 mph wind, it'll prevent widespread frost from forming. Thursday morning, however, frost will be more likely with lighter winds and clear skies. A hard freeze is likely both mornings in the mountains.
Wednesday's high doesn't get out of the 50s. By Thursday, we'll climb to 63 for the high, still about 10 degrees below average.
Is it early for this type of cold?
This is a little earlier than normal for the potency of this cold blast. Atlanta typically averages its first morning in the 30s at the end of October and our first frost of the season around November 4th.
As for afternoon highs, we average our first day in the 50s at the end of October.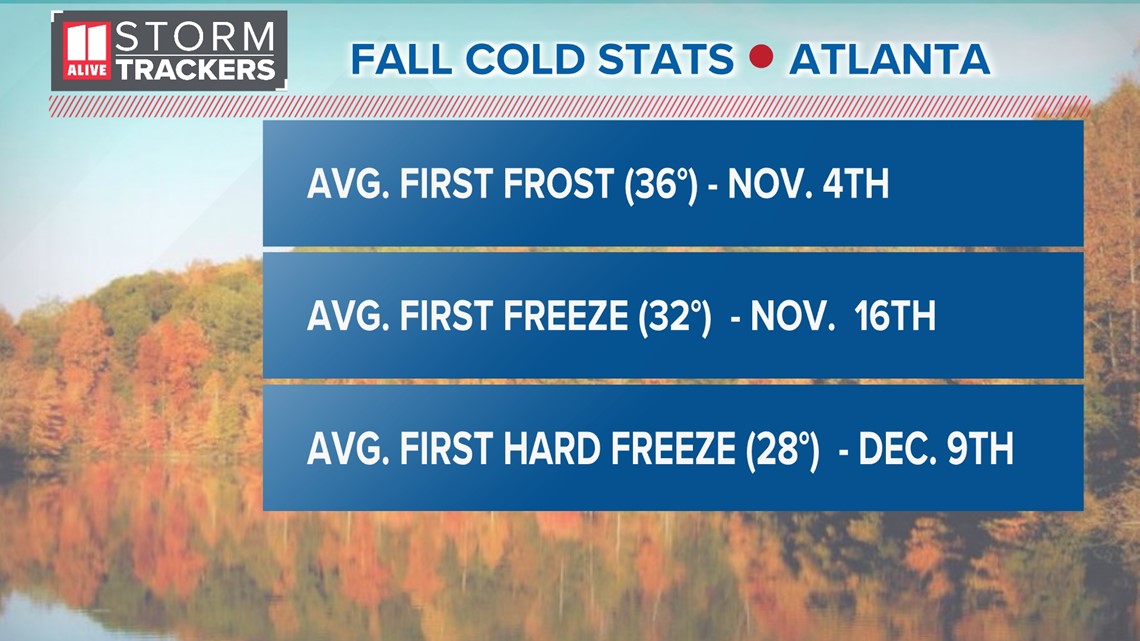 As a positive to the cold, it will likely lead to a quick transition of more fall colors on the trees, especially in the north Georgia mountains where peak will soon approach in many higher elevations.
MORE FROM THE 11ALIVE STORMTRACKERS
DOWNLOAD THE 11ALIVE APP:
Set up weather notifications by clicking the Gear icon in the upper right corner of the app. Select Notification -> Notification Settings -> Severe Weather Alerts -> Toggle the Severe Weather Alerts button to the right to turn alerts on.

Send photos and videos through the app by selecting the Near Me feature on the bottom right task bar of the app and entering your information.
TEXT YOUR WEATHER PHOTOS TO US: 404-885-7600
JOIN THE 11ALIVE STORMTRACKERS FACEBOOK GROUP: Nearly 10,000 metro Atlanta and north Georgia weather enthusiasts share their weather photos every day. Click here to join the group!