ATLANTA — Much of metro Atlanta has been elevated to "extreme drought" conditions.
The new drought update that was released today shows the extreme drought, shown in red, expanding over much of metro Atlanta. Extreme drought is the second highest category possible for drought conditions.
The extreme drought exists in Coweta, Fayette, Clayton, South Fulton, western Henry, Bartow, Cherokee, Forsyth, Hall, Pickens Gilmer, Dawson, Lumpkin and White Counties. It covers almost 5 percent of the state, most of that in the metro area.
The orange color that covers the other parts of metro Atlanta and north Georgia is the "severe drought." Severe drought is third level out of five categories for drought designations. The tan color shows "moderate" drought. The yellow is "abnormally dry."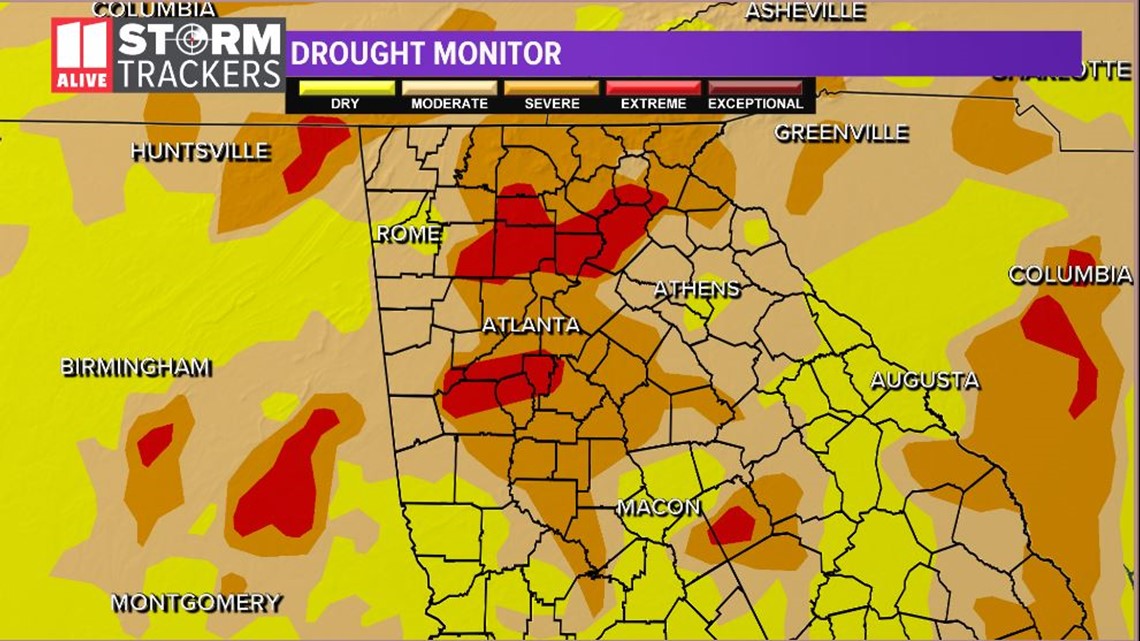 The lack of rain and excessive heat has caused the drought to expand and worsen over much of the area.
We finally have a little relief to the heat coming up this weekend with highs back to the 80s.
Rain chances will be a little higher. It won't be a drought buster, but a little rain will help some.
Rain chances for the weekend are at 30%. The better chance for rain comes later Monday at 50%.