ATLANTA — If you've been hoping for cooler weather to put out the fall decorations, head to a pumpkin patch or apple orchard, or take the kids on a hay ride or through a local corn maze, the first weekend of October looks perfect for it across north Georgia!
A series of fall fronts will sweep through the area this week and bring a cooler weather pattern with high temperatures more than 10 degrees below average.
What to Expect: Fall Fever in Georgia
- Extended stretch of below-average temperatures and dry weather
- Cool and sunny afternoons
- Crisp and chilly overnights
- When: Late week through the weekend
This pattern will not just bring a higher than normal chance of below average temperatures to north Georgia, but the cool setup will stretch across most of the entire eastern continental U.S. A big dip in the jet stream allows for cool air in Canada to sink its way south into the eastern lower 48 states. This cool push of air will even reach parts of the Florida peninsula!
The below graphic shows just that in the 6 to 10 day temperature outlook from the Climate Prediction Center, set for October 2nd through the 6th. The dark blue 'bullseye' over our area means we have a high likelihood of below-average temps. It does not necessarily mean that we will have record cold temperatures.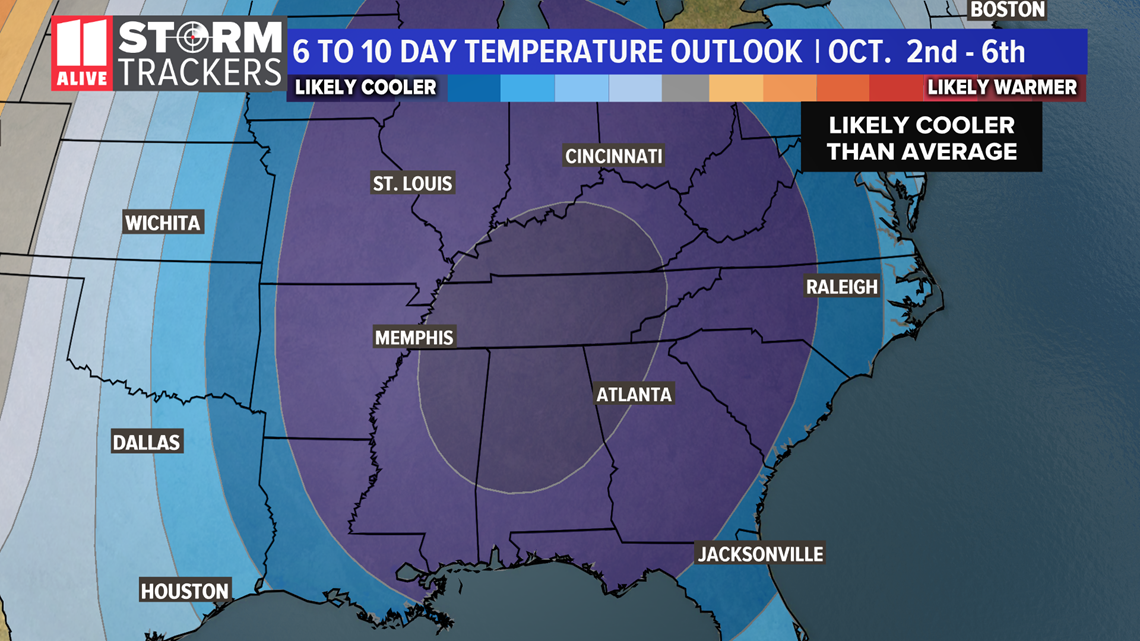 Highs this week start out in the 80s Monday. Starting Tuesday, highs drop into the 70s. A reinforcing shot of cold air moves in later in the week, keeping high temperatures in the 60s by Friday and the weekend.
Rain Chances Ahead of the Coolest Air
As the cooler air begins to push in along with the first front, showers and a few thunderstorms become more likely. Critical timing is Monday night through Tuesday. Here is the European Model showing showers and storms over North Georgia late Tuesday. Some of the storms could have locally heavy rainfall, and rain totals look to could be up to 1" in some spots.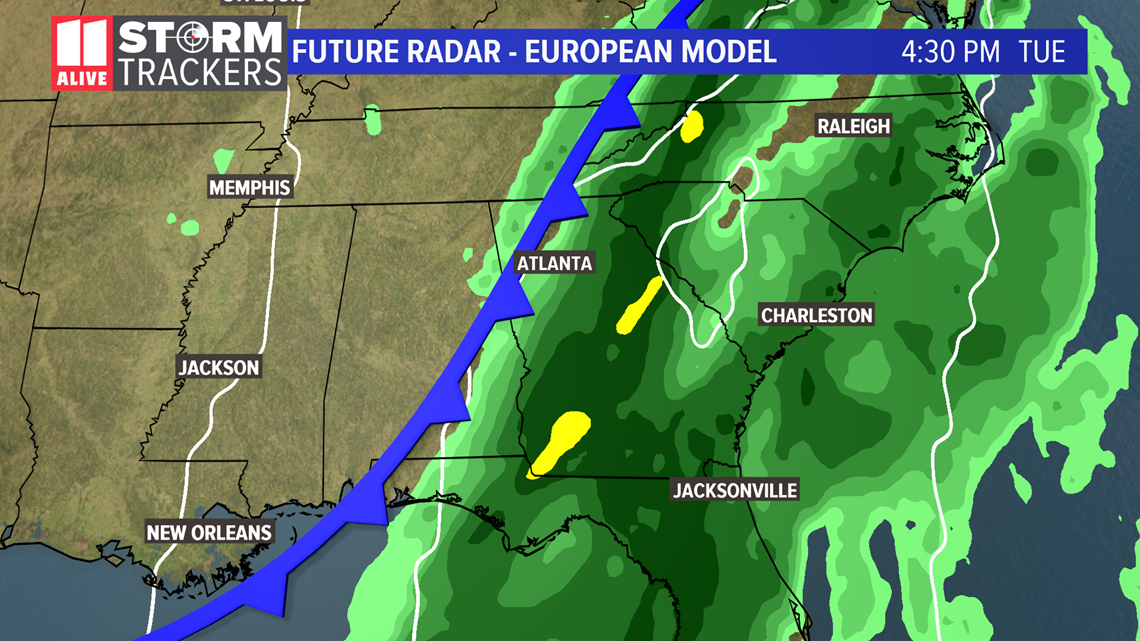 As the rain chance increases, highs drop from the 80s to the 70s starting Tuesday. But look ahead at the end of the week for a bigger cool blast of air! Behind the second cold front, highs Friday through next weekend will potentially only top out in the 60s. This will be a solid 10° below average. What a way to start October!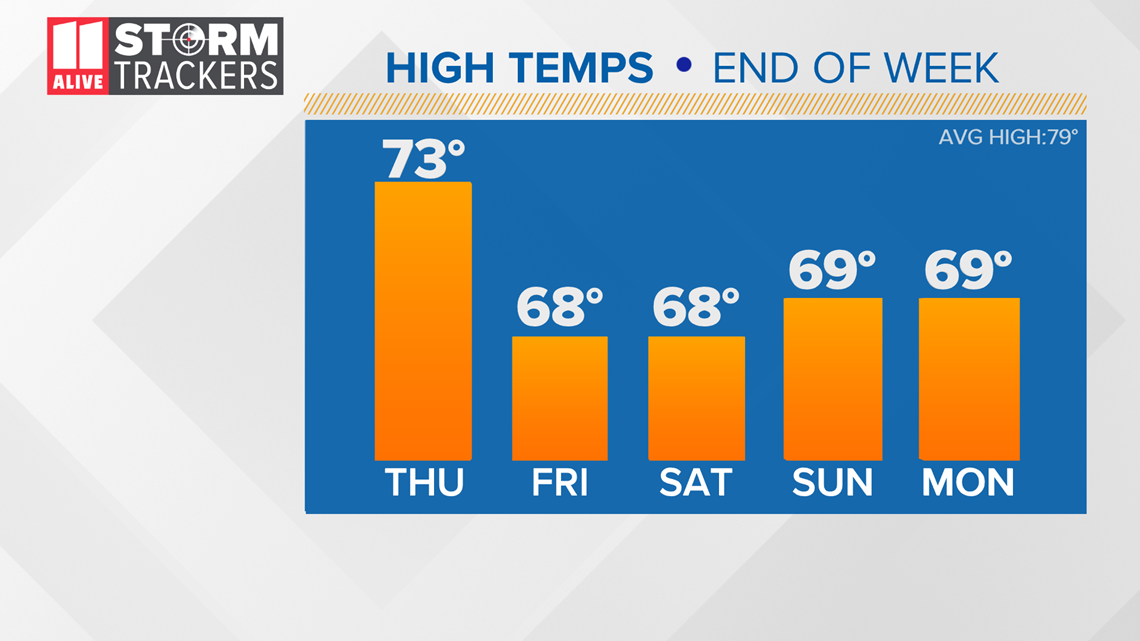 In addition to the cool afternoons, there will also be some crisp and chilly overnights. How chilly? We're still a week away, but the European Model is showing 40s area-wide for next Saturday morning, October 3rd. Is that cool enough for you to turn on the heater?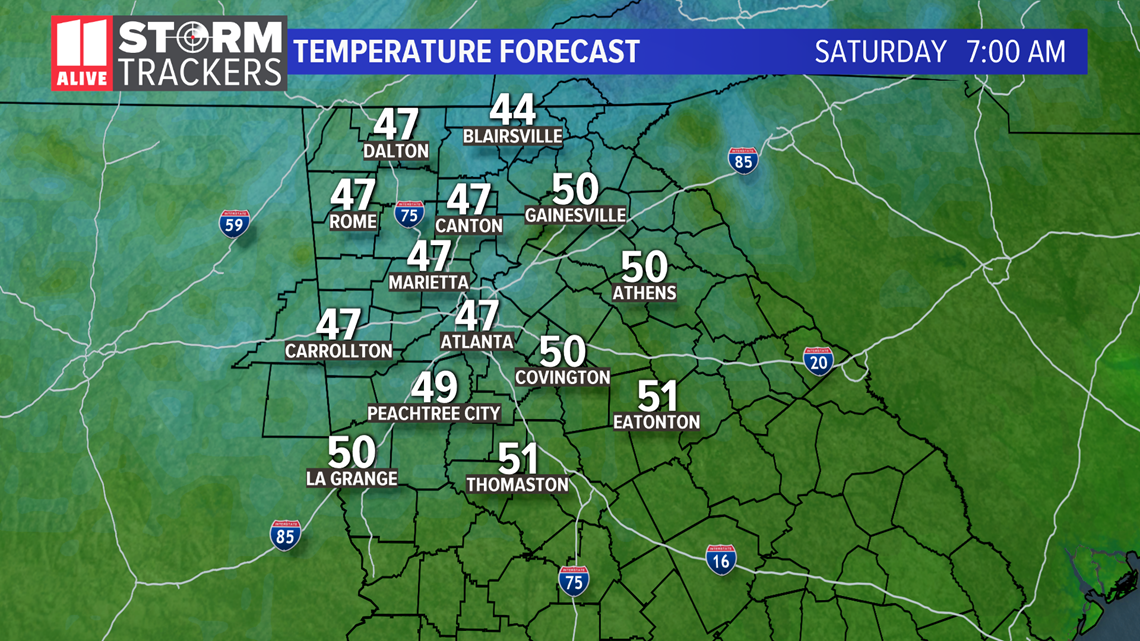 Is Frost Season Almost Here?
For those cold-weather fans across north Georgia, you'll have to wait longer for temps to drop into frost and freeze territory. On average, Atlanta has its first frost of the season in early November.