ATLANTA — Today: Partly cloudy and warm. High: 89°.
Tonight: Increasing clouds. Low: 69°.
Wednesday: Scattered showers and thunderstorms. High: 84°.
Thursday: Rain chances up to 60%. High in the low 80s.
A weak cold front has moved through Atlanta. It is pushing the rain out and bringing in some drier air for a brief period.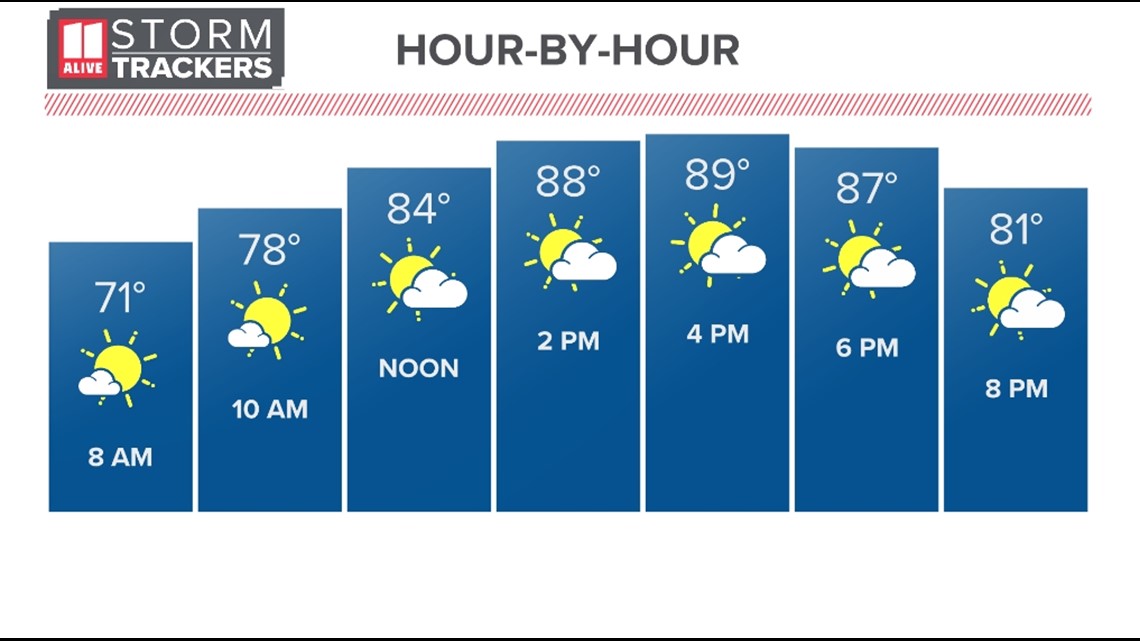 We will start off the day will plenty of sunshine as a cold front has push through the area. We have a 10% chance or less for rain today. It will be hot today as highs reach near 90.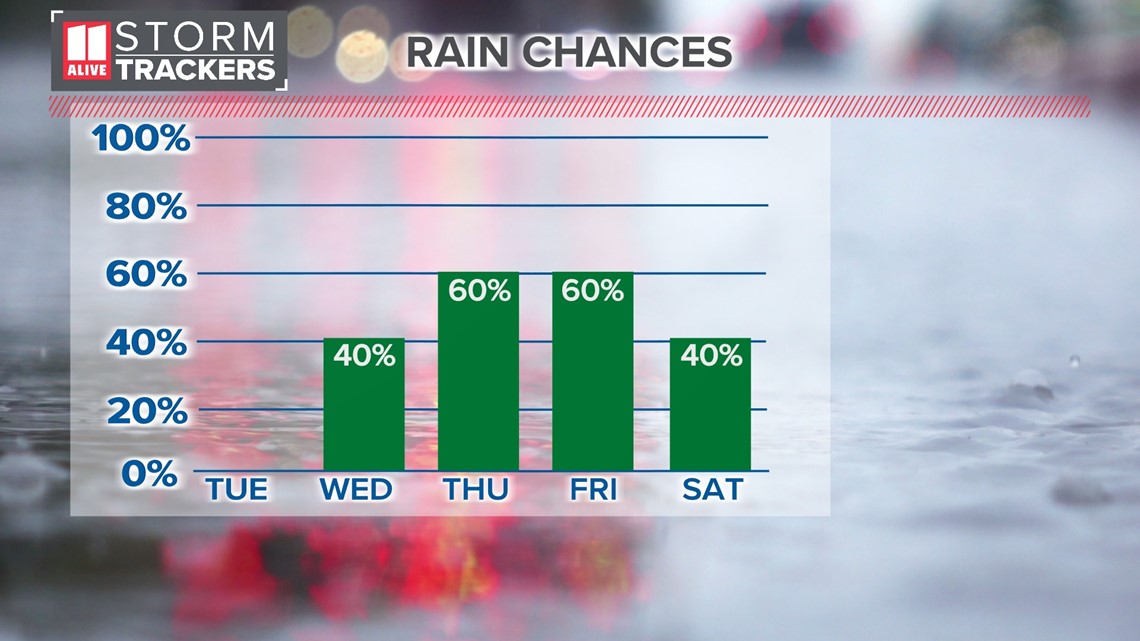 Do not get use to the sunshine, as clouds and rain will return back to our area on Wednesday. Look for a 40% chance for scattered showers and thunderstorms.
The wet weather will continue Thursday and Friday. Both days, there will be a 50 to 60% chance for showers and thunderstorms.
By the end of the weekend, we could see rain totals ranging from 1" to 3"+.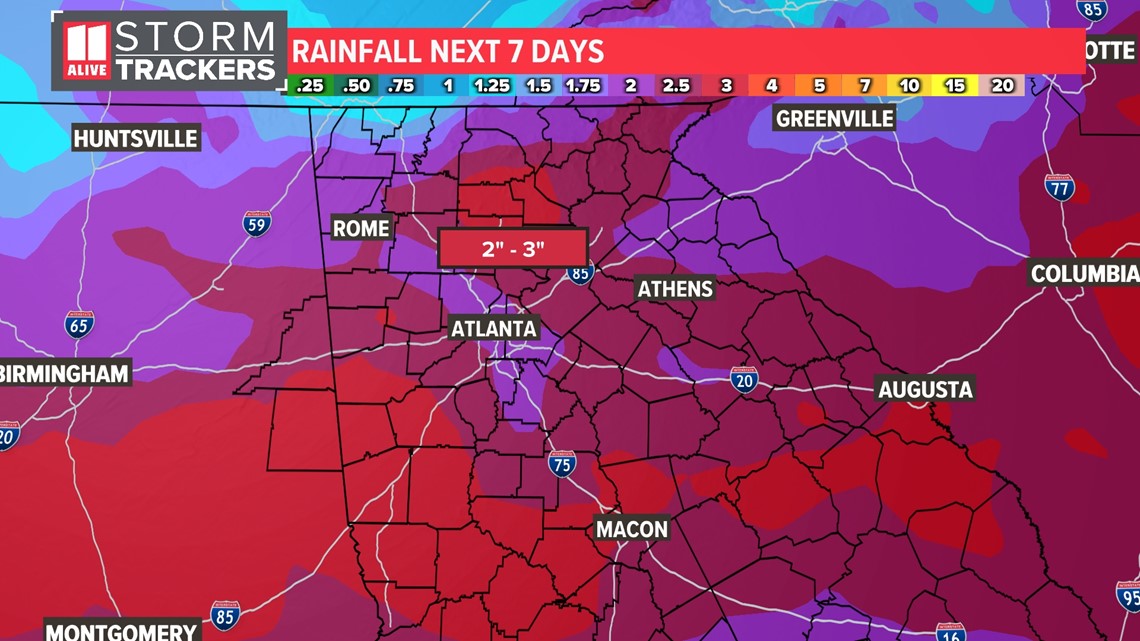 Thanks to the cloud cover and rain threat, temps will be down. Highs starting Wednesday will only be in the low 80s. The chance for rain will continue into the coming weekend.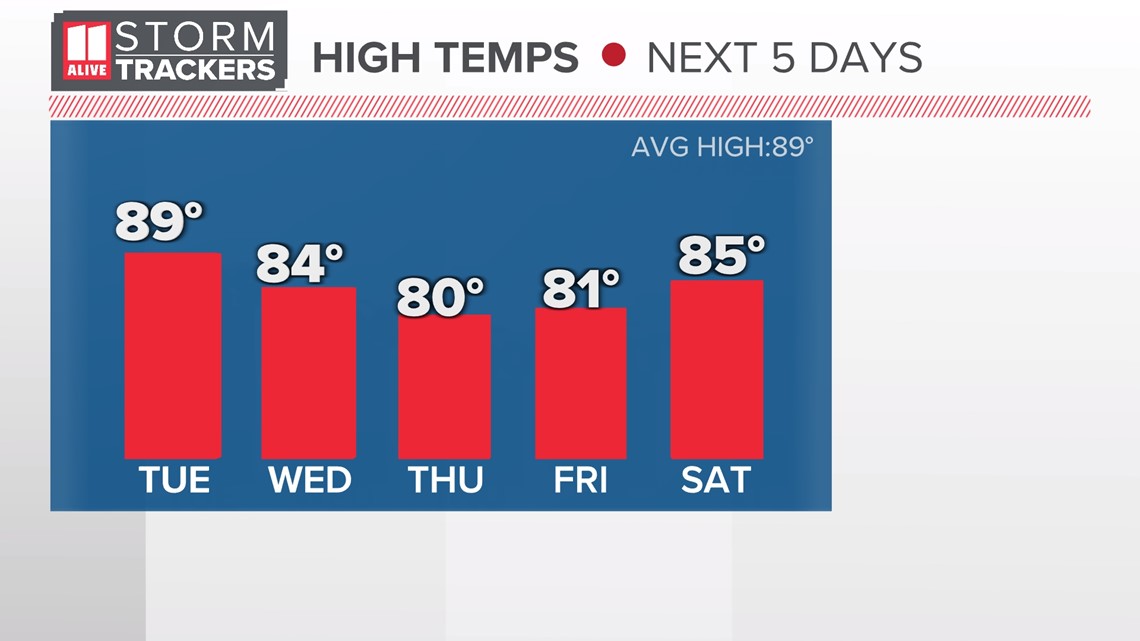 MORE FROM THE 11ALIVE STORMTRACKERS
DOWNLOAD THE 11ALIVE APP:
Set up weather notifications by clicking the Gear icon in the upper right corner of the app. Select Notification -> Notification Settings -> Severe Weather Alerts -> Toggle the Severe Weather Alerts button to the right to turn alerts on.

Send photos and videos through the app by selecting the Near Me feature on the bottom right task bar of the app and entering your information.
TEXT YOUR WEATHER PHOTOS TO US: 404-885-7600
JOIN THE 11ALIVE STORMTRACKERS FACEBOOK GROUP: Nearly 10,000 metro Atlanta and north Georgia weather enthusiasts share their weather photos every day. Click here to join the group!