Today: More clouds. Some drizzle. Rain chance at 30%. High: 77°.
Tonight: Partly to mostly cloudy skies. Low: 63°
Thursday: Clouds slow to erode. High of 79°.
Friday: Partly cloudy and a little warmer. High of 83°.

Discussion
An east wind dominates our weather pattern for this afternoon, keeping us on the cloudy and cool side today. There will also be area of light rain and/or drizzle. We often call this "the wedge." That when that easterly flow gets dammed up by the mountains (cool air damming) and sends us cooler air and some moisture, too.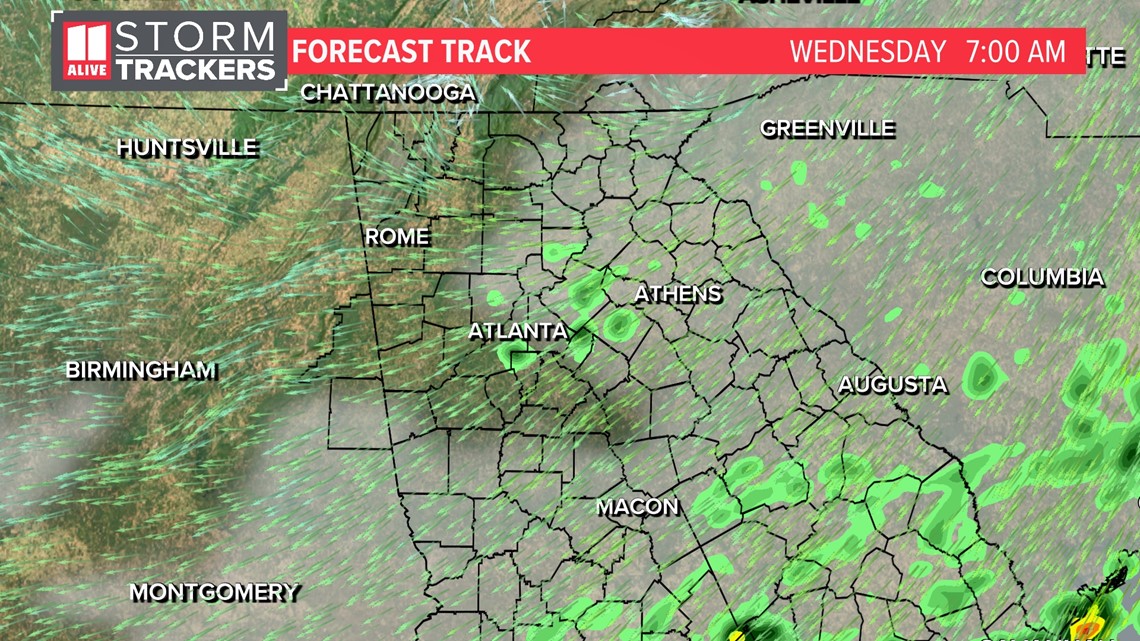 The isolated showers or drizzle could happen at any time today, but for the most part, we will just have mostly cloudy skies. Temps will be cooler thanks to the wedge. Highs today will only reach the upper 70s.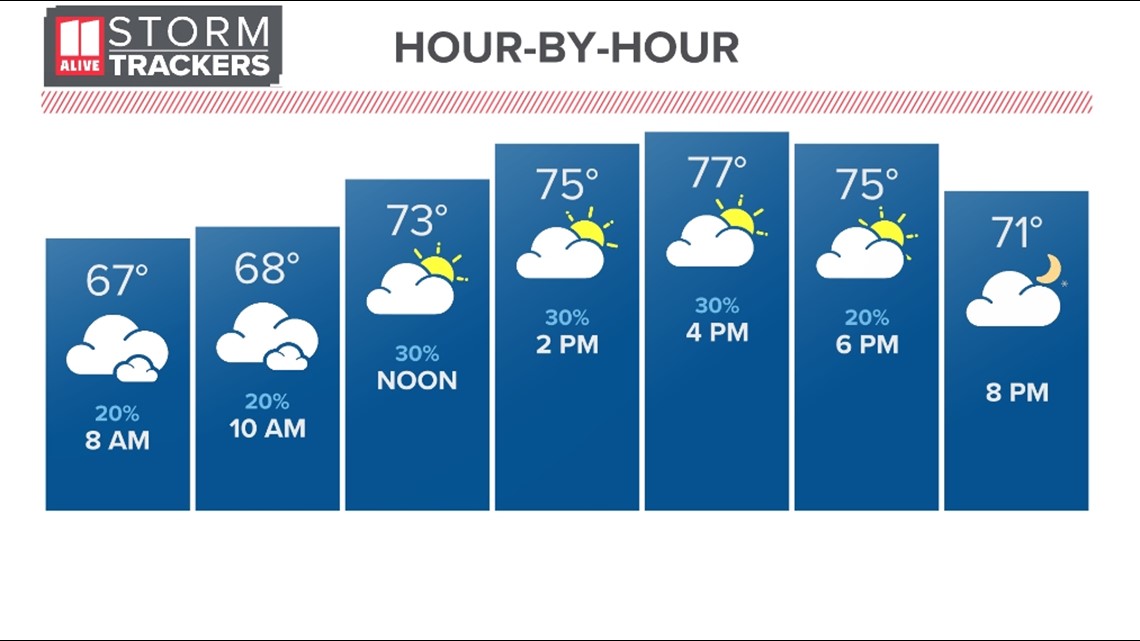 The models often have a hard time with the wedge. Especially targeting a time when it will erode. We think the clouds will slowly start breaking up later in the day Thursday. Look for partly sunny skies by late afternoon.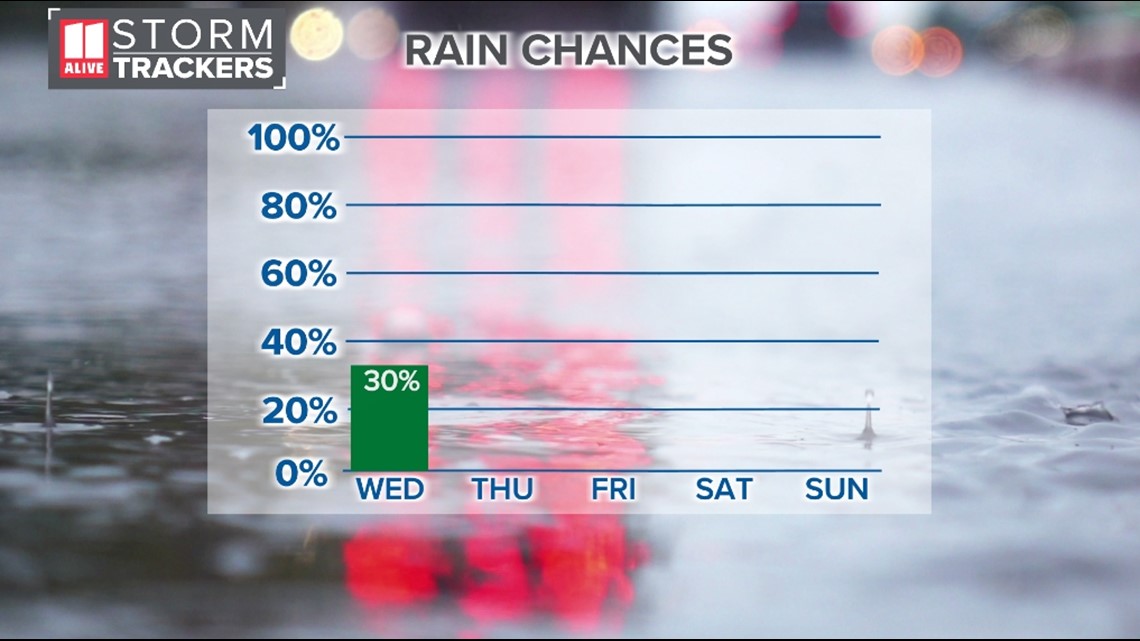 We expect dry weather Friday and through the weekend. Temperatures will also be cooler than average Wednesday and Thursday, then moving back up to the lower 80s for the weekend and into next week.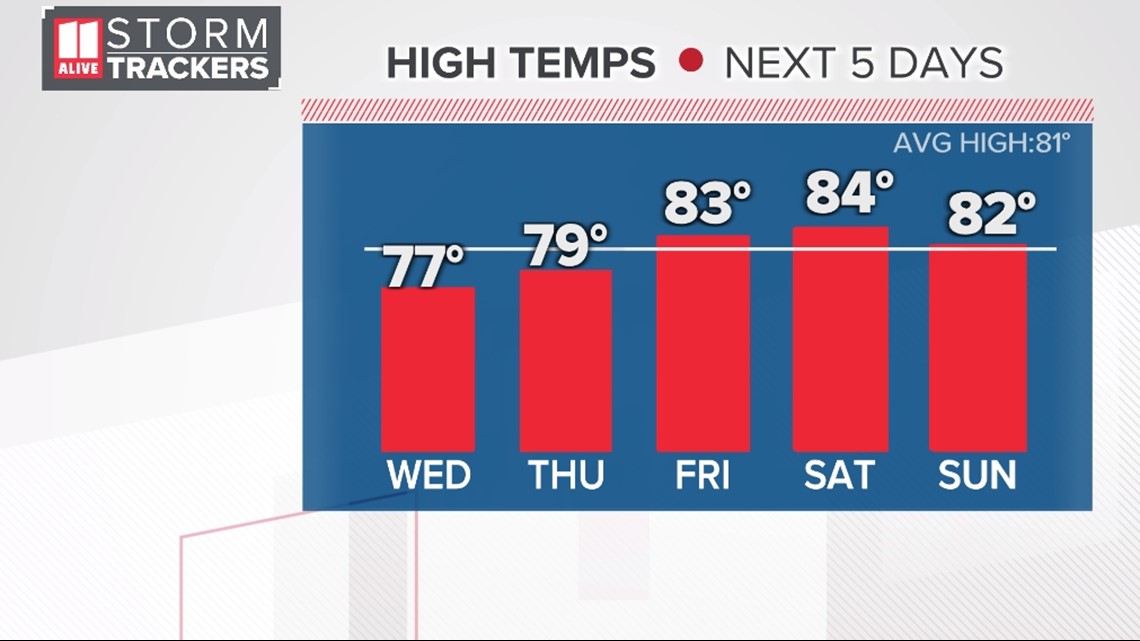 MORE FROM THE 11ALIVE STORMTRACKERS
DOWNLOAD THE 11ALIVE APP:
Set up weather notifications by clicking the Gear icon in the upper right corner of the app. Select Notification -> Notification Settings -> Severe Weather Alerts -> Toggle the Severe Weather Alerts button to the right to turn alerts on.

Send photos and videos through the app by selecting the Near Me feature on the bottom right task bar of the app and entering your information.
TEXT YOUR WEATHER PHOTOS TO US: 404-885-7600
JOIN THE 11ALIVE STORMTRACKERS FACEBOOK GROUP: Nearly 10,000 metro Atlanta and north Georgia weather enthusiasts share their weather photos every day. Click here to join the group!