ATLANTA — Today: Mostly sunny. Slight chance. High: 89°.
Tonight: Increasing clouds. Low: 66°.
Thursday: Scattered showers and storms, mainly in the morning. High: 82°.
Friday: Sunny and nice. High: 85°.


Sunny skies for much of the day. A few clouds will develop this this afternoon. It will feel hot today as highs reach near 90.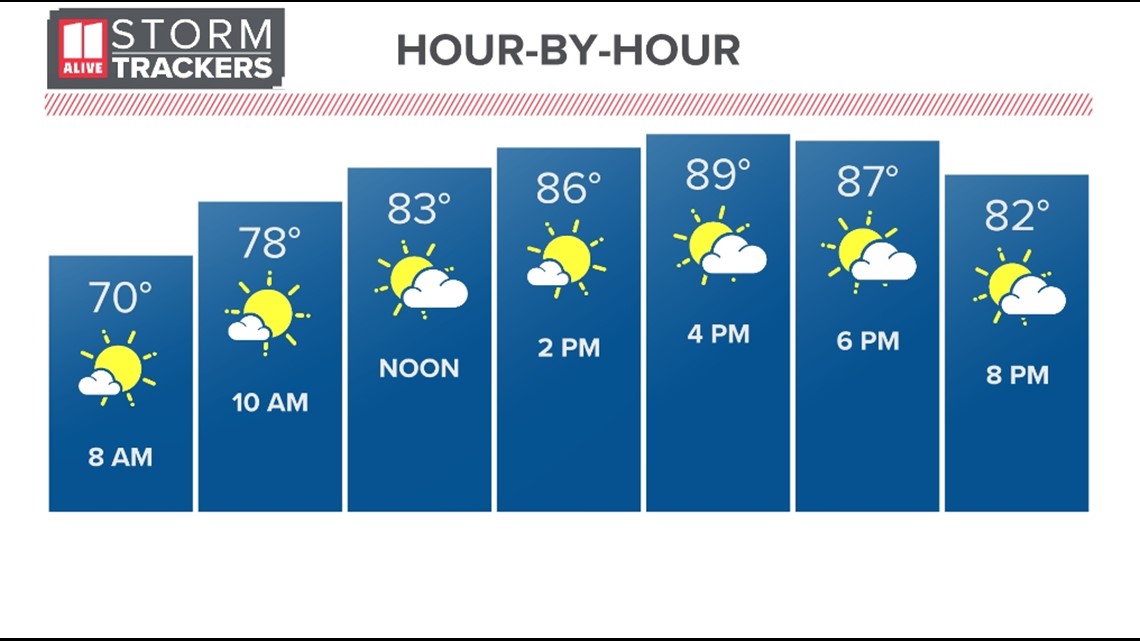 It's only a slight chance, but we can not rule out a stray shower or two this afternoon. Most areas will be dry today.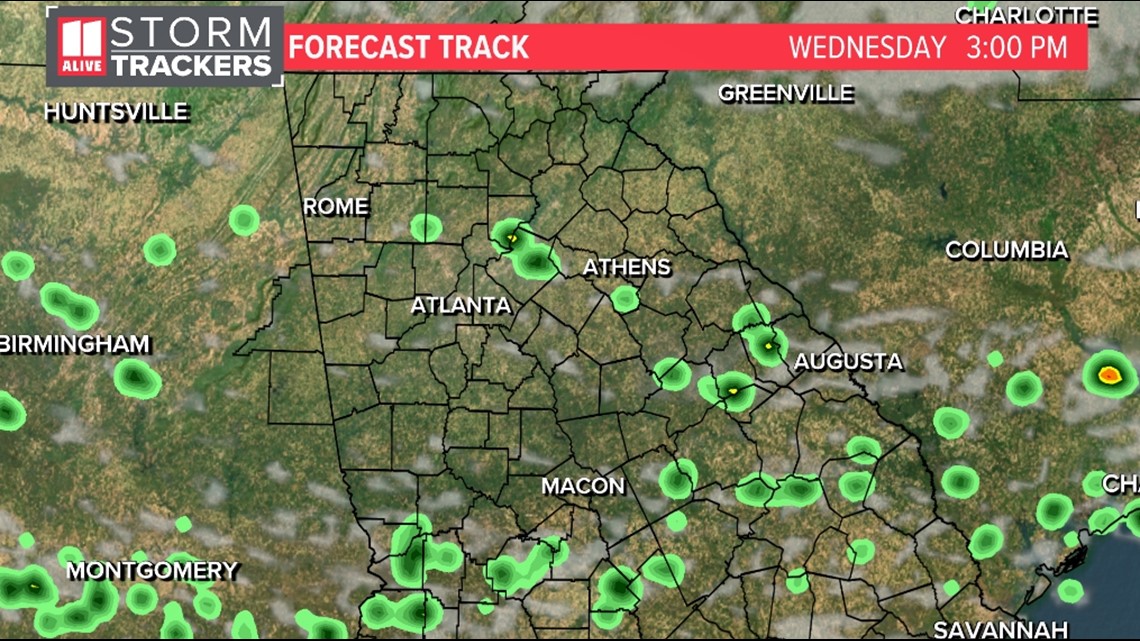 We will have a better chance for rain early Thursday as a cold front drops southward across the state. Scattered showers are expected, and a few isolated embedded storms are possible
Showers will be most widespread in the morning then clear to the south during the second half of the day.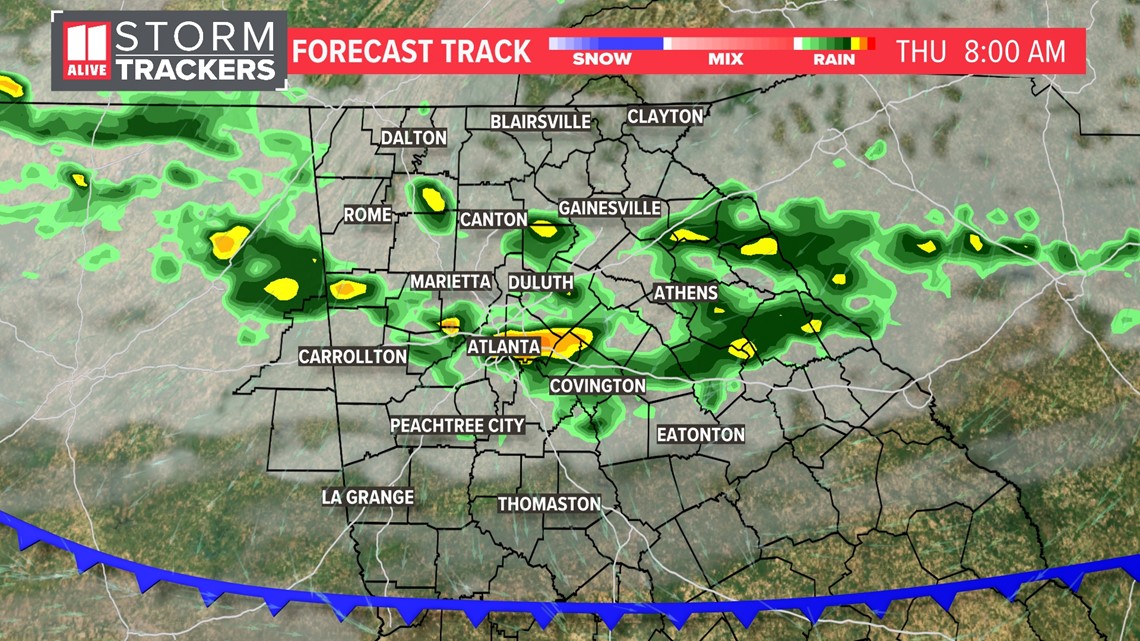 Temperatures behind the front will be slightly cooler. Highs on Thursday will be around 82 degrees, and overnight lows will be in the upper 50s and low 60s Friday morning.
The "cool down" doesn't last long. A warming pattern kicks off as skies clear into the weekend.
Friday and Saturday both look fabulous weather-wise as we soak up the sunshine.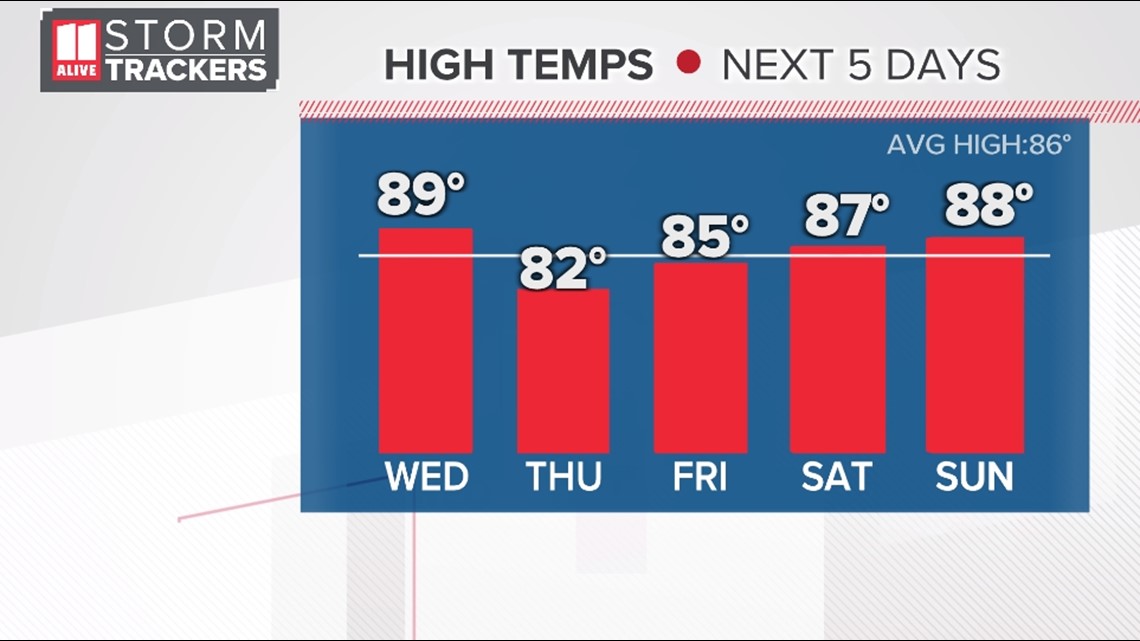 You may notice some haziness on the horizon the next couple of days as smoke from wildfires in Canada spreads across the east coast. Air quality has been in the moderate range so far this week, and that is expected to continue through Thursday.
Anyone sensitive to air quality should consider limiting time outdoors.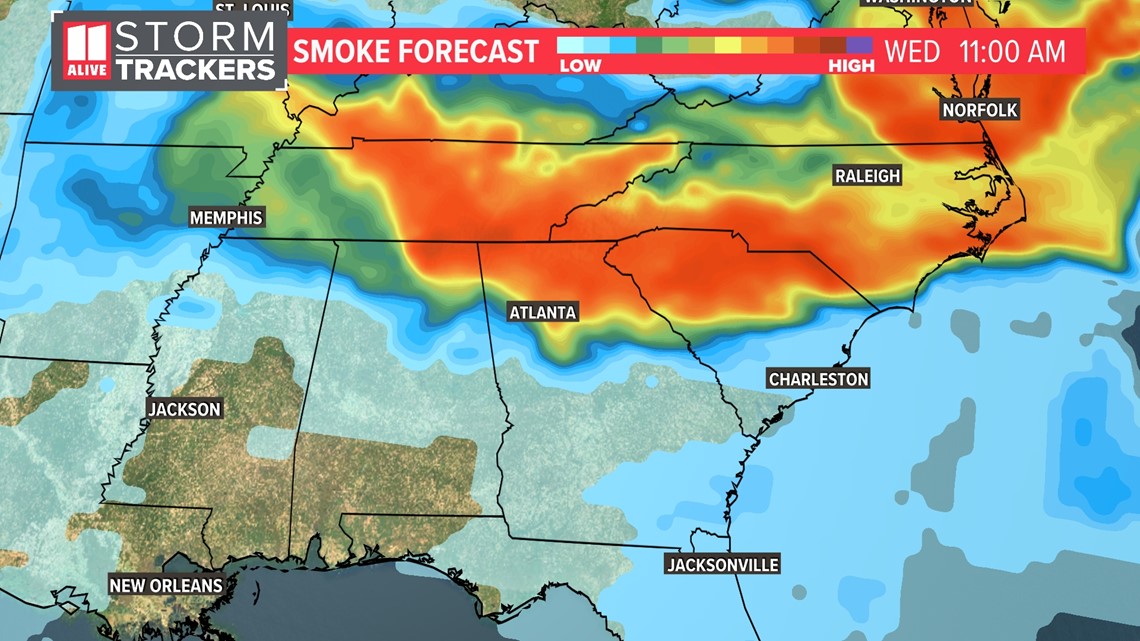 MORE FROM THE 11ALIVE STORMTRACKERS
DOWNLOAD THE 11ALIVE APP:
Set up weather notifications by clicking the Gear icon in the upper right corner of the app. Select Notification -> Notification Settings -> Severe Weather Alerts -> Toggle the Severe Weather Alerts button to the right to turn alerts on.

Send photos and videos through the app by selecting the Near Me feature on the bottom right task bar of the app and entering your information.
TEXT YOUR WEATHER PHOTOS TO US: 404-885-7600
JOIN THE 11ALIVE STORMTRACKERS FACEBOOK GROUP: Nearly 10,000 metro Atlanta and north Georgia weather enthusiasts share their weather photos every day. Click here to join the group!