ATLANTA — A passing cold front will bring us a chance for widely scattered showers this evening.
Quick Forecast:

Today: Slight chance for AM showers. Decreasing clouds and cooler. High:70.
Tonight: Partly cloudy skies. Low: 48
Friday: Cool start: Sun and cloud mix. High: 68.
Saturday: 40 to 50% chance for showers. High of 65.
Discussion:
The unseasonably warm air we have experienced the last few days has moved out. A cold front is ushering in cooler temperatures. We will start the day with mostly cloudy skies. There will a very low chance for rain, but the rain will move out and the clouds will break up to give us more sunshine in the afternoon.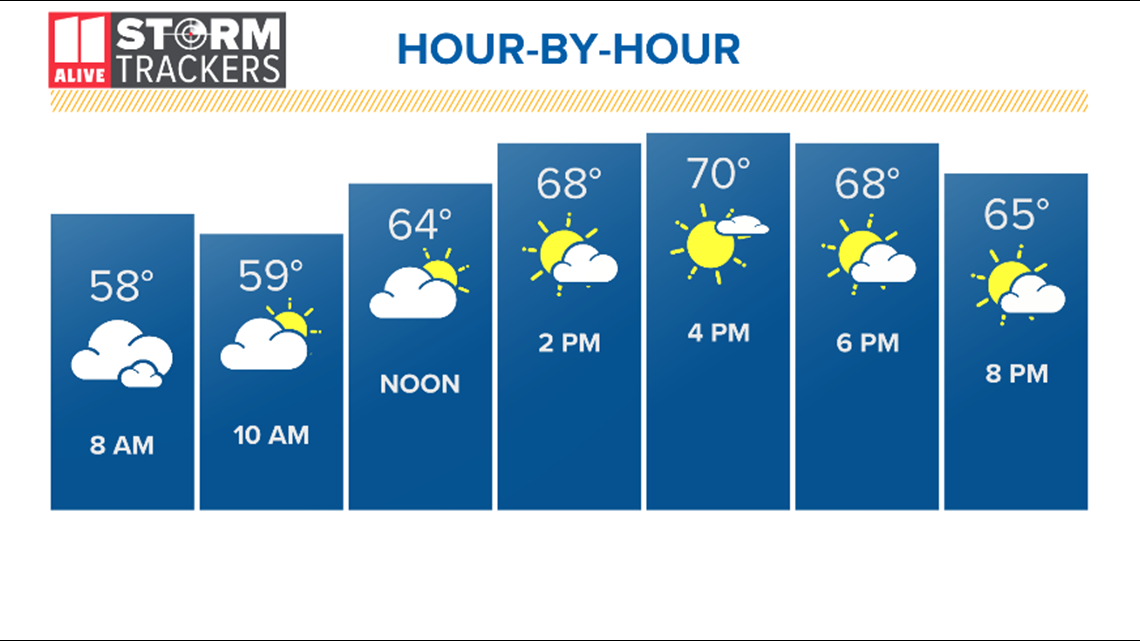 Temperatures will be about 10-12 degrees cooler this afternoon than they were Wednesday. Highs will be near 70. It will also be a little breezy at times with the wind coming from the northwest.
A few more clouds will mix with the sun Friday keeping our temperatures in the 60s.
We will have a few scattered showers Saturday with highs near 65. It won't be a washout Saturday. We just expect a few scattered showers in the area.
We will clear out again Sunday with highs rebounding up to 70 degrees. We will continue that slow warmup with highs temperatures in the low to mid 70s into next week.
We stay dry for the first part of the week, then a low rain chance returns Wednesday.