ATLANTA — This story was last updated Thursday at 8 a.m.
--------------------------

A significant severe weather outbreak took place across the southeast with several tornadoes in parts of Mississippi and Alabama.
We are not expecting that extent of severe weather in Georgia anymore. A wedge of cool air has helped to keep our atmosphere more stable. This limits how intense our storms can get. Nonetheless, we are still expecting the potential for a few strong thunderstorms, mainly south of the city.
These storms will be moving through OVERNIGHT when you may be asleep. Have a way to get important weather information and warnings!
When will the severe weather get here?
The thunderstorms in our area could produce gusty winds and we can't rule out an isolated tornado. Storms will also bring lightning and very heavy rain, which could lead to street flooding.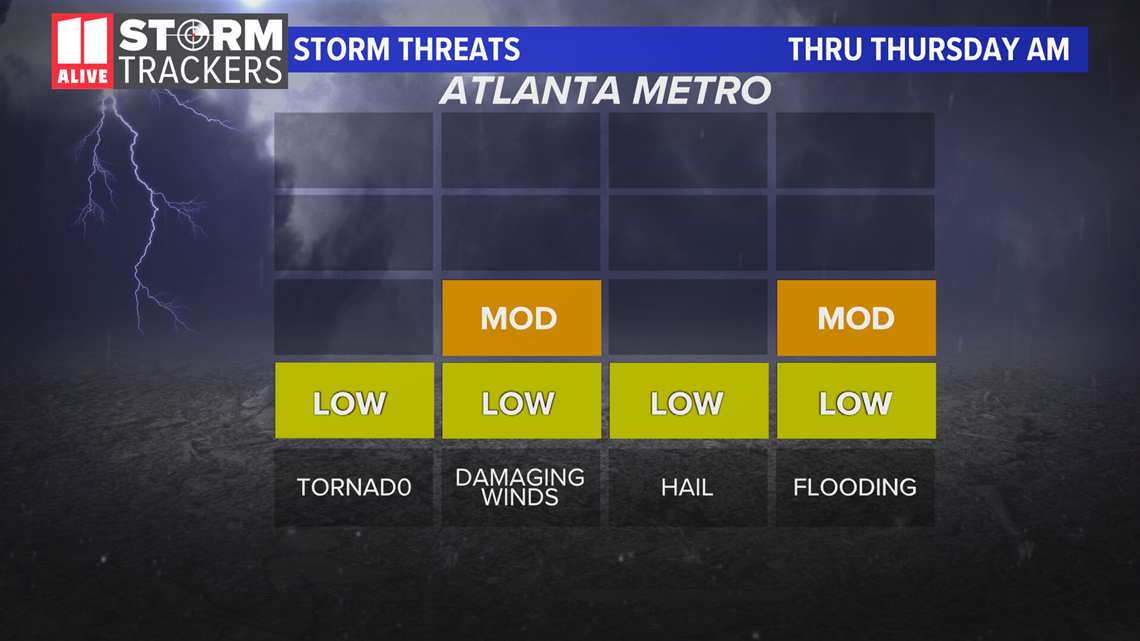 A wedge of cool air helped to keep our atmosphere stable. The wedge is slowly breaking down, but not quick enough to support as widespread of a severe threat as could have happened. Our atmosphere will be able to support a few strong to severe storms.
Here is our latest outlook from the Storm Prediction Center. They have our eastern counties under a 'Slight' risk or level 2 out of 5. There is a Marginal level 1 out of 5 risk for the east Atlanta metro.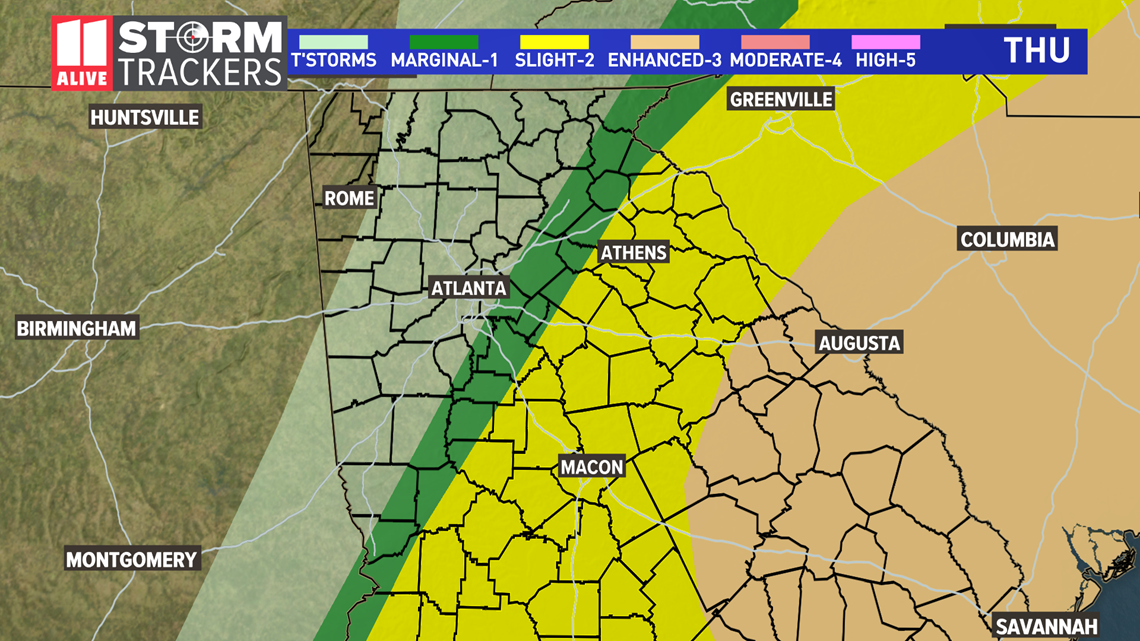 8 a.m. to 12 p.m. - The line of storms tracks east of Atlanta with some severe weather possible. Gusty strong winds are possible. We can't rule out an isolated tornado.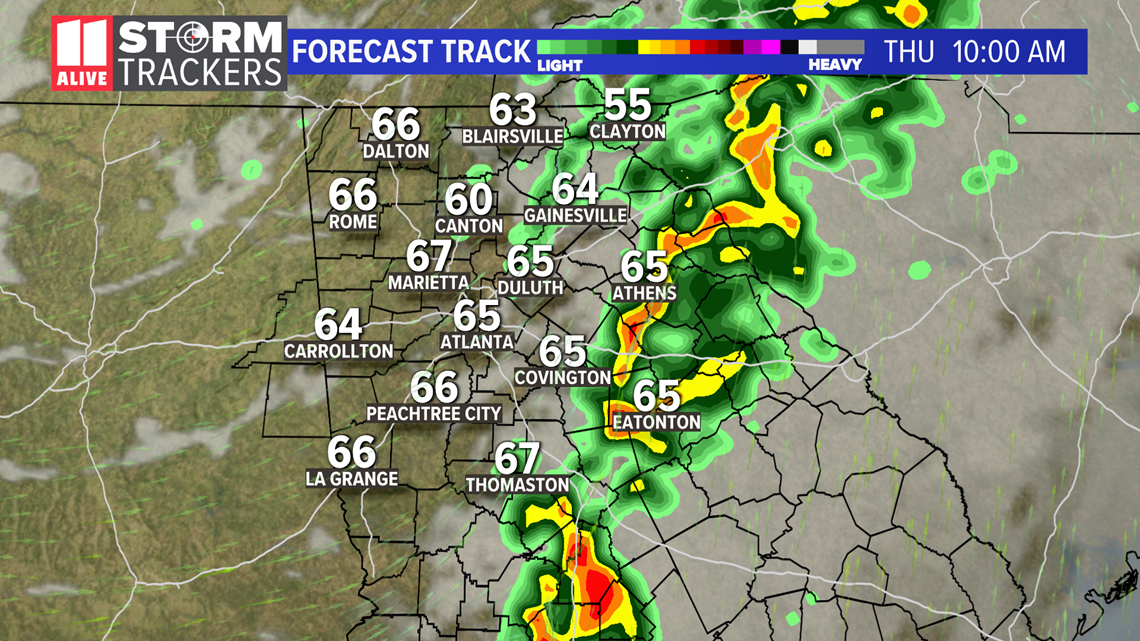 After 1 p.m. - A few showers are possible, but the severe threat and storm threat is over. Winds increase and could gust over 30 miles per hour.
How Much Rain will we get?
Much of the area could see between 1 to 2 inches of rain, but areas out west off I-20, near Carrollton, could see as much as 4 inches.
It will be a drastic change from the previous 10+ days.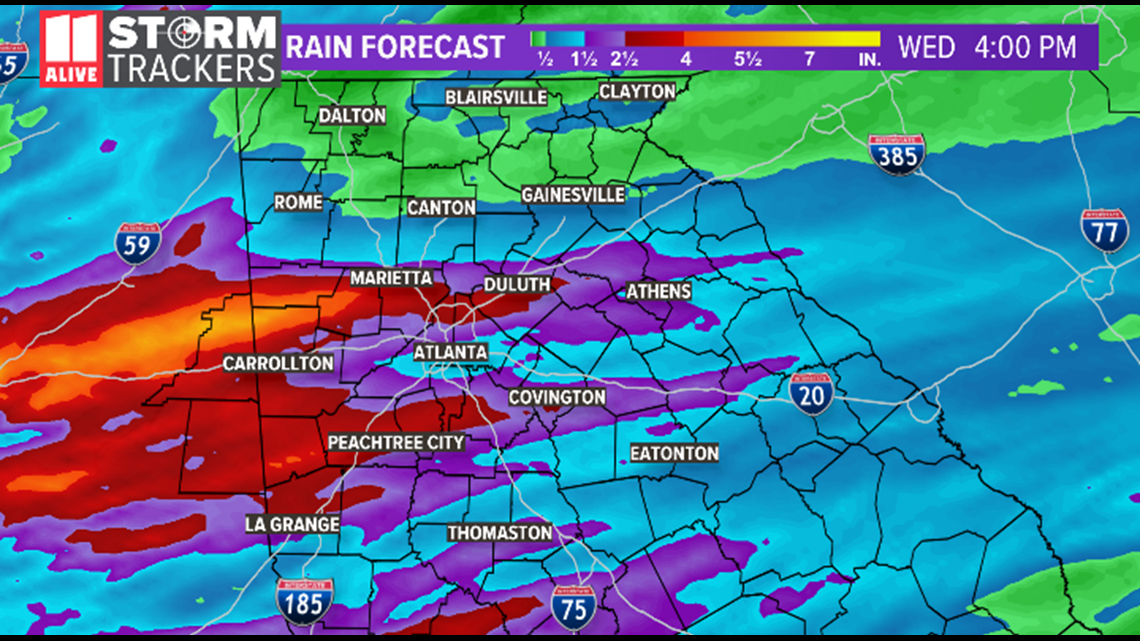 Many of these storms will be coming through during the middle of the night. Have a way to get warnings while you're asleep!
Have your 11Alive App set for severe weather notifications so that you can get alerts overnight.