ATLANTA — As of 10 a.m. Wednesday, the morning widespread rain is moving out. However, scattered showers and isolated storms may linger through mid afternoon.
The severe weather risk area is greatest east and southeast of the Atlanta area and there is a Level 1 out of 5 risk for severe storms for Athens to Eatonton.
There is also a Level 2 out of 5 risk for southeast Georgia.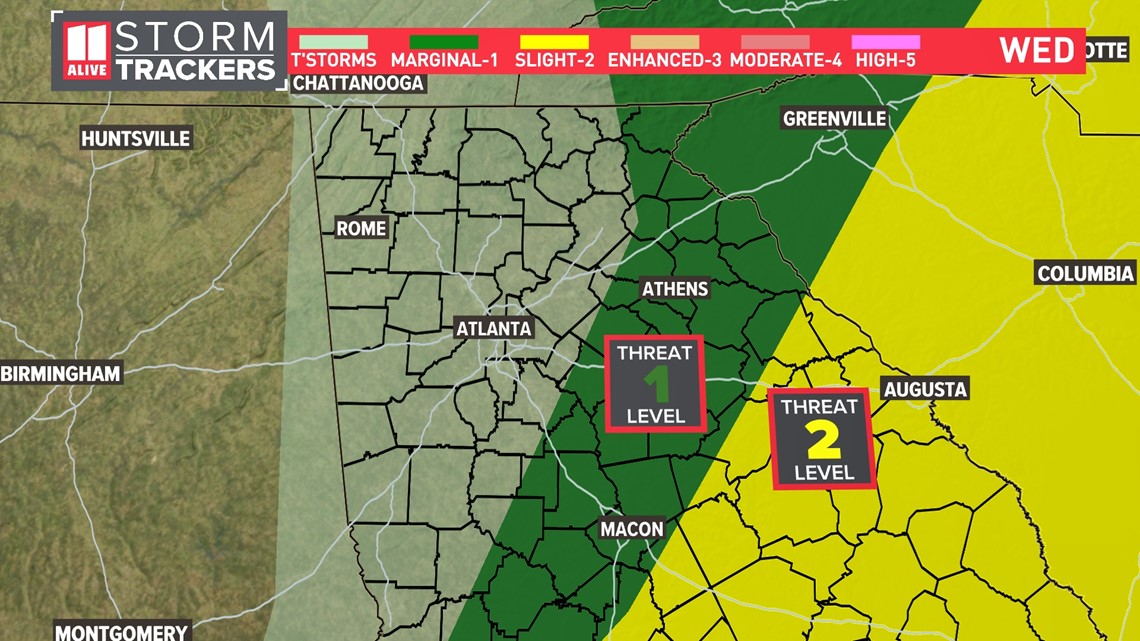 For a look at the most recent forecast track and future radar images, click the link below.
-----------------------------------------------
Three things to know
This will be mainly an overnight and early morning event. Storms are most likely Wednesday morning. The threat could carry into Wednesday afternoon mainly east of our area.
Severe storms will be isolated. This will not be a widespread severe weather outbreak, but widespread rain is expected.
All modes of severe weather are possible. Storms could be capable of producing damaging winds, hail, and isolated tornadoes.
Timeline
Overnight:
Storms move in from the west. These storms will likely be noisy, so they may interrupt your sleep Tuesday night.
Isolated activity is expected at first, and as the night progresses, showers and storms will turn more widespread. Activity may not truly pick up until closer to 4 or 5 a.m.

Wednesday Morning
Storms push east and southeast overnight, so the bulk of activity will take place around the time of the morning commute on Wednesday. Widespread rain is expected, which could make your drive into work slower than usual.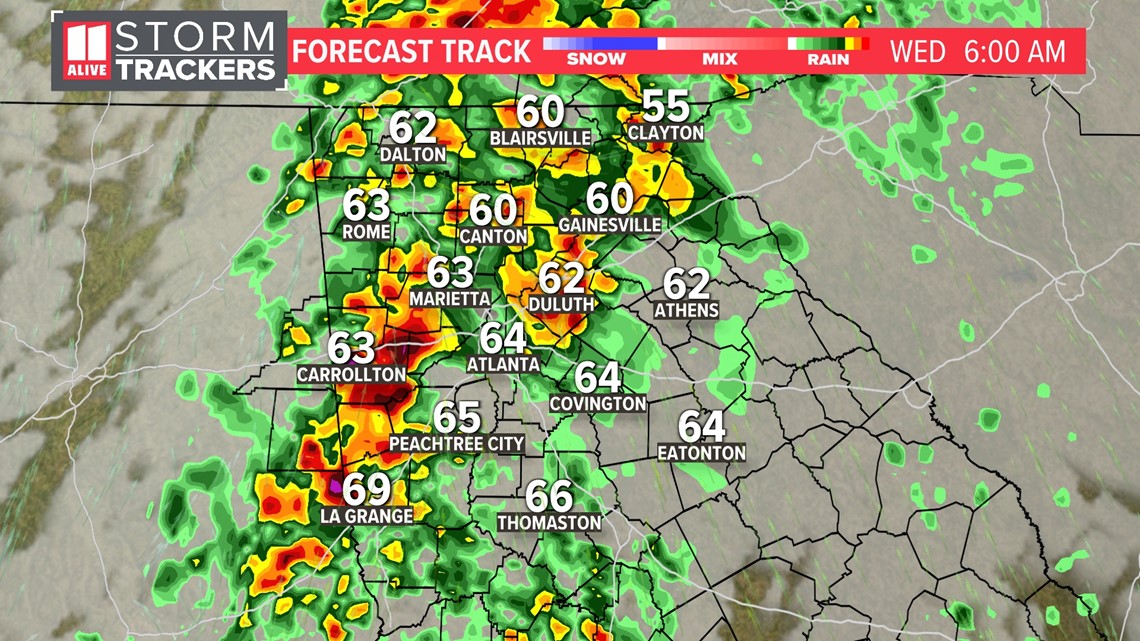 By 9 a.m., storms have moved through metro Atlanta, and rain is focusing east of the city.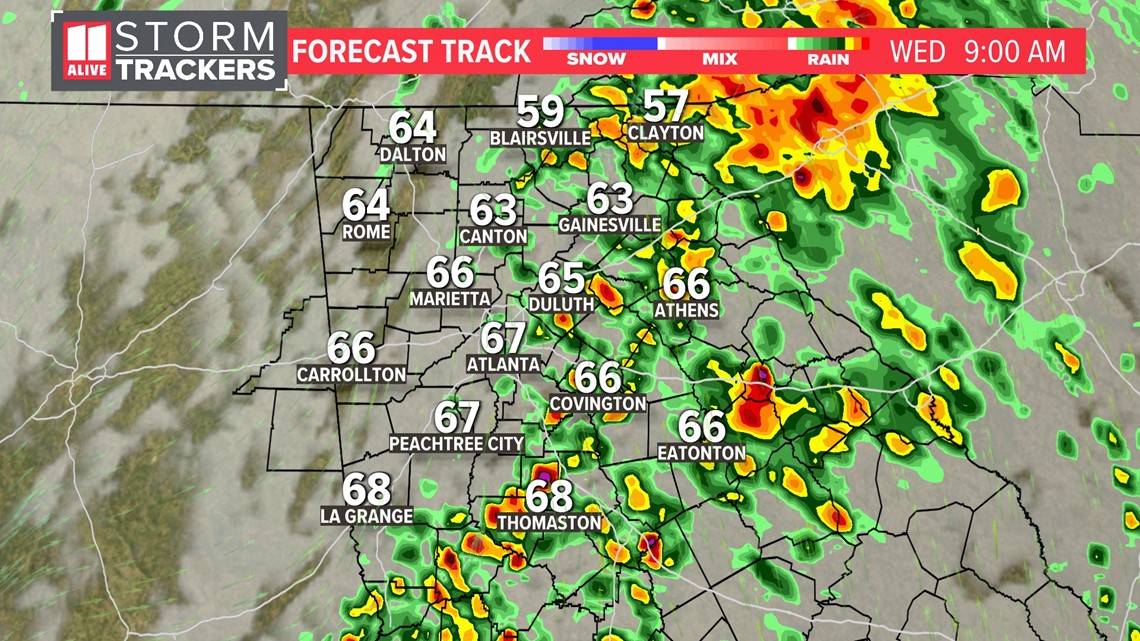 Wednesday Afternoon
Our primary severe weather threat will be in the morning. Storms will work their way east out of the state, so rain will be winding down by noon.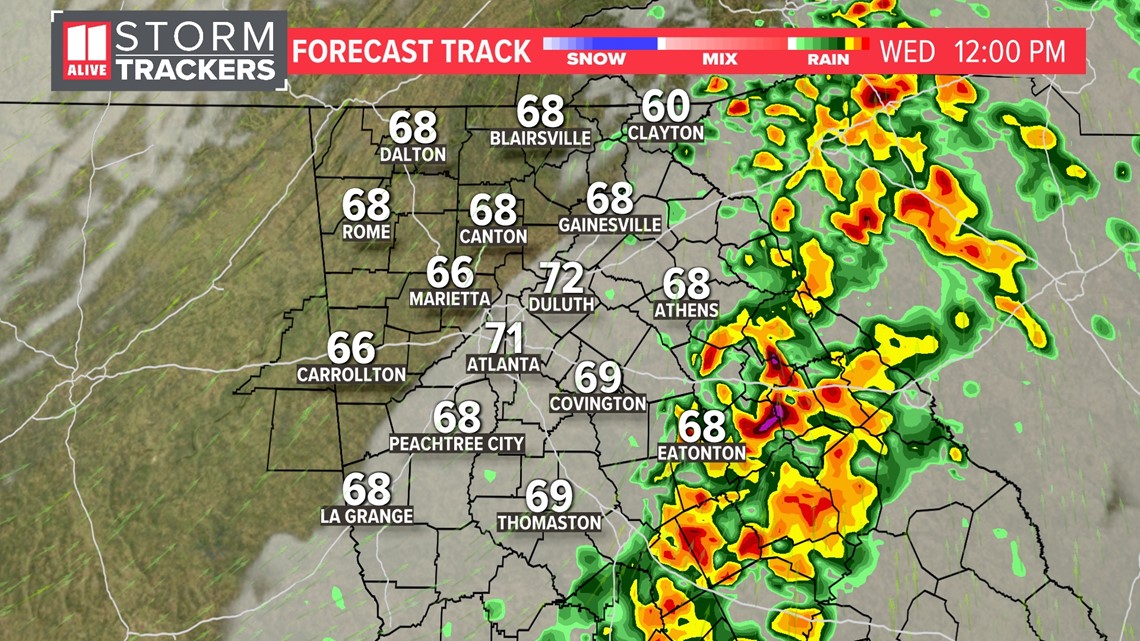 Isolated showers and storms may linger through the evening, but the second half of the day looks much drier than the morning.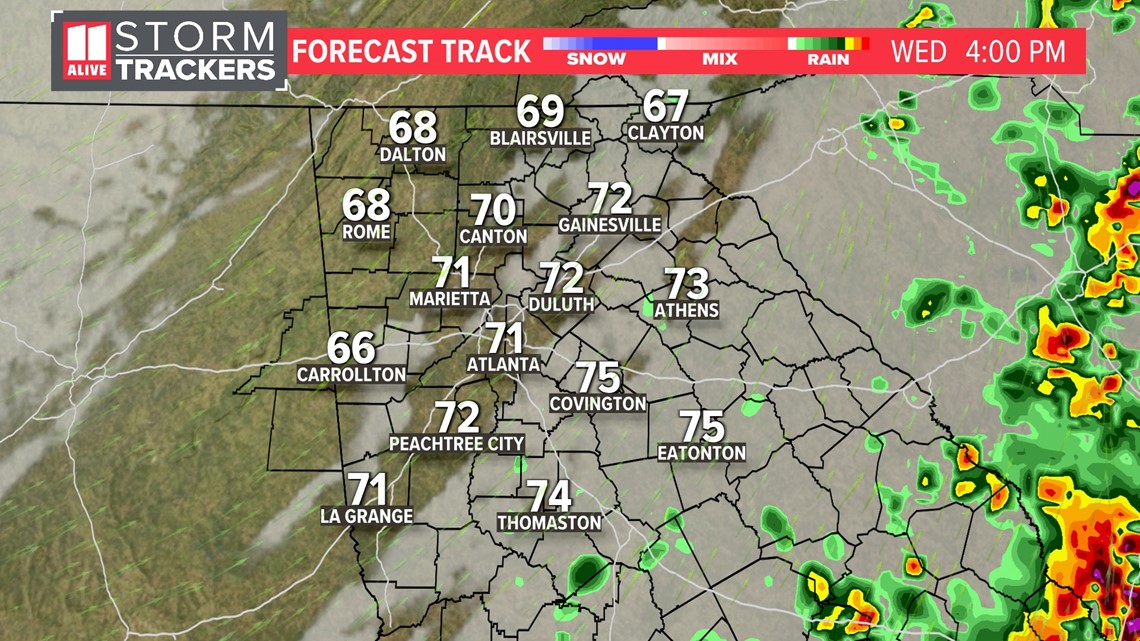 The early morning arrival of these storms helps to keep our severe weather threat low. The afternoon will be much more conducive to severe weather down into central and south Georgia.
Rain totals will range from 1/2" - 1" for most, although localized totals of 1" - 2"+ are possible, especially in northwest Georgia.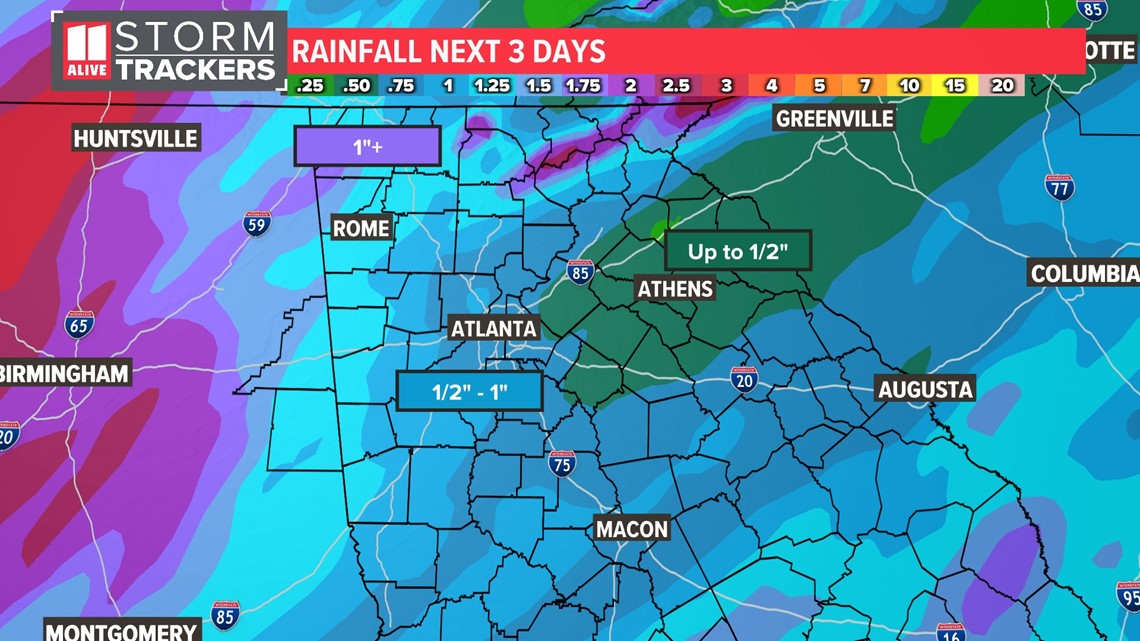 Drier, cooler moves in Thursday and Friday. Sunshine returns, and high temperatures warm only to the 60s.
MORE FROM THE 11ALIVE STORMTRACKERS
DOWNLOAD THE 11ALIVE APP:
Set up weather notifications by clicking the Gear icon in the upper right corner of the app. Select Notification -> Notification Settings -> Severe Weather Alerts -> Toggle the Severe Weather Alerts button to the right to turn alerts on.

Send photos and videos through the app by selecting the Near Me feature on the bottom right task bar of the app and entering your information.
TEXT YOUR WEATHER PHOTOS TO US: 404-885-7600
JOIN THE 11ALIVE STORMTRACKERS FACEBOOK GROUP: Nearly 10,000 metro Atlanta and north Georgia weather enthusiasts share their weather photos every day. Click here to join the group!