ARIZONA, USA — Friday wrapped up Monsoon 2022.
Sky Harbor received 2.23" this monsoon coming in just 0.2" short of the average of 2.43 inches.
We will be tracking some more moisture across the state this weekend. The high country will see spotty activity on Saturday but those storms will become more widespread on Sunday.
Even the Valley could see an isolated storm both Saturday and Sunday evenings.
Drier weather returns next week, but there will still be some spotty rain in the High Country.
The Precipitation Outlook for early October favors some above-average rainfall for much of State 48.
Temperatures will moderate over the next several days with upper 90s common in the Valley; the average high this time of year is 96 degrees.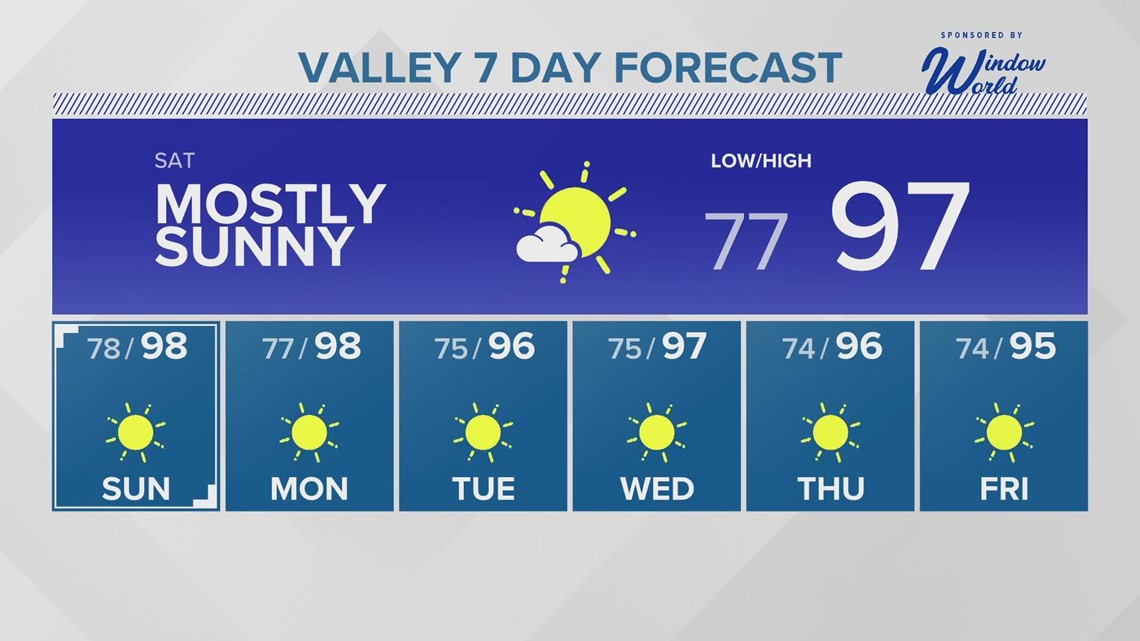 SATURDAY: 77/97 Partly Sunny, Slight Chance of Rain
SUNDAY: 78/98 Partly Sunny, Slight Chance of Rain
MONDAY: 75/98 Partly Sunny
TUESDAY: 75/96 Mostly Sunny, Breezy
WEDNESDAY: 74/97 Mostly Sunny
THURSDAY: 74/96 Mostly Sunny, Breezy
FRIDAY: 74/95 Mostly sunny
PHOTOS: 2021 Weather and Landscape shots from the 12 News Weather Watchers
Arizona Weather
Arizona has seen its fair share of severe weather throughout the state. Watch a compilation of videos from various thunderstorms, floods, and fires from across the Grand Canyon State on our 12 News YouTube channel here.
Be sure to subscribe and see the latest in Arizona weather news and breaking weather emergencies throughout the Valley!
If you see storms, dust, beautiful sunsets, and more and you can safely do so, please share your photos and videos with us in the 12 News app, at pictures@12news.com, or on social media using the hashtag #BeOn12.