ATLANTA — Did you feel it? A shallow earthquake tremored in southeastern Georgia early Saturday morning, and it was the state's strongest in years.
It occurred just after 4 a.m. about 160 miles away from Atlanta. The epicenter was located in Candler County, about 7 miles east of Stillmore, GA.
Originally, the U.S. Geological Survey (USGS) rated it a magnitude 4.2, but later re-evaluated it to be a shallow, magnitude 3.9 earthquake. The epicenter depth was less than 1km. And because of its location and shallow nature, it was felt hundreds of miles away.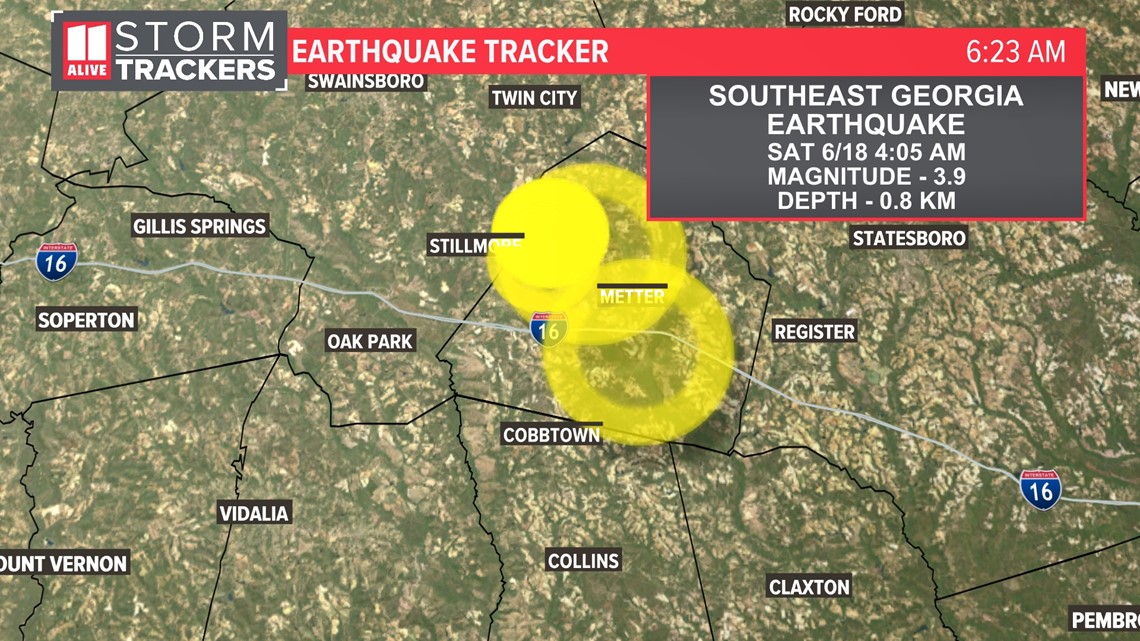 On the USGS's Community Interest Intensity Map, Georgians were able to respond if they felt the quake. Over 600 Georgians have responded so far. You can see below that very weak shaking was even felt in the southeastern Atlanta metro. No damage was experienced.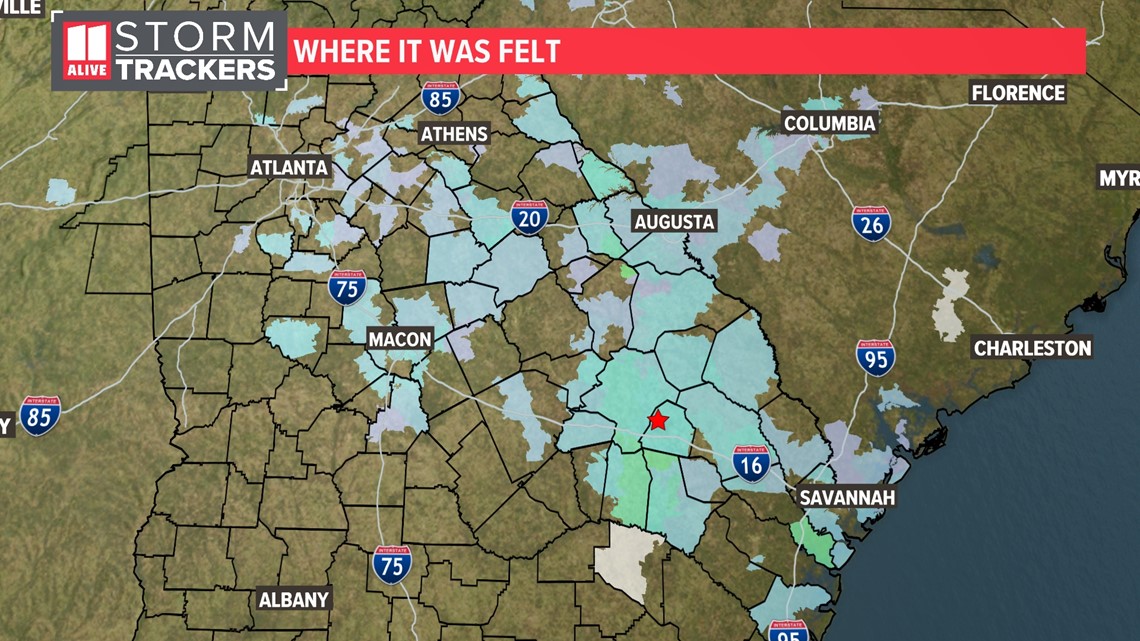 "Georgia definitely gets more earthquakes in the northwest corner of the state in the Ridge and Valley. That's where we have a well-defined seismic system," he said. "Up next is along the Fall Line, which runs from roughly Columbus to Macon to Augusta. We think those earthquakes are triggered by a change in the hydrological system."
Dr. Newman said that earthquakes in Georgia's Coastal Plain are much more rare.
"Those earthquakes are few and far between, and could potentially be destructive. A good example of that is the 1886 Charleston earthquake," he said.
The Charleston Earthquake struck early on an August night, and caused significant destruction and devastation. 60 people lost their lives. Damages amounted to millions of dollars.
"To find similar magnitude earthquakes to this one within 50km, we have to go back to 2003. There was a magnitude 3.6 in Cobbtown," Dr. Newman said.
To find another one slightly stronger than the 2003 earthquake, you have to go back another nearly 30 years to 1976 when there was a magnitude 3.7 in Hixton.
As for aftershocks, Dr. Newman said that like any earthquake, it's likely we'll have one.
"On average, up to one aftershock occurs about an order of magnitude smaller than the main shock. So for this one, we'd expect a high magnitude 2 aftershock at largest. Then they'll fall off in time. That aftershock would be weak enough to where you really shouldn't feel it," he said.
Georgia Tech just received a newly-funded educational seismic network that they're currently in the process of initiating and installing in schools later this summer and fall. Dr. Newman is currently testing one seismometer at his house and picked up this morning's earthquake nicely.