Georgia Gov. Brian Kemp issued an executive order Monday in Grady, Harris and Talbot counties to deploy state assistance in the wake of severe thunderstorms, precipitation and tornadoes over the weekend.
"With extensive storm damage in Grady, Harris, and Talbot Counties, it is imperative that we take swift action to help affected Georgians and deploy state resources in ongoing response and recovery efforts. This declaration immediately dispatches additional first responders and assistance as we continue to assess the damage," Kemp said in a release.
He said he is traveling to see damage firsthand. Kemp is expected to survey the damage by helicopter this afternoon in Talbot County.
Before he left, he told media in a briefing that it appears Georgia "dodged a bullet."
"It does not look like (this storm) will rise to the level of a federal disaster, but we will continue to monitor that," Kemp said. "That is not set in stone, there are still a lot of assessments to do."
Kemp said that almost two dozen homes in Georgia have been completely destroyed and up to 40 are damaged. Several businesses were hard-hit as well.
Emergency crews are on the ground with hot meals and blankets. Kemp said they will work on temporary housing tonight if power does not come back on.
Alabama Gov. Kay Ivy (R) is still in "assessment mode," Kemp said. He told her that Georgia resources are available if needed.
A line of severe storms moved through the Southeast US, Sunday, setting off a series of tornado warnings, including right here in the south metro Atlanta area.
One tornado in Lee county was confirmed to be a F3 tornado. The National Weather Service also stated that preliminary information indicates that Talbot County endured a high-end EF-2.
Storm damage in Talbotton, Georgia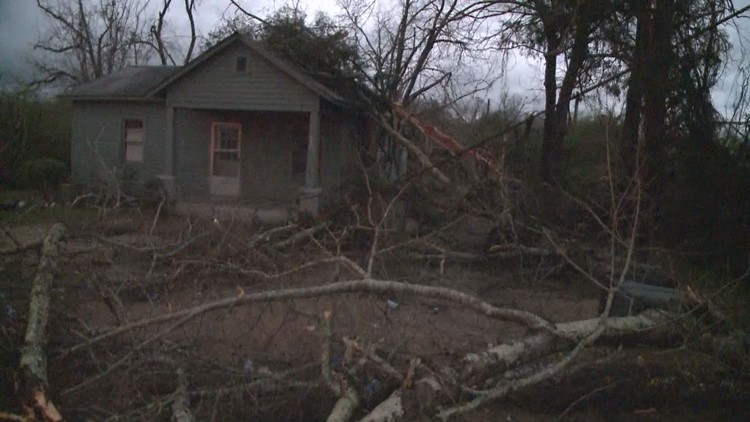 The strong storm caused severe damage in Talbotton, near Columbus, Georgia.
One resident said he had to run inside and take shelter in his bathroom.
"It hit so fast," he said.
Video from Byron, Georgia shows the moments when tornado sirens went off.
Photos: Peach County storm damage on March 3, 2019