ATLANTA — The Halloween weekend forecast for Atlanta and north Georgia may bring you a few spooks and frights, with a likely chance of ghastly H2O falling from the sky.
The 11 Alive StormTrackers, masters of weather prognostication, have you covered. Here's what you need to know about rain chances this weekend and what to expect around trick-or-treat time.
It will be a breezy and cool weekend overall, but Sunday will be the day we focus on for on-and-off showers throughout the day. If you plan your neighborhood's trick-or-treating over the weekend, try Monday, Sunday is not the day to do so.
Sunday will be the damper of the weekend days. Skies will stay cloudy, and it will be chilly and breezy. We will have on-and-off showers, mist and drizzle throughout the day. Although it may not be a steady rain at your house the entire day on Sunday, the chance for the on & off showers and drizzle will stick around from sun up to sun down. Highs top out in the upper 50s to mid-60s, and the east breeze continues with gusts around 20 mph.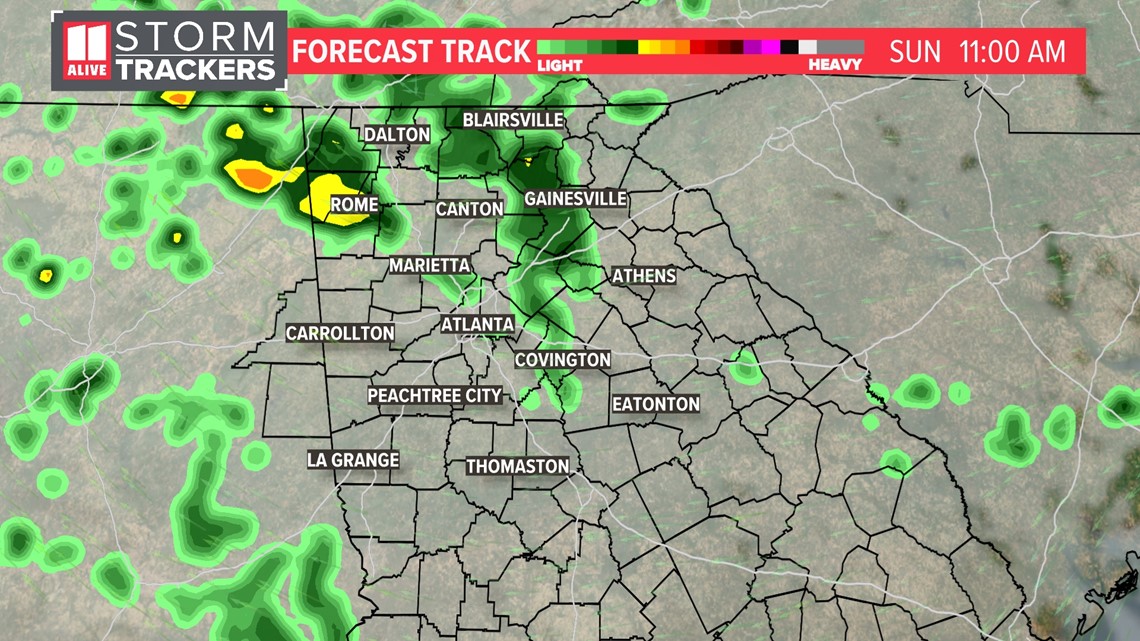 If you have trick-or-treat plans for Sunday evening, consider moving them to Halloween Day itself. Showers will still be around during the evening, with temperatures in the mid-50s to around 60.
Halloween Day will start with some scattered lingering morning showers. These may impact the bus stop before school. But the rain chances will quickly taper off.

But the forecast for trick-or-treating will be no trick and more of a treat than Sunday. The showers will end, but clouds will remain. Daytime highs will be back near 70.
Temps will be in the 60s as the sun sets Monday evening. Although rain isn't on the cards, damp pavement and fallen leaves will be on the ground. Be extra careful walking from door to door with the littlest ones.