ATLANTA — Our next round of showers and storms will move into North Georgia and metro Atlanta on Friday. The area could see heavy rain and isolated strong to severe storms with damaging winds, hail, and the possibility of an isolated tornado.
These storms will arrive ahead of a cold front that will be the dividing line between warm, humid air and a drier, more pleasant-looking Mother's Day Weekend.
Here are 3 things to know:
Showers and storms are possible throughout the day on Friday, but the main 'strong storm window' will be from 12 p.m. to 4 p.m.
Several storms could become strong to severe.
Outside of storms, Friday will be mostly cloudy, breezy and humid.
The Storm Prediction Center has placed metro Atlanta and points east in a Level 3 out of 5 risk of severe storms.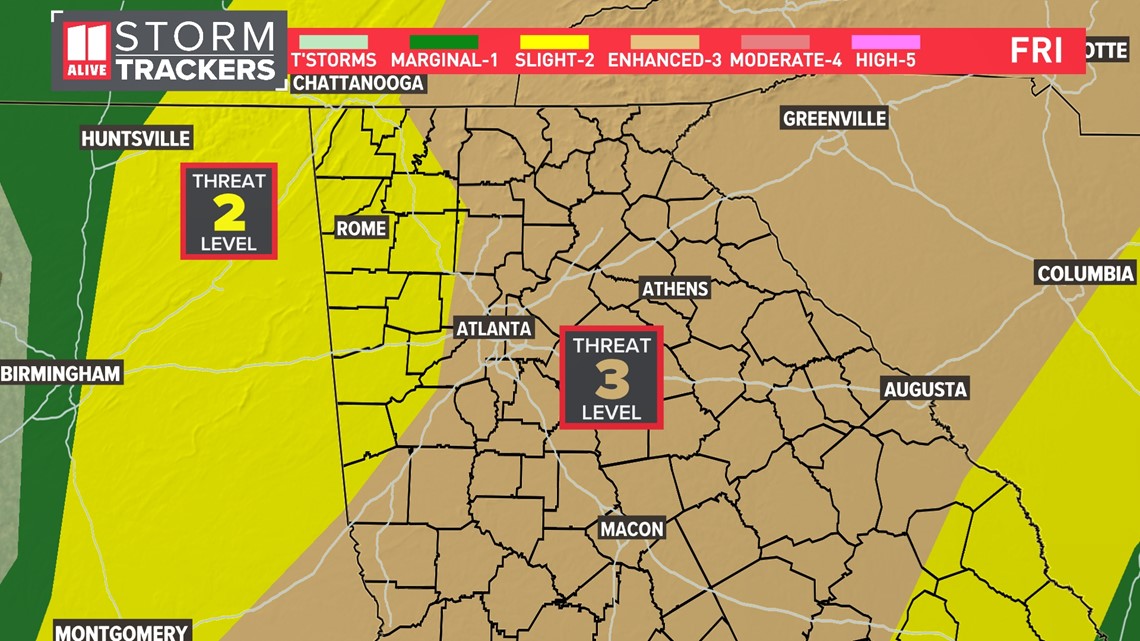 Storms will bring heavy rain, with rain totals between 1/2 inch and 1 1/2 inch on average. Not everyone will see rain but many will.
For Severe Weather threats, damaging winds around 60 miles per hour will be the main threat. There is also a lower threat of quarter-inch-sized hail. Brief, isolated tornadoes will be possible as well.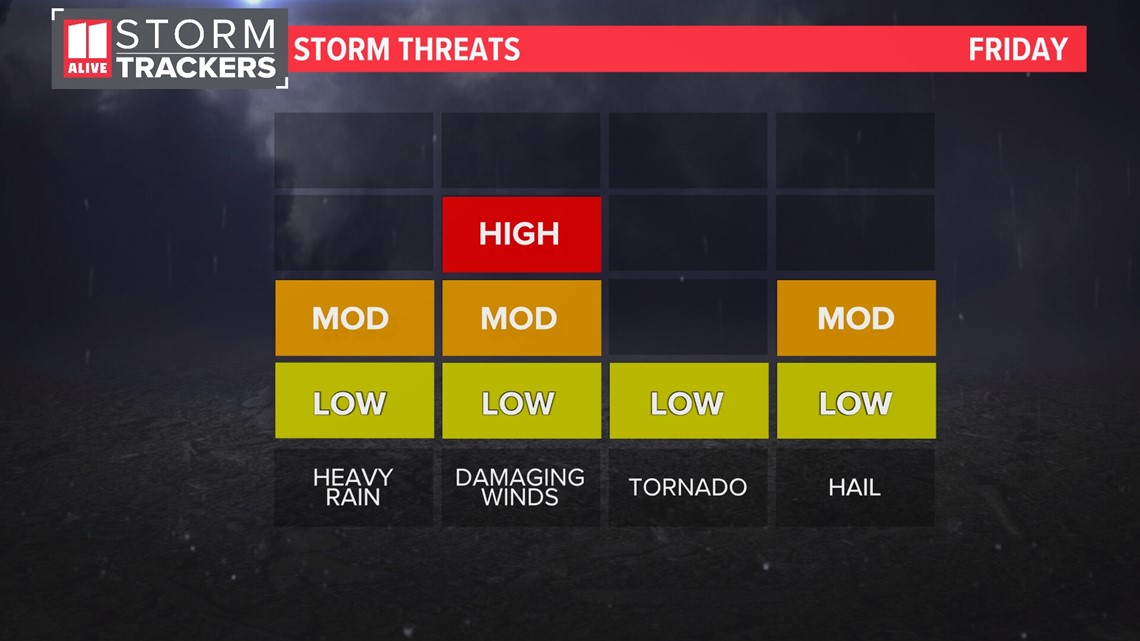 We are focused on the late morning to late afternoon for being the best chance for showers and thunderstorms. Critical timing is between 12 p.m. and 4 p.m.
Forecast track images of future radar are below, but remember the timing can and likely will change before Friday.
Friday mid to late morning we are tracking a pre-event round of light rain and embedded t-storms moving eastward through north Georgia. These will not be severe. Meanwhile, we'll watch for some showers and storms to develop near Birmingham, Alabama. That'll be the focus for the afternoon.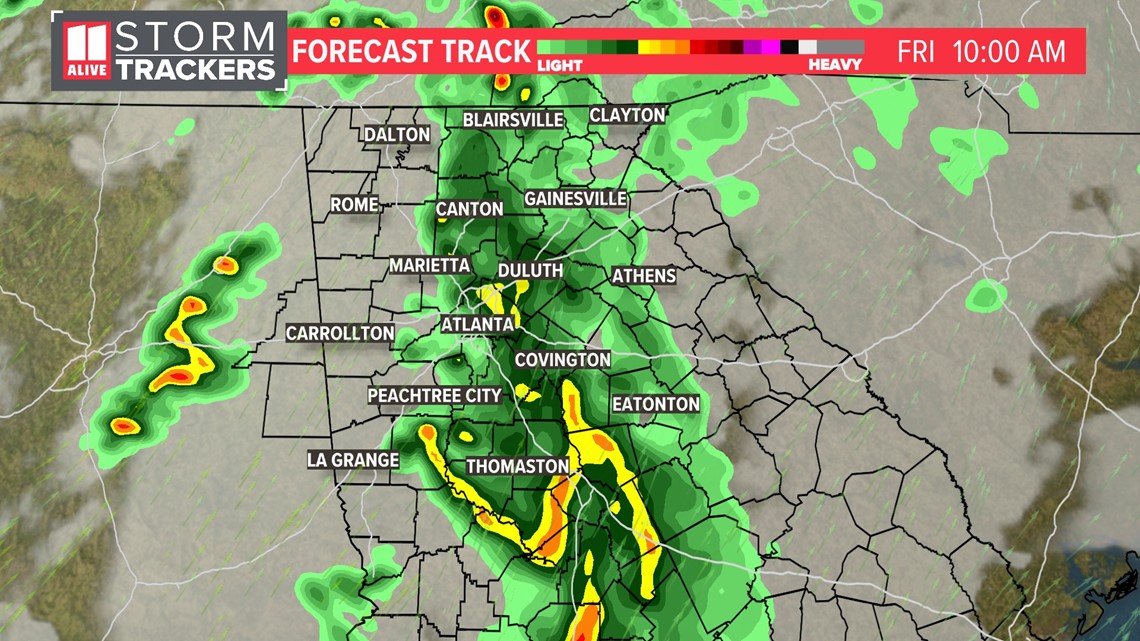 By mid-day, some strong to severe storms will be moving into north Georgia, especially north and west of Atlanta.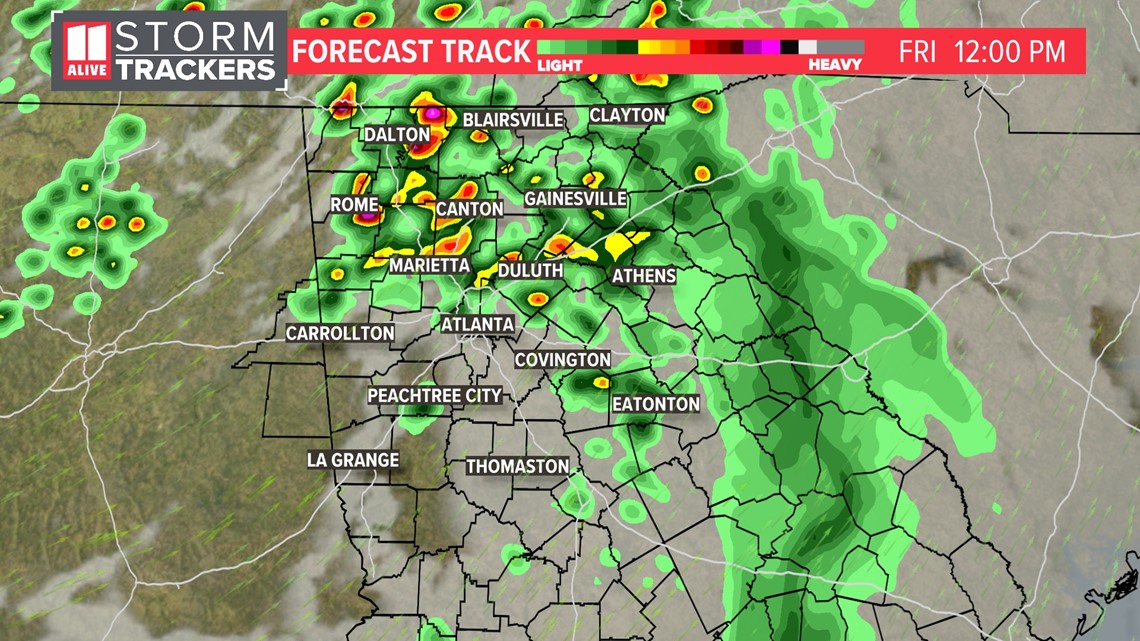 By mid afternoon, the storm threat is pushing east and southeast of Atlanta.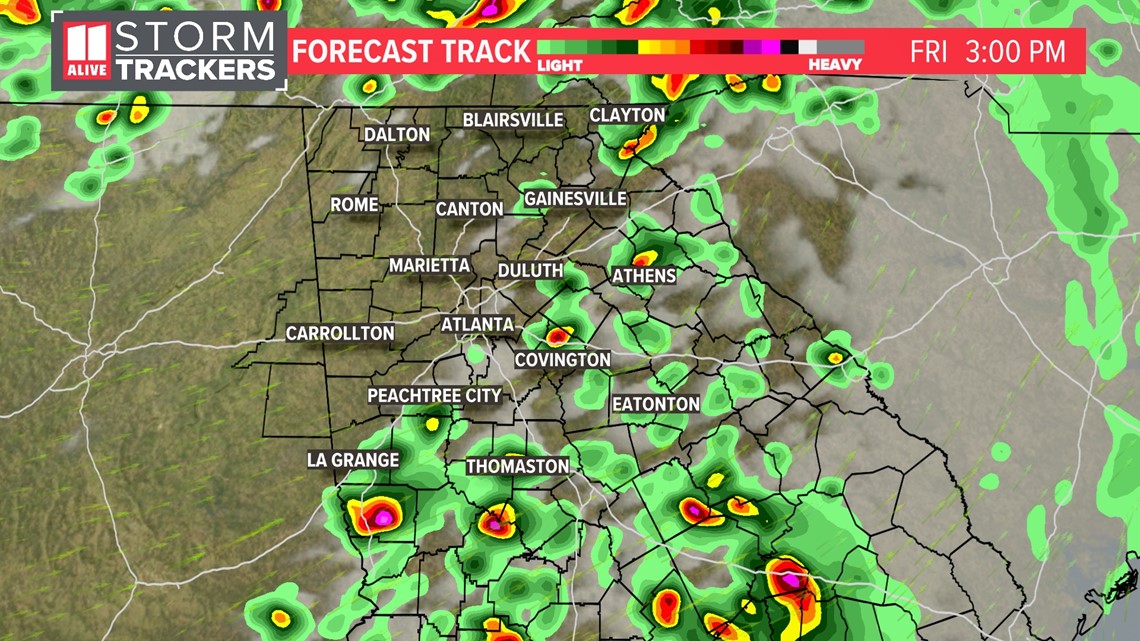 Storms and showers continue to exit as the afternoon ends.
MORE FROM THE 11ALIVE STORMTRACKERS
DOWNLOAD THE 11ALIVE APP:
Set up weather notifications by clicking the Gear icon in the upper right corner of the app. Select Notification -> Notification Settings -> Severe Weather Alerts -> Toggle the Severe Weather Alerts button to the right to turn alerts on.

Send photos and videos through the app by selecting the Near Me feature on the bottom right task bar of the app and entering your information.
TEXT YOUR WEATHER PHOTOS TO US: 404-885-7600
JOIN THE 11ALIVE STORMTRACKERS FACEBOOK GROUP: Nearly 10,000 metro Atlanta and north Georgia weather enthusiasts share their weather photos every day. Click here to join the group!